MAKE YOUR FREE

Colorado Eviction Notice
Other Names:
Colorado Notice to Quit
Colorado Notice to Vacate Letter
Colorado Notice to Pay Rent or Quit
Colorado Notice to Cure or Quit
Colorado Unconditional Quit Notice
Colorado Immediate Notice to Quit
Colorado 3-Day Notice to Quit
Colorado 5-Day Notice to Quit
Colorado 6-Day Notice to Quit
Colorado 7-Day Notice to Quit
Colorado 10-Day Notice to Quit
Colorado 14-Day Notice to Quit
Colorado 30-Day Notice to Quit
Colorado Eviction Letter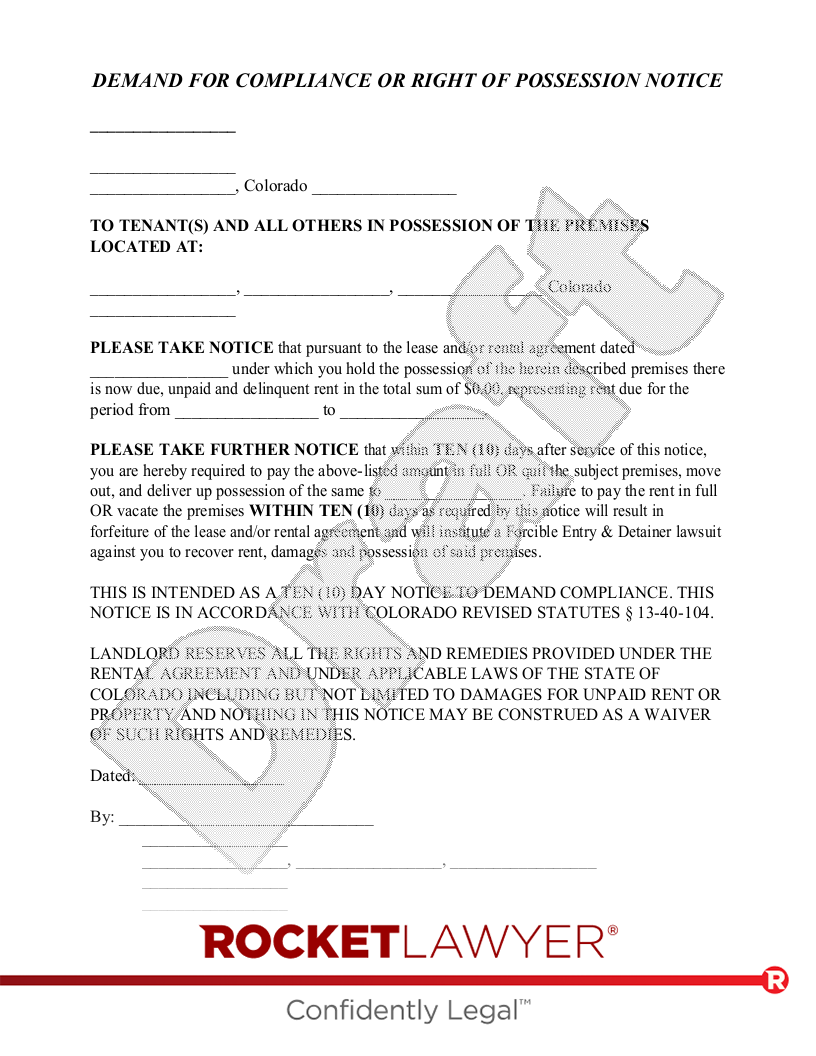 What is a Colorado Eviction Notice or Notice to Quit?
If you are a property owner or manager in Colorado, you can use an Eviction Notice to advise a renter of upcoming legal action if they are unable to pay their past-due rent, abide by the terms of a lease, or move out as demanded. Creating this notice can help to reduce the likelihood of costly court appearances down the road. With that in mind, in some instances, there isn't any solution, and filing with the court is inevitable. Suited for every kind of residential property, this Eviction Notice for Colorado can be used by property owners with tenants in Aurora, Colorado Springs, Denver, and in all other towns across the Centennial State.
When to use a Colorado Eviction Notice:
Your tenant is late paying rent.
Your tenant has violated their lease agreement.
You want to end a month-to-month tenancy.
The lease has expired and you do not want to renew it.
Sample Colorado Eviction Notice
The terms in your document will update based on the information you provide
This document has been customized over 43.5K times
Legally binding and enforceable
Complies with relevant laws
Ask a lawyer questions about your document
DEMAND FOR COMPLIANCE OR RIGHT OF POSSESSION NOTICE
, Colorado
TO TENANT(S) AND ALL OTHERS IN POSSESSION OF THE PREMISES LOCATED AT:
, , Colorado
the tenancy
NINETY (90)
LANDLORD RESERVES ALL THE RIGHTS AND REMEDIES PROVIDED UNDER THE RENTAL AGREEMENT AND UNDER APPLICABLE LAWS OF THE STATE OF COLORADO INCLUDING BUT NOT LIMITED TO DAMAGES FOR UNPAID RENT OR PROPERTY AND NOTHING IN THIS NOTICE MAY BE CONSTRUED AS A WAIVER OF SUCH RIGHTS AND REMEDIES.
Dated:
By:______________________________
Notice to Quit - §13-40-107, C.R.S.
(1) A tenancy may be terminated by notice in writing, served not less than the respective period fixed before the end of the applicable tenancy, as follows:
(a) A tenancy for a one year or longer, ninety-one days;
(b) A tenancy of six months or longer but less than a year, twenty-eight days;
(c) A tenancy of one month or longer but less than six months, twenty-one days;
(d) A tenancy of one week or longer but less than one month, or a tenancy at will, three days;
(e) A tenancy for less than one week, one day.
(2) Such notice shall describe the property and the particular time when the tenancy will terminate and shall be signed by the landlord or tenant, the party giving such notice or his agent or attorney.
(3) Any person in possession of real property with the assent of the owner is presumed to be a tenant at will until the contrary is shown.
(4) No notice to quit shall be necessary from or to a tenant whose term is, by agreement, to end at a time certain.
(5) Except as otherwise provided in §38-33-112, C.R.S., the provisions of subsections (1) and (4) of this section shall not apply to the termination of a residential tenancy during the 90-day period provided for in said section.
Colorado Eviction Notice FAQs
Can I legally evict a tenant for unpaid rent in Colorado?

Generally speaking, the answer is yes. You may use a Colorado Eviction Notice (specifically called a 10-Day Notice to Quit) to kick off the process. However, as a result of the COVID-19 pandemic, several protections and limitations have been put in place. Although the federal ban on eviction has been blocked, the state of Colorado has the authority to maintain its own guidelines for evictions. Stay up to date with the consult a local landlord-tenant lawyer , if you are still unsure.

How is a Colorado Notice to Vacate typically organized?

When ready, you can click "Make document" to check out our Colorado Eviction Notice sample and see what information you'll need to create your eviction letter. In general, the key details needed for making a Notice to Vacate for Colorado are:

The address and description of the property
The contact information for the tenant(s)
How many past due payments should be made (where applicable)
How long the notice period will last
What policies in the lease are not being met

Of course, if the tenants are not at fault, you are able to provide more context since the news might be a surprise. More adjustments and edits are possible, if needed. You'll want to verify that all of the policies and terms that you refer to in the Eviction Notice are present in your rental contract.

How do Colorado eviction laws affect me as a property owner?

Laws often change over time and the eviction process and restrictions can be relatively complex for a first-timer. In some cases, there can be varying requirements based on how long the tenant has lived in the unit and why they are being evicted. As a result, it is recommended that every property owner contact a local eviction lawyer when planning to serve a Notice of Eviction on any tenant in Colorado.

How can I fill out a Colorado Eviction Notice template online for free?

Each Rocket Lawyer document is drafted and reviewed by lawyers and legal staff members, so regardless of your legal background, you can feel confident when using them. To start, simply tell us a bit more about your situation in a guided interview process, and you'll have a custom agreement in no time. This solution is often much more affordable and convenient than meeting and hiring your average attorney.

How much would I normally need to pay for an attorney to help me evict a tenant in Colorado?

If you want to know the complete cost of eviction, you will need to consider the court fees associated with filing the lawsuit, attorney fees, the value of unrecovered rent payments, storage or cleaning fees, and the money and time spent finding a replacement tenant. Fortunately, you won't need to pay hundreds of dollars to draft your Notice of Eviction. When using Rocket Lawyer, you are not just filling out an eviction template. In case you ever need help from a lawyer, your Rocket Lawyer membership provides up to 40% in savings when you hire an attorney from our Rocket Lawyer attorney network.

How much time does the Colorado eviction process usually take?

The length of the eviction process for Colorado renters will generally depend on the type of notice, in addition to the overall volume of cases that are being held concurrently. Here's a general overview of Colorado notice periods:

Rent-related: 10-day notice
Rental contract violations: 10-day notice
No cause: 91-day notice if the tenant has lived in the unit for more than one year; 28-day notice if the tenant has lived in the unit for less than one year but more than six months; 21-day notice if the tenant has lived in the unit for less than six months but more than one month; 3-day notice if the tenant has lived in the unit for less than one month but more than one week; 1-day notice if the tenant has lived in the unit for less than one week

When your pre-defined notice period is over, the actual eviction may take between 2 weeks and 4 months. Please note that with particular kinds of housing, including where the rent is subsidized by the government, the mandatory notice period may be even longer.

Do I need to work with a lawyer when evicting someone in Colorado?

While it is feasible to create a Notice to Vacate on your own, many property owners who go to court are represented by a lawyer. Locating a lawyer to provide feedback on your Colorado Eviction Notice could be costly. An easier and more cost-effective route would be via Rocket Lawyer attorney services. By signing up for a Premium membership, you can get your documents evaluated by an attorney with experience in landlord-tenant matters. Whether you create another CO Eviction Notice or other legal documents for landlords, Rocket Lawyer is here to support you.

What steps should I take after I draft a Notice of Eviction/Notice to Quit in Colorado?

After creating a Colorado Eviction Notice with the help of Rocket Lawyer, you will have the ability to open it anytime, anywhere. You are encouraged to interact with your document by making edits, downloading it in PDF format or as a Word file, printing it, and/or making copies of it. You will need to sign and date the notice before serving it on the tenant(s). This Colorado Eviction Notice includes a return of service/certificate of service so that you will have a reliable record of its delivery. There are a few methods for serving a notice:

Send it through certified mail with a return receipt
Work with a process server
Deliver it by hand

Please remember that "DIY" or "self-help" evictions are illegal. Landlords should not padlock the doors, throw out personal belongings, shut off utilities, or attempt to intimidate their tenants in any way in an effort to make them move. Taking the appropriate lawful actions before and during the eviction process is critical to removing tenants successfully with an official judgment from the court.

Where do I file a request for an eviction by court order?

You will need to file a few forms with the clerk's office located in the same area as the rental property. You may need to submit CRCCP Form 3 (Answer under Simplified Civil Procedure), CRCCP Form 1A (Summons in Forcible Entry and Unlawful Detainer) and/or a JDF 99 (Complaint in Forcible Entry and Detainer). You are usually assigned a court date within five to ten days.