MAKE YOUR FREE

Moving Checklist
Other Names:
Moving Worksheet
Checklist for Moving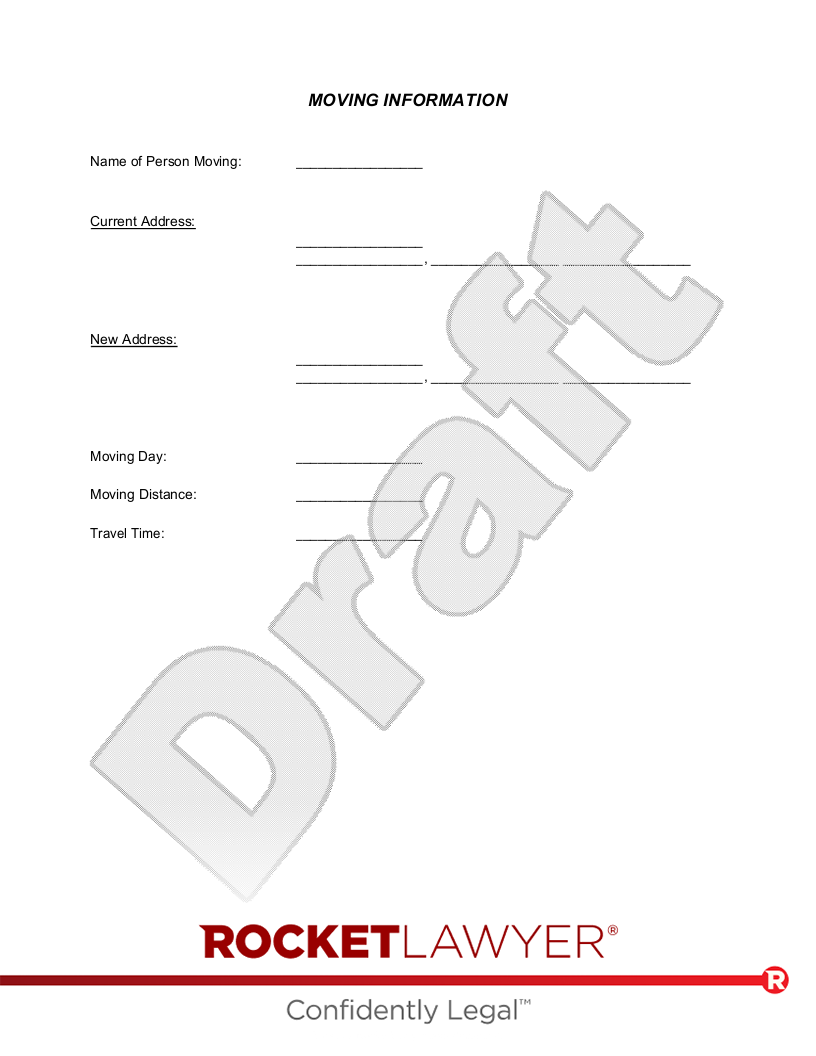 What is a Moving Checklist?
A Moving Checklist can help you stay organized throughout the chaos of moving. Moving is a lot of work, creating a checklist can help ensure you're not overlooking anything that needs to be done. You don't want to forget anything when you're packing, and you certainly want to get your deposit back - a Moving Checklist can help ensure everything is accounted for and helps you stay on top of everything during the move.

Having a Moving Checklist can help you make moving easier. Be it organizing the items you're moving or keeping track of important times and dates regarding your move, writing down everything can help ensure nothing is forgotten or left out. Chances are that you're going to have your hands full on moving day. Making a checklist now may be able to save you a lot of stress when the big day finally comes. A Moving Checklist can help you weather the storm and land safely in your new home.
When to use a Moving Checklist:
You want to keep track of important moving information.
You're helping someone else move.
Sample Moving Checklist
The terms in your document will update based on the information you provide
This document has been customized over 28.5K times

Documents and communicates
Ask a lawyer questions about your document
MOVING INFORMATION
Current Address:
New Address:
EIGHT WEEKS CHECKLIST
The following should be completed eight weeks prior to moving day:
___

Draw a floor plan of your new home to help you decide what furniture will be moved.
___

Begin using up food in your freezer and flammable household supplies that can't be moved.
___

Contact the chamber of commerce or other public body near your new home to get information about employment opportunities, newspapers, schools, cultural events, and community activities in your new home town.
Address:

__________________________________
Phone number:

__________________________________
___

Decide whether to use a professional mover or move yourself.
___

Use the following guide to determine the size of truck to rent.
2 rooms or less - Cargo van
2-3 rooms - 15 foot truck
3-6 rooms - 18 foot truck
7-8 rooms - 22 foot truck
MOVING-RENTAL COMPARISON INFORMATION
NOTE: Before filling out the Moving-Rental Comparison, it may be helpful to have the Household Inventory Planner filled out first (see Six Weeks Section). Since many moving companies charge by weight, the Household Inventory Planner would help obtain a more accurate estimate for the movers.
Company Name:
__________________________________________
Contact Person:

____________________________________________
Address:

___________________________________________________
Phone Number:

__________________________________________
Company will provide:
___

Pre-planning

___ Unpacking
___

Packing

___ Disposal of packing containers
___

Packing boxes

___ Rent moving truck - self move
___

Packing crates

___ Dollies
___

Packing blankets

___ Storage
___

Packing labels

___ Damage Coverage
Additional information:
______________________________________________________________
______________________________________________________________
______________________________________________________________
Charge for Packing:

$________________
Total Estimated Moving Cost:

$________________
Company Name:
__________________________________________
Contact Person:

____________________________________________
Address:

___________________________________________________
Phone Number:

__________________________________________
Company will provide:
___ Pre-planning

___ Unpacking
___ Packing

___ Disposal of packing containers
___ Packing boxes

___ Rent moving truck - self move
___ Packing crates

___ Dollies
___ Packing blankets

___ Storage
___ Packing labels

___ Damage Coverage
Additional information:
______________________________________________________________
______________________________________________________________
______________________________________________________________
Charge for Packing:

$________________
Total Estimated Moving Cost:

$________________
Company Name:
__________________________________________
Contact Person:

____________________________________________
Address:

___________________________________________________
Phone Number:

__________________________________________
Company will provide:
___ Pre-planning

___ Unpacking
___ Packing

___ Disposal of packing containers
___ Packing boxes

___ Rent moving truck - self move
___ Packing crates

___ Dollies
___ Packing blankets

___ Storage
___ Packing labels

___ Damage Coverage
Additional information:
______________________________________________________________
______________________________________________________________
______________________________________________________________
Charge for Packing:

$________________
Total Estimated Moving Cost:

$________________