MAKE YOUR FREE

Affidavit of Title
Other Names:
Seller's Affidavit of Title
Title Affidavit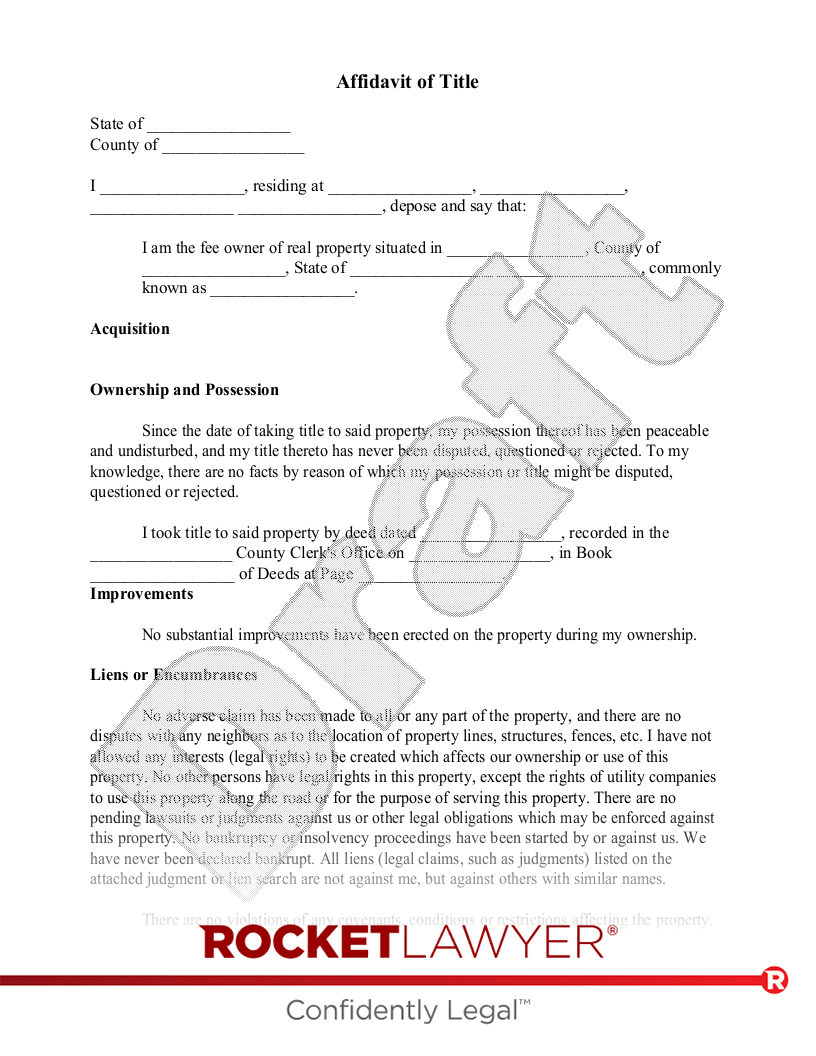 What is an Affidavit of Title?
An Affidavit of Title is a legal document that can be used to prove ownership of a piece of property and to confirm certain facts, such as the absence of liens or other legal issues. If someone has asked you to formally prove your ownership as a seller or if you are a buyer who wants extra reassurance that the property is not encumbered by liens, taxes, or easements, an Affidavit of Title can help. This document will clarify questions of ownership and help the sale move forward.
When to use an Affidavit of Title:
Someone's asked you to formally declare that you own certain property.
You want extra reassurance that an owner really owns property
You want to ensure the property is not encumbered by liens, taxes, or easements
Sample Affidavit of Title
The terms in your document will update based on the information you provide
This document has been customized over 31.9K times
Legally binding and enforceable
Ask a lawyer questions about your document
I , residing at , , , depose and say that:
I am the fee owner of real property situated in , County of , State of , commonly known as .
Acquisition
Ownership and Possession
Since the date of taking title to said property, my possession thereof has been peaceable and undisturbed, and my title thereto has never been disputed, questioned or rejected. To my knowledge, there are no facts by reason of which my possession or title might be disputed, questioned or rejected.
I took title to said property by deed dated , recorded in the County Clerk's Office on , in Book of Deeds at Page .
Improvements
The improvements on the property were erected in or about , and have existed in their present location without alteration since the date of my taking title and possession.
Liens or Encumbrances
No adverse claim has been made to all or any part of the property, and there are no disputes with any neighbors as to the location of property lines, structures, fences, etc. I have not allowed any interests (legal rights) to be created which affects our ownership or use of this property. No other persons have legal rights in this property, except the rights of utility companies to use this property along the road or for the purpose of serving this property. There are no pending lawsuits or judgments against us or other legal obligations which may be enforced against this property. No bankruptcy or insolvency proceedings have been started by or against us. We have never been declared bankrupt. All liens (legal claims, such as judgments) listed on the attached judgment or lien search are not against me, but against others with similar names.
There are no violations of any covenants, conditions or restrictions affecting the property.
There are no actions pending in any court against me or affecting the property.
There are no unpaid claims for labor or materials furnished in constructing, repairing or improving the property.
No bankruptcy proceedings have been commenced by or against neither me, nor have I made an assignment for the benefit of creditors.
There are no tax warrants, tax liens, or other liens unpaid or unsatisfied against me or affecting the property.
There are no unpaid taxes, assessments, water rates, or sewer charges affecting the property.
I am in possession of the property and there are no tenants or outstanding leases of the property.
I am of legal age and under no legal disability.
This affidavit is given in order to .
Oath or Affirmation
I certify under penalty of perjury under law that I know the contents of this affidavit signed by me and that the statements are true and correct.
______________________________ ______________________________
Affidavit of Title FAQs
How do I draft an Affidavit of Title Form online?

It is very simple to get what you need with a free Affidavit of Title template from Rocket Lawyer:

Make the document - Provide a few basic details and we will do the rest
Send or share it - Review it with a lawyer, if needed
Sign it - Sign your Affidavit and make it legal

Any Affidavit of Title Form from Rocket Lawyer can be tailored to address your particular circumstances. To begin the process, simply click the button that says "Make document". Your Affidavit will be assembled section by section as you provide more information throughout the process.

Should I work with an attorney to review my Affidavit of Title?

Writing an Affidavit of Title is typically easy to do; however, you could still need legal advice. Seeking out a lawyer to provide feedback on your document could take longer than you'd expect if you attempt to do it by yourself. An easier approach could be through the Rocket Lawyer network of attorneys. Premium members have the ability to request advice from an experienced attorney or pose additional legal questions. As always, you can be confident with Rocket Lawyer by your side.

How much might I normally pay to make an Affidavit of Title?

The cost of hiring and working with an attorney to produce an Affidavit of Title could range anywhere between two hundred and one thousand dollars, depending on where you are and how complex the matter may be. Unlike many other sites you might stumble upon, Rocket Lawyer offers more than Affidavit templates. If you ever require support from a lawyer, your membership offers up to 40% in savings when you hire an attorney.

What are my next steps after drafting my Affidavit of Title?

After completing your Affidavit using Rocket Lawyer, you can retrieve it wherever and whenever you choose. As a Rocket Lawyer member, you can make edits, print it, or sign it. Attached to each Affidavit of Title Form, there also will be a series of instructions for what comes next after the document is finished.

Does an Affidavit of Title Form need to be notarized or witnessed?

Yes, an Affidavit of Title Form requires the signature of a notary. Witnesses are not legally required.