Tell us about your business.
Dustin: O2 Treehouse builds custom and pre-fabricated treehouses. Our custom work can be anything from an open deck to a platform to a construction that's fully livable. And the pre-fabricated designs are structures, mostly geometric, that you can pick certain options on: the canopy, the flooring, and all the details of the structure. We ship the structure out to you. You can install it on your own. Or you can hire us to install.

So you guys are an all-inclusive package?
Dustin: Yeah. Treehouse Solutions!
That's great! So what inspired you to become an entrepreneur?
Dustin: I had a professor in college who always told us to go after your passion, to go after your bliss. And so shortly after graduating from school and thinking about all my different passions, that's when I got interested in treehouses. I was interested in creating architectural spaces, furniture design, and investigating alternative types of green materials–and that whole space that was starting to emerge.
When I was growing up, I hiked, climbed, and played with my family. So building treehouses was a project that combined all of these different interests of mine.
What was your first year of business like?
Dustin: Well, it's funny. I wouldn't necessarily say we had an official first year. It started around the design of that first treehouse. It was a passion project that I was putting my time into and trying to figure out a way to create it. That was really the first challenge. After proposing the structure to many state-wide camps and any place I could, I wasn't having much success. So then I was able to convince my dad to give me a small shoestring budget to create the first structure of the full-scale prototype. And so, it never started off as this idea of I'm going to start a whole company around it.
After building that first product, I actually went off to the World Treehouse Conference in Oregon. I got some press at that event. I started to get exposure and people became more interested. That's when I was like, "Maybe I should start a business" and really started getting serious about the idea.
So it all happened naturally.
Dustin: Yeah. It all started off really slowly and innocently, just pursuing this design. And then it started to snowball and the vision became bigger. That's when I created my first website and start setting up things like that.
Did you encounter any obstacles when you were starting?
Dustin: Oh yeah, absolutely. Every step was an obstacle. Really. Just getting that second build was a big feat. Getting someone to have faith in your ability to create something that's not by any means inexpensive and also a recreational item. It was difficult. After I got the first professional build completed, each step was much easier than the prior.
What was your main focus when you first started?
Dustin: My main focus was to create a treehouse structure that was super light, incredibly strong, and could fit in different trees; I wanted something that could flat pack so it can break down to different components to ship to somebody. I also wanted to have a lantern type of glow to it. My prior work was with light fixtures and furniture like that. So I had to set up some requirements for the design. It's just all about the ideas.
So what is your main focus now in building your business?
Dustin: Our main focus right now is to, of course, continue our core work with custom treehouses. But now, we're actually seeking partners to create structures for Airbnb.
That's exciting! Treehouses are definitely getting more popular.
Dustin: Yeah, we were actually featured on "Treehouse Masters" (episode: View from Above). We're creating a production video to explain the whole concept. The idea is that we'll partner with residential landlords in the creation of a treehouse. They'll provide the land, and we provide the structure. They pay for materials, and then we own it 50/50. In a way, you get an inexpensive treehouse for free. But of course, landlords also make money on it.
Interesting, so both parties benefit. What's the biggest lesson you've learned since you've started your own business?
Dustin: Well, this is a pretty nebulous term but whatever means it takes to constantly focus on what you're trying to achieve. Just like in design, whittling down or editing your objectives, or whatever it is you're trying to install, and just cutting out all the extraneous things, it's so important.
From a day to day, you can create your schedule and you'd like to achieve everyday. But the other component of that is the other external things that come with working with the world and working with other people, and opportunities that come about, can be positive or negative. All these things take up a large part of your day. So it's super important to.. say you're building canoes, your focus is to build canoes, not take on projects like build a car or a shed. Focus in on that.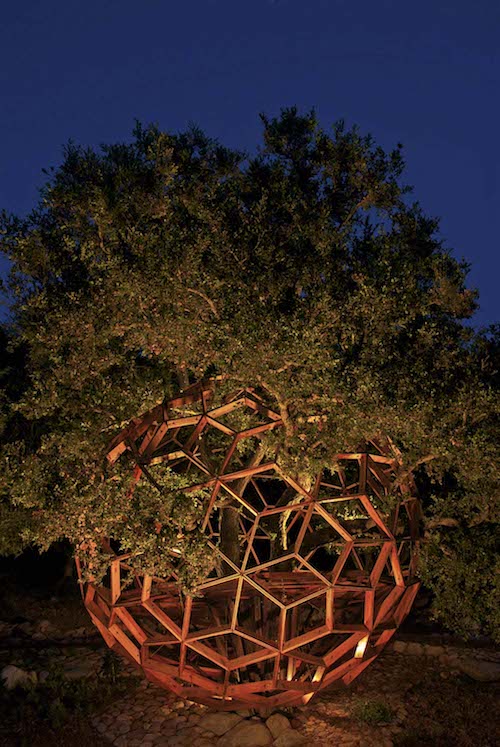 What about the biggest mistake you've made?
Dustin: My biggest mistake was with my website. I switched platforms so many times that it wasn't a stationary rock. Instead, it was a fluttering bird that can never be found. I wasn't playing with the rules of the internet. I had so much exposure that if all the exposure was pointing to one place and the website was really functioning to propel those links and exposure then I would have much better Google standing, considering how long I've been in treehouses.
Do you have any advice for aspiring entrepreneurs?
Dustin: Look for input from everyone: friends, advisers, experienced entrepreneurs, etc. Because you're so easily blinded by the things that you don't want to see. And in some cases, it's good because it drives you to create something that starts something. It's absolutely a balance between moving forward and making some kind of tangible progress. But also making calculated steps and getting feedback and input from all the people to make sure that the time and effort you're putting into something is going to be working for you and not against you.
---