MAKE YOUR FREE

Personal Property Lease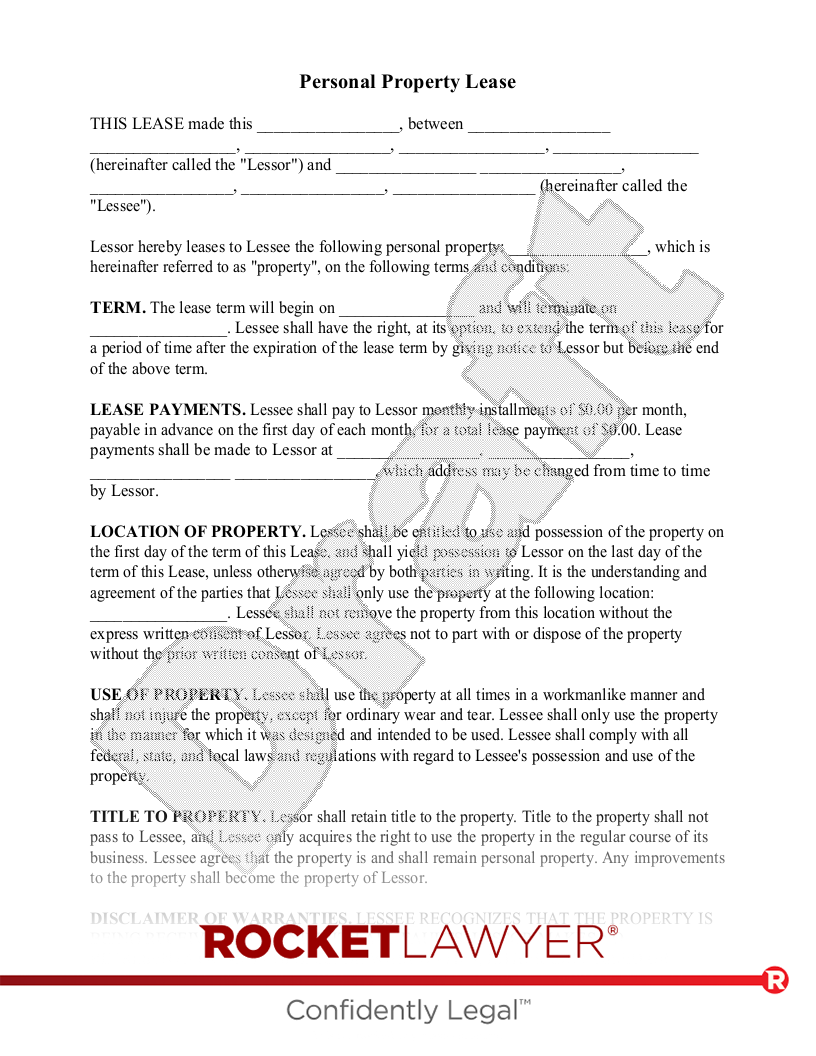 What is a Personal Property Lease?
If you're leasing or borrowing personal property that isn't a home or car, a Personal Property Lease can help you document and formalize the exchange. Making this document can make it easier for both parties to avoid possible disputes down the road. When ready, you can tap or click the "Make document" button to check out the sample Personal Property Lease and preview the questions that you will need to answer to create your document.
When to use a Personal Property Lease:
You're thinking of lending personal property.
You want to borrow someone's personal property.
You own or manage a business that provides leases other than for houses or vehicles.
Will this Personal Property Rental Agreement be legally binding under state law?
As with any legal contract, a Personal Property Rental Agreement will not be legally binding until all parties to the agreement have signed. Different from a generic Personal Property Lease template that you might come across elsewhere, your rental contract comes with the option of Document Defense®, so an attorney in our network can review the situation and take action if you need to demand payment or have another issue.
Why do property owners make Personal Property Rental Agreements?
Regardless of if you're lending furniture or a prized piece of fine jewelry for a wedding, you should be sure about what happens if it's stolen, broken, or lost. Working out all the issues before they become problems can save you a lot of time and frustration later. The following list of benefits may help you make the decision to use one:
Roles and responsibilities are understood by everyone
There is no confusion about rent or fees charged
There are no surprises about how long the rental will last
Without a Personal Property Rental Agreement, you and the renter may have to manage any of the following repercussions: not being paid in a timely manner, unplanned damage to the property and associated expenses, and, not to mention, little to no legal recourse when disputes arise.
How should the information in a Personal Property Lease template be organized?
In order to complete your Personal Property Lease with Rocket Lawyer, you will need to have the following details:
A description of your property
The full name of the lessee
How payments should be made
What the duration of the lease will be
As expected, your Personal Property Lease will also contain legal language related to past due payments, liability, and governing law. Using the document tool, you are able to add more custom editing, as well.
On average, what would I traditionally need to pay for a Personal Property Lease?
The cost of working with a conventional attorney might total anywhere from hundreds of dollars to thousands, if the matter is complex. As a property owner planning to draft your free document with Rocket Lawyer, you will need to take in the guidance that is given. If you'd like, you may also ask an Rocket Lawyer network attorney to review it for you.
Would I have to take additional actions after my Personal Property Lease is made?
When you are ready to finalize your document, it should be signed. Be sure to send a final copy of the fully signed contract to the lessee. When you use RocketSign®, you can handle the entire process online. With a membership, you also will be able to download it as a Word or PDF file, make copies, and print it as needed. You may also wish to check out more contracts in our library.
Will my Personal Property Rental Agreement be checked by an attorney before I sign?
Hiring an attorney to review your contract might be relatively time-consuming. Sometimes a lawyer will not even accept requests to review a document if they did not write it. In the event that an attorney does offer to help you, they are still going to charge their standard rate for doing it. An easier and more cost-effective way to double-check your document would be through attorney services at Rocket Lawyer. When you become a Premium member, you can have your documents examined by an attorney. Whether you create another Personal Property Rental Agreement or other legal documents, Rocket Lawyer is here to support you.
Sample Personal Property Lease
The terms in your document will update based on the information you provide
This document has been customized over 11.8K times
Legally binding and enforceable
Ask a lawyer questions about your document
Sign this document online for free with RocketSign®
Personal Property Lease
THIS LEASE made this , between , , , (hereinafter called the "Lessor") and , , , (hereinafter called the "Lessee").
Lessor hereby leases to Lessee the following personal property: , which is hereinafter referred to as "property", on the following terms and conditions:
TERM. The lease term will begin on and will terminate on . Lessee shall have the right, at its option, to extend the term of this lease for a period of time after the expiration of the lease term by giving notice to Lessor but before the end of the above term.
LEASE PAYMENTS. Lessee shall pay to Lessor monthly installments of per month, payable in advance on the first day of each month, for a total lease payment of . Lease payments shall be made to Lessor at , , , which address may be changed from time to time by Lessor.
LOCATION OF PROPERTY. Lessee shall be entitled to use and possession of the property on the first day of the term of this Lease, and shall yield possession to Lessor on the last day of the term of this Lease, unless otherwise agreed by both parties in writing. It is the understanding and agreement of the parties that Lessee shall only use the property at the following location: . Lessee shall not remove the property from this location without the express written consent of Lessor. Lessee agrees not to part with or dispose of the property without the prior written consent of Lessor.
USE OF PROPERTY. Lessee shall use the property at all times in a workmanlike manner and shall not injure the property, except for ordinary wear and tear. Lessee shall only use the property in the manner for which it was designed and intended to be used. Lessee shall comply with all federal, state, and local laws and regulations with regard to Lessee's possession and use of the property.
TITLE TO PROPERTY. Lessor shall retain title to the property. Title to the property shall not pass to Lessee, and Lessee only acquires the right to use the property in the regular course of its business. Lessee agrees that the property is and shall remain personal property. Any improvements to the property shall become the property of Lessor.
DISCLAIMER OF WARRANTIES. LESSEE RECOGNIZES THAT THE PROPERTY IS BEING RECEIVED AS IS AND WITH ALL FAULTS. LESSOR MAKES NO REPRESENTATIONS, PROMISES, OR WARRANTIES, EITHER EXPRESSED OR IMPLIED, CONCERNING THE MERCHANTABILITY, SUITABILITY, OR FITNESS FOR A PARTICULAR PURPOSE OF THE PROPERTY. LESSOR EXPRESSLY DISCLAIMS ANY AND ALL REPRESENTATIONS AND WARRANTIES, WHETHER ARISING FROM STATUTE, COMMON LAW, CUSTOM, OR OTHERWISE. THIS DISCLAIMER OF ALL WARRANTIES APPLIES TO BOTH THE LEASE OF THE PROPERTY AND ANY EXERCISE OF THE OPTION TO PURCHASE THE PROPERTY.
TAXES. Lessee, at its own expense, shall pay all personal property taxes levied or assessed against the property.
INSURANCE. Lessee, at its own expense and throughout the entire term of this lease, shall insure the property for the sum of . Lessor shall be named as the loss payee under this policy of insurance, and a certificate of insurance shall be tendered to Lessor at the time Lessee receives the property. In case of loss, the insurance proceeds shall be used to repair or replace the property unless otherwise agreed in writing by Lessor and Lessee.
RISK OF LOSS. Lessee shall bear all risk of loss to the property unless the loss occurs while the property is in the possession of the Lessor. Loss or damage to the property shall not relieve Lessee of its obligations under this lease agreement, including Lessee's obligation to pay rent.
INDEMNIFICATION. Lessee shall indemnify and hold Lessor harmless for any and all claims, damages, or proceedings (including all costs, expenses, and attorneys' fees) relating to or arising out of Lessee's use or possession of the property.
LATE PAYMENTS. For any payment that is not paid within days after its due date, Lessee shall pay a late fee of .
DEFAULT. If the Lessee fails to make any rental payments, or otherwise fails to comply with the terms and conditions of this lease, Lessor may immediately and without notice take possession of the property without legal proceedings. Upon Lessee's default of its obligations under this lease agreement, any unpaid rents for the entire term of the lease agreement shall immediately become due and payable.
RETURN OF PROPERTY. At the expiration of the term of this lease or upon default by Lessee, Lessee shall return and deliver to Lessor the property in good order and condition, ordinary wear and tear excepted.
HOLDOVER. If Lessee maintains possession of the property for any period after the termination of this Lease ("Holdover Period"), Lessee shall pay to Lessor lease payment(s) during the Holdover Period at a rate equal to 150% of the most recent rate preceding the Holdover Period (or the maximum amount allowed by law if less). Such holdover shall constitute a month-to-month extension of this Lease. This provision shall be waived in the event Lessee has exercised their Option to Purchase.
NON-SUFFICIENT FUNDS. Lessee shall be charged (or the maximum amount allowable under applicable law if less) for each check that is returned to Lessor for lack of sufficient funds.
NO ASSIGNMENTS. Lessee agrees not to part with or assign this lease without the written consent of Lessor.
TIME OF ESSENCE. The parties agree that time is the essence of this lease agreement in each and every particular.
ATTORNEY'S FEES. If an action is brought to recover the property or any amount due under this lease agreement, Lessee agrees to pay all costs, including reasonable attorneys' fees, incurred by Lessor.
ENTIRE AGREEMENT. This writing contains and constitutes the entire agreement between the parties. This lease agreement can only be modified by written agreement signed by both Lessor and Lessee. No modification, waiver or amendment shall be valid unless in writing and signed by the parties hereto.
APPLICABLE LAW. This lease agreement shall be governed and interpreted by the laws of the
ADVERSITING AND DISCLOSURE. Neither party, without the prior written approval of the other, shall in any manner advertise or publish the fact that Lessee has entered into this lease.
NOTICE AND APPROVALS. Except as otherwise provided herein, all notices and approvals hereunder shall be in writing and, except as each party may change its address pursuant hereto, addressed to the parties as follows:
To Lessor:
, , , , .
To Lessee:
, , , , .
SIGNATURES. This Lease shall be signed on behalf of by , and on behalf of by .
LESSOR:
, its
LESSEE:
, its