MAKE YOUR FREE

Equipment Lease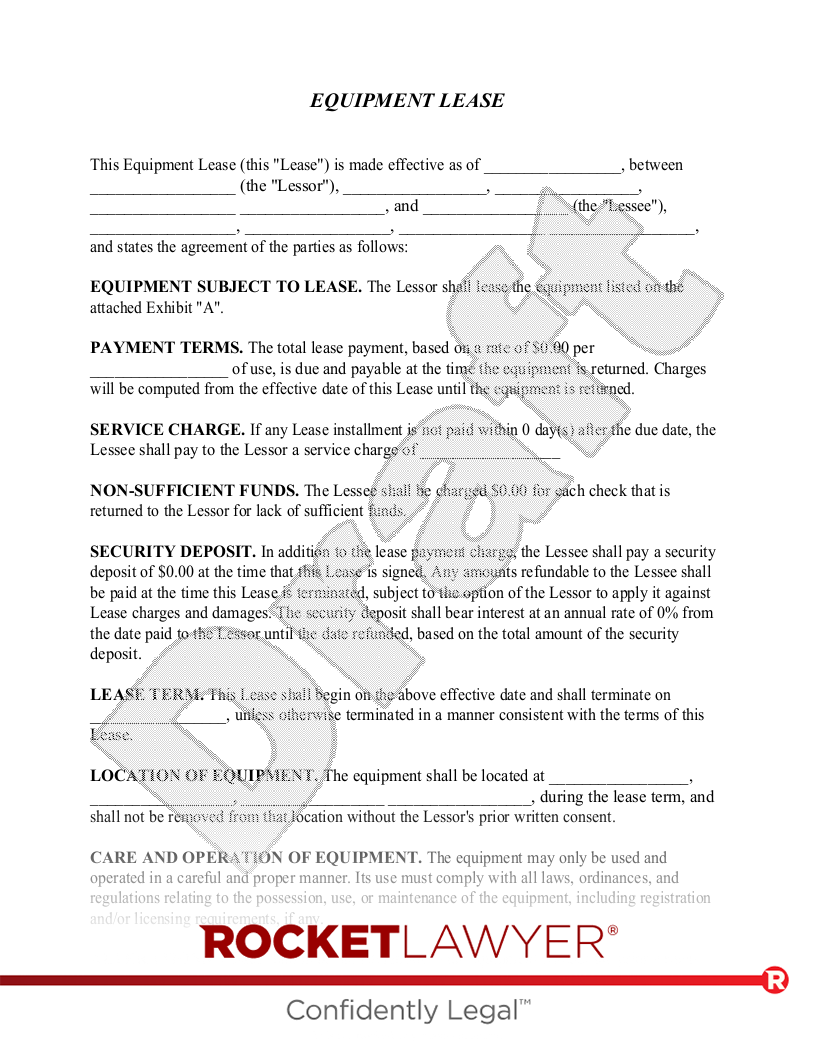 What is an Equipment Lease?
Equipment Leases usually are designed to lay out the terms and rent payment details in connection to a rental arrangement. When drafted properly, this legal agreement can reduce disputes by ensuring that the understanding is mutual. When ready, you can tap or click the button labeled "Make document" to take a closer look at our sample Equipment Lease and see what information you'll need to provide to create your lease.
When to use an Equipment Lease:
You own equipment which will be leased to another person or organization.
You want to lease equipment from a person or organization.
Sample Equipment Lease
The terms in your document will update based on the information you provide
This document has been customized over 184K times
Legally binding and enforceable
Ask a lawyer questions about your document
Sign this document online for free with RocketSign®
This Equipment Lease (this "Lease") is made effective as of , between (the "Lessor"), , , , (the "Lessor"), , , , and (the "Lessee"), , , , (the "Lessee"), , , , and states the agreement of the parties as follows:
EQUIPMENT SUBJECT TO LEASE. The Lessor shall lease the equipment listed on the attached Exhibit "A".
LEASE TERM. This Lease shall begin on the above effective date and shall terminate on , unless otherwise terminated in a manner consistent with the terms of this Lease.
CARE AND OPERATION OF EQUIPMENT. The equipment may only be used and operated in a careful and proper manner. Its use must comply with all laws, ordinances, and regulations relating to the possession, use, or maintenance of the equipment, including registration and/or licensing requirements, if any.
MAINTENANCE AND REPAIR. The Lessee Lessor shall maintain, at the Lessee's cost, Lessor's cost, the equipment in good repair and operating condition, allowing for reasonable wear and tear. Such costs shall include labor, material, parts, and similar items.
RETURN OF EQUIPMENT. At the end of the Lease term, the Lessee shall be obligated to return the equipment to the Lessor at the Lessee's expense.
ACCEPTANCE OF EQUIPMENT. The Lessee shall inspect each item of equipment delivered pursuant to this Lease. The Lessee shall immediately notify the Lessor of any discrepancies between such item of equipment and the description of the equipment in the Equipment Schedule. If the Lessee fails to provide such notice before accepting delivery of the equipment, in writing within day(s) after the delivery of the equipment, the Lessee will be conclusively presumed to have accepted the equipment as specified in the Equipment Schedule.
OWNERSHIP AND STATUS OF EQUIPMENT. The equipment will be deemed to be personal property, regardless of the manner in which it may be attached to any other property. The Lessor shall be deemed to have retained title to the equipment at all times, unless the Lessor transfers the title by sale. The Lessee shall immediately advise the Lessor regarding any notice of any claim, levy, lien, or legal process issued against the equipment.
RISK OF LOSS OR DAMAGE. The Lessee assumes all risks of loss or damage to the equipment from any cause, and agrees to return it to the Lessor in the condition received from the Lessor, with the exception of normal wear and tear, unless otherwise provided in this Lease.
INDEMNITY OF LESSOR FOR LOSS OR DAMAGES. Unless otherwise provided in this Lease, if the equipment is damaged or lost, the Lessor shall have the option of requiring the Lessee to repair the equipment to a state of good working order, or replace the equipment with like equipment in good repair, which equipment shall become the property of the Lessor and subject to this Lease.
DEFAULT. The occurrence of any of the following shall constitute a default under this Lease:
A. The failure to make a required payment under this Lease when due.
B. The violation of any other provision or requirement that is not corrected within day(s) after written notice of the violation is given.
C. The insolvency or bankruptcy of the Lessee.
D. The subjection of any of Lessee's property to any levy, seizure, assignment, application or sale for or by any creditor or government agency.
RIGHTS ON DEFAULT. In addition to any other rights afforded the Lessor by law, if the Lessee is in default under this Lease, without notice to or demand on the Lessee, the Lessor may take possession of the equipment as provided by law, deduct the costs of recovery (including attorney fees and legal costs), repair, and related costs, and hold the Lessee responsible for any deficiency. The rights and remedies of the Lessor provided by law and this Agreement shall be cumulative in nature. The Lessor shall be obligated to re-lease the equipment, or otherwise mitigate the damages from the default, only as required by law.
NOTICE. All notices required or permitted under this Lease shall be deemed delivered when delivered in person or by mail, postage prepaid, addressed to the appropriate party at the address shown for that party at the beginning of this Lease.
ENTIRE AGREEMENT AND MODIFICATION. This Lease constitutes the entire agreement between the parties. No modification or amendment of this Lease shall be effective unless in writing and signed by both parties. This Lease replaces any and all prior agreements between the parties.
GOVERNING LAW. This Lease shall be construed in accordance with the laws of the State of Commonwealth of .
SEVERABILITY. If any portion of this Lease shall be held to be invalid or unenforceable for any reason, the remaining provisions shall continue to be valid and enforceable. If a court finds that any provision of this Lease is invalid or unenforceable, but that by limiting such provision, it would become valid and enforceable, then such provision shall be deemed to be written, construed, and enforced as so limited.
WAIVER. The failure of either party to enforce any provision of this Lease shall not be construed as a waiver or limitation of that party's right to subsequently enforce and compel strict compliance with every provision of this Lease.
SIGNATORIES. This Lease shall be signed on behalf of by , , and on behalf of by , , and shall be effective as of the date first above written.
EXHIBIT A
Equipment Schedule
Equipment Description:
Lease End Purchase Price:
Checklist
Make It Legal™
Find out next steps for your document
___Sign this document. This document needs to be signed by:
This lease agreement can be signed online. It becomes effective as of the date specified in the lease. It is not necessary for the signatures be witnessed or notarized.
___Everyone gets a copy. Anyone named in the document should receive a copy of the signed document. If you sign this agreement online a copy will be securely stored in your account. You can share your document from your account.
Equipment Lease FAQs
Is my Equipment Rental Agreement legally binding under state law?

As with any other legal contract, Equipment Leases are not legally binding until all parties have signed. Different from the other sites you may stumble upon, Rocket Lawyer offers much more than a blank Equipment Lease template or fillable PDF that you could obtain elsewhere. If the equipment renter refuses to pay or there is a different issue related to your Equipment Rental Agreement, your Premium membership offers the optional benefit of Document Defense® protection.

What are the arguments for writing an Equipment Rental Agreement?

Regardless of who your renter is, it is always a best practice to sign an Equipment Lease. Making this document could be helpful for you because of the benefits listed here:

The equipment owner and equipment renter(s) understand their responsibilities
There is no confusion about rent or fees charged
Lease start and end dates are established

Ultimately, if you decide against using this document, neither party will receive any of the benefits associated with having one in place.

How should the contents of an Equipment Lease template be organized?

You may want to prepare the following details for your Equipment Lease:

A description of your equipment
The contact information for the renter
How much you will charge for the rental fee
What the start and end dates are

As you may expect from a document like this one, your Equipment Lease will also include legal language related to late payments, liability, and governing law. More custom alterations are allowed, as well.

On average, how much would it traditionally cost me to get an Equipment Rental Agreement?

Fortunately, you don't need to pay hundreds of dollars to get your agreement in writing. With the document tools on Rocket Lawyer, you are able to create a free Equipment Lease today. Your document is constructed step by step, so you can feel confident that it has all of the relevant information that you'll need. Simply click on the button that says "Make document" to start.

Is anything else required after creating an Equipment Lease?

Attached to each Equipment Lease, there will be a set of instructions that you will need to follow to finalize the document. With a Rocket Lawyer membership, you can edit it, print it, download it as a Word document or PDF file, copy it, and add electronic signatures via RocketSign®, as needed. Most importantly, take care to give a copy of your signed agreement to the equipment renter. You may also wish to explore our larger library of additional legal documents .

Could someone review my Equipment Lease?

Seeking out an attorney to provide feedback on your agreement could take longer than you'd think if you attempt to do it by yourself. Another approach might be through the Rocket Lawyer On Call® attorney network . Premium members are able to request guidance from an attorney with relevant experience or pose other questions. When managing your equipment rentals, you can Work Confidently® with Rocket Lawyer by your side.