MAKE YOUR FREE

Medical Records Transfer Form
Other Names:
Medical Records Release Form
Authorization to Release Medical Records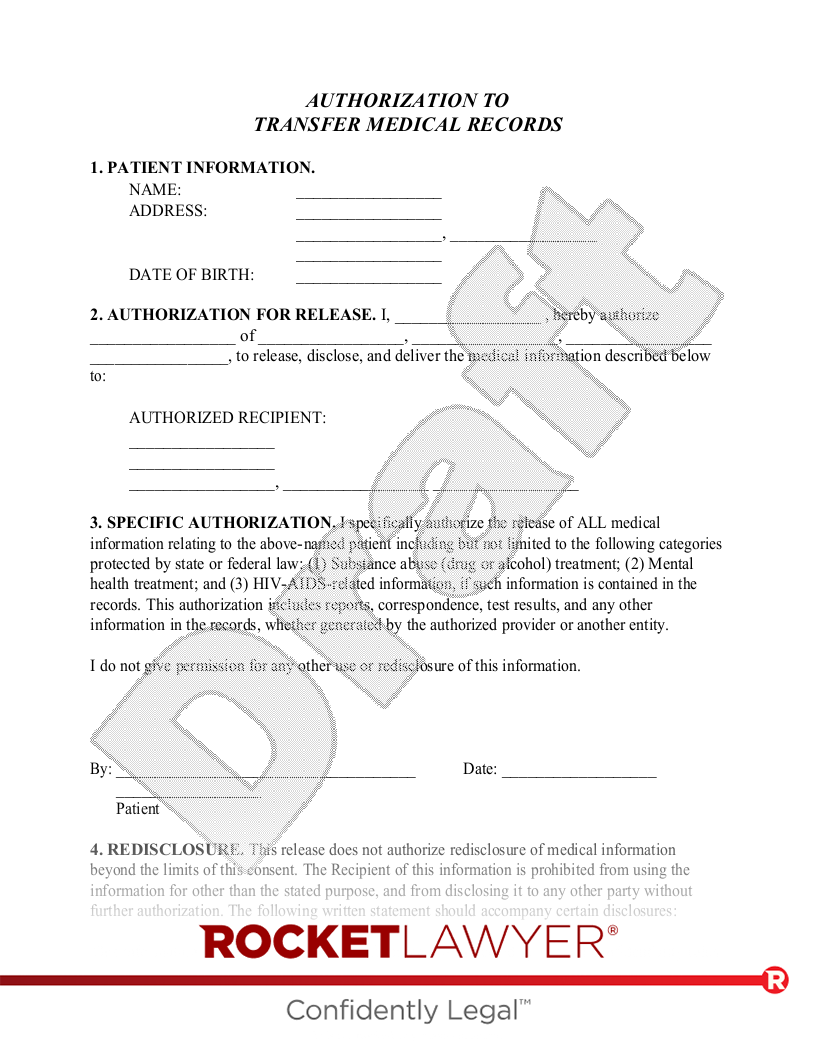 What is a Medical Records Transfer Form?
This document provides a form for you to authorize the transfer of medical records from one health care provider to another.
When to use a Medical Records Transfer Form:
You have a new doctor or change doctors.
You move to a new location.
You need to transfer hospital or nursing home records.
You need to transfer certain records to a specialist.
Sample Medical Records Transfer Form
The terms in your document will update based on the information you provide
This document has been customized over 17K times
Legally binding and enforceable
Ask a lawyer questions about your document
AUTHORIZATION TO
TRANSFER MEDICAL RECORDS
1. PATIENT INFORMATION.
2. AUTHORIZATION FOR RELEASE. I, , hereby authorize of , , , to release, disclose, and deliver the medical information described below to:
X
- Substance abuse (drug or alcohol) treatment
- Substance abuse (drug or alcohol) treatment
X
- Mental health treatment
- Mental health treatment
X
- HIV-AIDS
- HIV-AIDS
X
-
I do not give permission for any other use or redisclosure of this information.
By: ___________________________________
Date: __________________
4. REDISCLOSURE. This release does not authorize redisclosure of medical information beyond the limits of this consent. The Recipient of this information is prohibited from using the information for other than the stated purpose, and from disclosing it to any other party without further authorization. The following written statement should accompany certain disclosures:
This information has been disclosed to you from records protected by Federal confidentiality rules (42 CFR Part 2 and 45 CFR Parts 160 and 164). The Federal rules prohibit you from making any further disclosure of this information unless further disclosure is expressly permitted by the written consent of the person to whom it pertains or as otherwise permitted by 42 CFR Part 2 and 45 CFR Parts 160 and 164. A general authorization for the release of medical or other information is NOT sufficient for this purpose. The Federal rules restrict any use of the information to criminally investigate or prosecute any alcohol or drug abuse patient.
I specifically understand and agree that the REDISCLOSURE requirements set out above will apply to these records.
5. VALIDITY. I understand that this authorization will automatically expire from the date of my signature, and that I may revoke this authorization by sending a written notice to the person or entity authorized to make the disclosure described above. I agree that any release which has been made prior to revocation and which was made in reliance upon this authorization shall not constitute a breach of my rights to confidentiality.
I authorize the release of information as indicated above.