MAKE YOUR FREE

South Carolina Living Will
Other Names:
South Carolina Advance Directive
South Carolina Advance Healthcare Directive
South Carolina Medical Directive
South Carolina Advance Medical Directive
South Carolina Advance Health Care Directive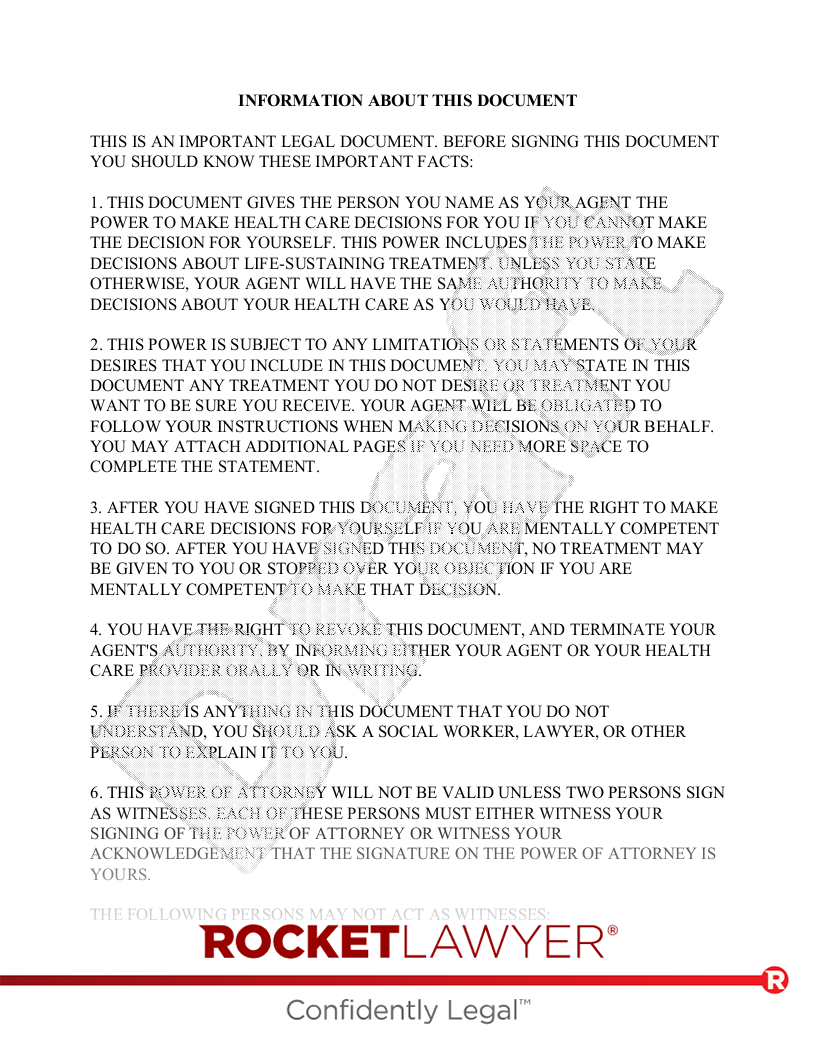 What is a South Carolina Living Will?
A South Carolina Living Will is a legal document that lays out your preferences in relation to health care, such as your refusal or acceptance of a certain medical treatment or procedure, in addition to the optional selection of a chosen healthcare decision maker or "agent."

The person making a Living Will is known as the "principal," and the individual or organization receiving authority to carry out the principal's wishes is known as the "agent." Designed for residents of South Carolina, this free Living Will is made for use in Charleston County, Greenville County, Richland County, and in every other region in the state. Any South Carolina Living Will form from Rocket Lawyer can be tailored to address your unique situation. With this essential legal document on hand, your healthcare institutions will have a point of reference for your preferences, and your agent will be able to offer proof that they have been given the authority to make choices for you when you are not able.
When to use a South Carolina Living Will:
You want to specify your wishes so that it is more likely they will be carried out.
You are facing the possibility of surgery or a hospitalization.
You have declining health.
You have been diagnosed with a terminal condition.
South Carolina Living Will FAQs
How do I write a Living Will in South Carolina?

It is simple and easy to document your medical preferences using a free South Carolina Living Will template from Rocket Lawyer:

Make the document - Answer a few questions, and we will do the rest
Send or share it - Discuss it with your healthcare agent or get legal advice
Sign it - Required or not, notarization/witnesses are ideal

This solution, in most cases, would end up being much less expensive and less time-consuming than finding and hiring the average provider. If needed, you can prepare this Living Will on behalf of a relative, and then have that person sign it after you've drafted it. Keep in mind that for a Living Will to be accepted as valid, the principal must be an adult who is mentally competent at the time of signing. In the event that the principal is already incapacitated and unable to make their own decisions, a conservatorship may be necessary. In this situation, it would be important for you to talk to a lawyer .

Who should have a Living Will?

Anyone who is over 18 years old should have a Living Will. While it may be tough to think about, a day may come when you are not able to make your own medical decisions. Here are a few common occasions in which you might consider it helpful to make or update your Living Will:

You are currently managing a terminal illness
You are facing the possibility of medical procedure or hospitalization
You currently reside in or are preparing to move into a care facility
You are getting older or have declining health

Regardless of whether this South Carolina Living Will has been created as a result of a recent change in your health or as part of a long-term plan, witnesses and notarization often help to protect your document if its lawfulness is disputed.

Do I need to work with an attorney for my Living Will in South Carolina?

Making a Living Will is normally simple; however, you or your agent could have questions. Hiring a legal professional to give feedback on your document can take a lot of time if you do it alone. An easier approach to consider is to go through the Rocket Lawyer On Call® network. Rocket Lawyer Premium members have the ability to ask for advice from an experienced lawyer or ask additional questions. As always, you can live confidently knowing that Rocket Lawyer is by your side.

How much might I usually have to pay for a lawyer to help me make a Living Will in South Carolina?

The cost of hiring a lawyer to draft a Living Will could add up to anywhere from $200 to $1,000, depending on where you are. Unlike most other Living Will template websites that you may discover elsewhere, Rocket Lawyer gives Premium membership holders up to a 40% discount when hiring a lawyer, so an attorney from our network can represent you if you ever require support.

Would I have to take additional actions after drafting my South Carolina Living Will?

With a membership, you can edit it, download it as a PDF document or Word file, or print it out. In order to finalize your South Carolina Living Will form, it must be signed. You should give a final copy of your signed document to your agent(s) and care providers.

Does a Living Will need to be notarized or witnessed in South Carolina?

The requirements for Living Wills will vary by state; however, in South Carolina, your document needs to be acknowledged by a notary public and signed by two witnesses. Witnesses to your Living Will form shouldn't be your attending physician or their employees, nor can they be anyone who is directly responsible for your healthcare costs, your spouse, relatives, adoptees, heirs, or other beneficiaries. As a general principle, witnesses must not be under the age of 18, and no witness should simultaneously be designated as your agent.