MAKE YOUR FREE

Colorado Living Will
Other Names:
Colorado Advance Directive
Colorado Advance Healthcare Directive
Colorado Medical Directive
Colorado Advance Medical Directive
Colorado Advance Health Care Directive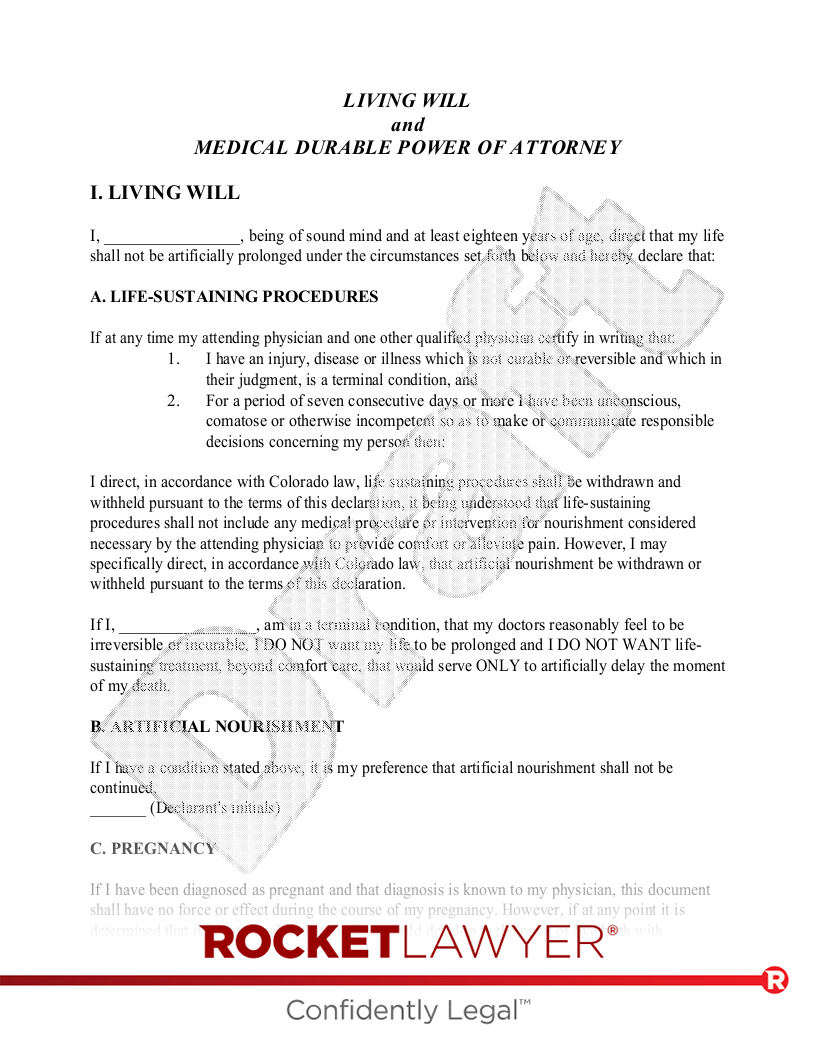 What is a Colorado Living Will?
A Colorado Living Will is a legal document that lays out your wishes in relation to medical care, such as your acceptance or refusal of specific medical treatments, along with the (optional) naming of a trusted healthcare agent.

The person making a Living Will is known as the "principal," and the person or organization obtaining permission to carry out the principal's wishes is known as the "agent." Suited for residents of Colorado, this free Living Will can be used in Jefferson County, El Paso County, Arapahoe County, and in every other county or municipality throughout the state. Any Colorado Living Will form from Rocket Lawyer can be modified for your unique situation. This official document will provide verification of your preferences to healthcare facilities, and it will confirm that your selected agent has been given the authority to make choices for you.
When to use a Colorado Living Will:
You want to legally and clearly communicate your healthcare wishes.
You're assigning someone to make healthcare decisions for you in the event that you're unable to do so in the future.
Colorado Living Will FAQs
How do I write a Living Will in Colorado?

It is quick and easy to outline your medical preferences using a free Colorado Living Will template from Rocket Lawyer:

Make your Living Will - Provide a few basic details,, and we will do the rest
Send or share it - Go over the document with your healthcare agent or ask a legal question
Sign it - Mandatory or not, witnesses and notarization are encouraged

This route will often end up being notably more affordable than working with a traditional lawyer. If needed, you can fill out this Living Will on behalf of your spouse, an elderly parent, or another relative and then have that person sign after you've drafted it. Keep in mind that for a Living Will to be considered legally valid, the principal must be mentally competent at the time of signing. If the principal has already been declared incompetent, a court-appointed conservatorship might be necessary. In such a scenario, it's a good idea to speak to a lawyer .

Who should have a Living Will?

If you are over 18 years old, you ought to have a Living Will in place. Though it is challenging to think about, a day could come when you are not able to make your own healthcare decisions. Here are some typical circumstances in which it might be helpful to make or update your Living Will:

You are planning for an upcoming medical procedure or hospitalization
You are getting older or have declining health
You have been given a terminal diagnosis
You currently live in or intend to move into an adult care facility

Regardless of whether this Colorado Living Will has been generated as part of a long-term plan or created as a result of a change in your health, notarization and/or witnesses can help to protect your document if its lawfulness is questioned by a third party. Please note that Living Wills are not legally valid during pregnancy in Colorado.

Do I need a lawyer for my Living Will in Colorado?

Making a Living Will is typically straightforward, but you might still need advice. It may vary depending on whom you reach out to, but sometimes an attorney may not even agree to review documents that they did not draft. An easier approach to consider is to go through the Rocket Lawyer On Call® network. When you become a Premium member, you have the ability to ask for guidance from an attorney with relevant experience or pose other questions about your Living Will. We're always here to help.

How much would it traditionally cost for a lawyer to help me make a Living Will in Colorado?

The fees associated with finding and hiring a legal provider to draft a Living Will might total anywhere between $200 and $1,000. Different from the other sites that you might stumble upon, Rocket Lawyer offers more than a Living Will template. If you ever need support from a lawyer, your Rocket Lawyer membership offers up to 40% in savings when you hire an attorney.

What are my next steps after I have drafted my Colorado Living Will?

Attached to your Colorado Living Will form, you'll find a series of helpful tips to follow while finalizing your document. With a membership, you may edit it, save it in PDF format or as a Word document, print it out, and/or sign it. Finally, your agent(s), care providers, and other impacted parties should receive copies of the final document.

Does a Living Will need to be notarized or witnessed in Colorado?

The laws for Living Wills will vary by state; however, in Colorado, your Living Will must be signed by two witnesses. The witnesses to your Living Will form shouldn't be your healthcare providers, their employees, or any of your creditors. Heirs and beneficiaries are restricted, as well. As a general principle, witnesses must be 18 years old or older, and none of them should simultaneously be named as your healthcare agent.