MAKE YOUR FREE

Personal Fact Sheet
Other Names:
Personal Information Sheet
Fact Sheet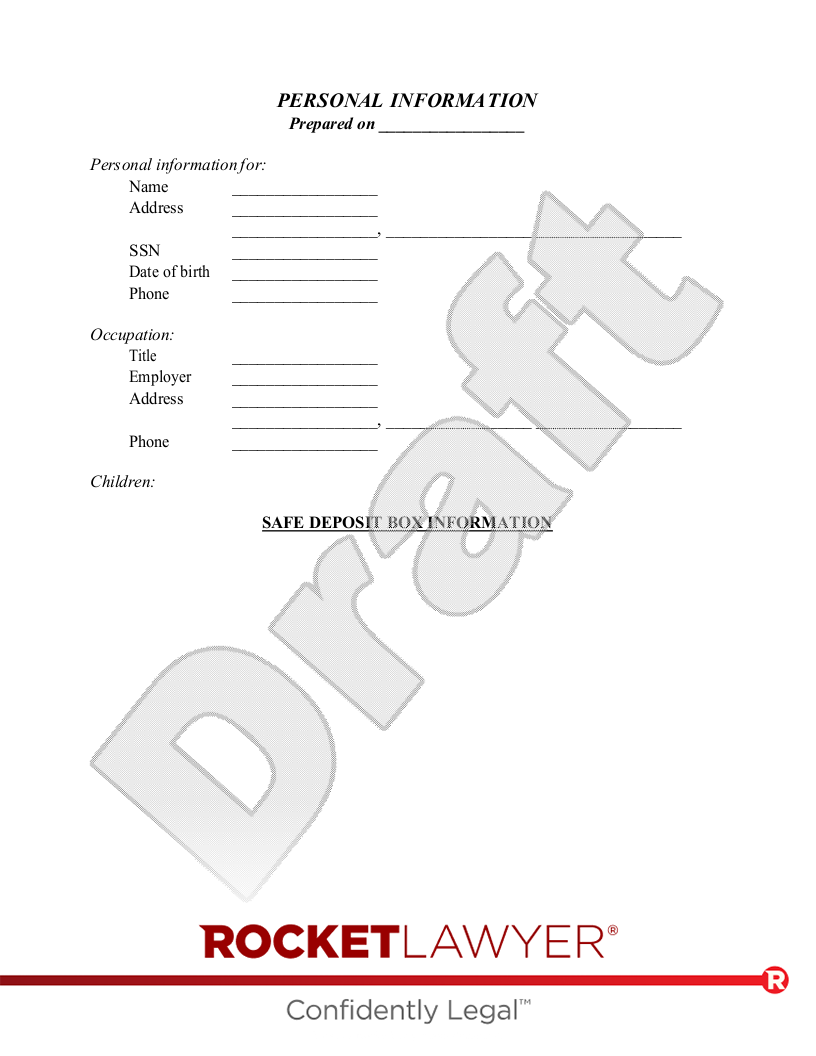 What is a Personal Fact Sheet?
A Personal Fact Sheet is a great way to know where your estate stands, or just to organize your personal and financial information. Whatever the reason, create a Personal Fact Sheet to compile and organize all your assets, financial information and more.

Although it's not a legal document, using a Personal Fact Sheet is a great way to grasp an overview of all your financial matters. With all of your personal assets and financial information in one place, you'll be more organized and prepared for the future. The final document may be useful to other people too: Your spouse or family member may find the worksheet helpful should you become incapacitated or pass away. Also, should a conservator, executor or agent need to step in to handle your affairs, your Personal Fact Sheet can make their job easier. In your fact sheet, you can include information regarding your assets and liabilities, property information, insurance policies, Advance Health Care Directives, and Wills.
When to use a Personal Fact Sheet:
You want to organize personal and financial information for personal use or for use by someone who will need to handle your affairs if you are unable to do so or die.
You want to provide summary information for the preparation of other documents.
Sample Personal Fact Sheet
The terms in your document will update based on the information you provide
This document has been customized over 11.1K times

Documents and communicates
Ask a lawyer questions about your document
PERSONAL INFORMATION
Prepared on
Personal information for:
Executor:
Co-Executor:
Co-Executor:
Alternate Executor:
Alternate Co-Executor:
Alternate Co-Executor:
Trustee:
Co-Trustee:
Co-Trustee:
Successor Trustee:
Successor Co-Trustee:
Successor Co-Trustee:
Trustee:
Co-Trustee:
Co-Trustee:
Successor Trustee:
Successor Co-Trustee:
Successor Co-Trustee:
Agent:
Alternate Agent:
Alternate Agent:
Alternate Agent:
Alternate Agent:
Alternate Agent:
Total Retirement/Profit Sharing Accounts
Total Investment Accounts
Total Value of Real Estate
Total Personal Property/Household Furnishings