Tenants in Common Agreement Basics
A Tenants in Common Agreement allows for multiple people to share interest in real property while retaining a lot of the freedoms that can be restricted in a joint tenancy. When you went in with someone to purchase property you likely had plans for it. A tenancy in common allows you to own an unequal share of the property, alienate that share by selling or gifting it to another, and transfer that share on to your heirs when you pass. A Tenants in Common Agreement can help you lay out and document the important details.
Use the Tenants in Common Agreement document if:
You purchased property with other people.
You and others inherited or were gifted property.
In a tenancy in common, all the owners have an equal right to possess the whole of the property; however, that doesn't mean everything is always equal. Perhaps you own 70% of the property while your partner owns 30% - either of you can make use of the entire property, but if you agreed to sell the property, or your portion of it, you would be entitled to the majority of the proceeds. Even if you're not interested in selling the property any time soon it's still important to have your agreement in writing. If there's ever a disagreement between you and your partner you'll want to have everything written down beforehand - not to mention that any real estate transactions have to be in writing to be legally binding. All these details can be important and you can put them in writing with a Tenants in Common Agreement.
---
<![CDATA[ ]]>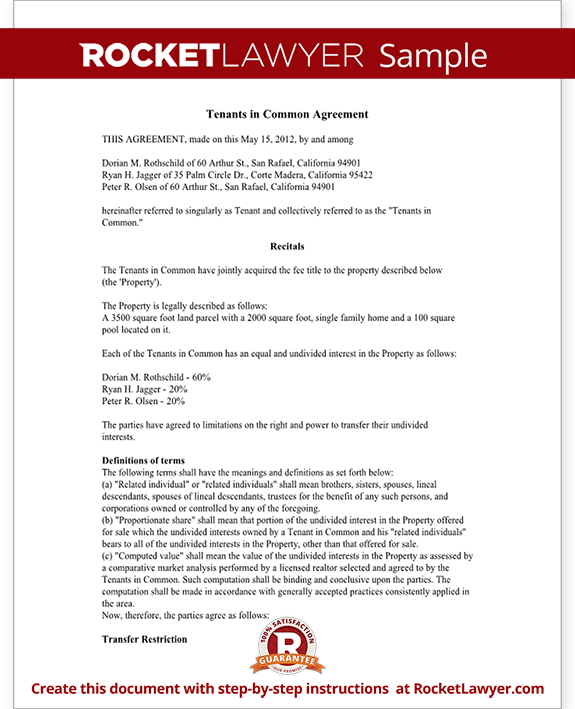 View Sample
Sample Tenants in Common Agreement
More than just a template, our step-by-step interview process makes it easy to create a Tenants in Common Agreement.

Save, sign, print, and download your document when you are done.

Sample Tenants in Common Agreement
Our step-by-step interview process makes creating a printable Tenants in Common Agreement easy.
Make Document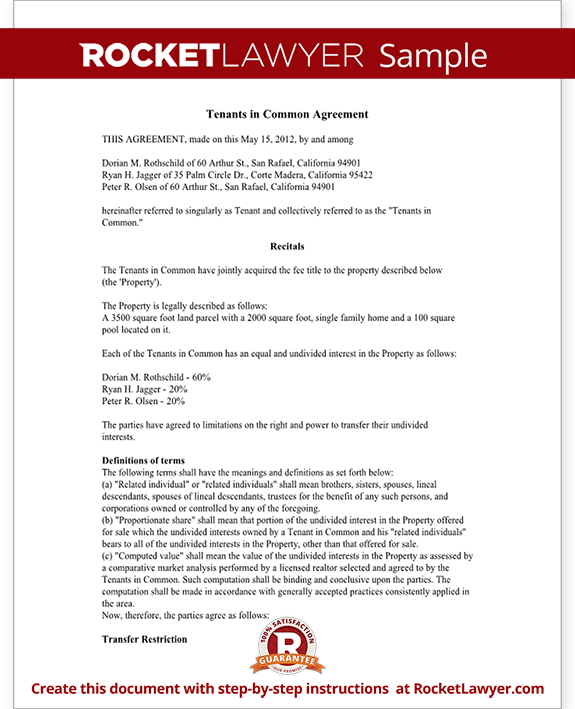 Why choose Rocket Lawyer?
Legally reviewed
Researched by lawyers
and legal staff.
Specialists to help
We're here to answer your
questions.
Free Trial
Your document is free with your subscription.
Our quality guarantee
We guarantee our service is
safe and secure.