MAKE YOUR FREE
Retail Space Lease
Answer simple questions to create your document

Sign & share your document online

Save progress and finish on any device; download & print at home
Start Now

Preparing your document questions
We've sent you an email
with information about how to access your document from any device

Make your Free
Retail Space Lease
Retail Space Lease Basics
When a new boutique, salon or cafe wants to move into your commercial space, you'll need to sign a Retail Space Lease before you start collecting rent. Maybe it's your first time as a landlord leasing retail space. Or maybe you're opening your first shop. Make sure you take care of the landlord-tenant details before the grand opening. A Retail Space Lease is the place to outline the terms.
Use the Retail Space Lease document if:
Own commercial property, a retail space that will be leased to a tenant to run a business
Want to lease commercial rental property , a retail space from a landlord who does not have a lease form.
When you're a landlord with commercial space, you need to choose your tenants carefully. Using a Retail Space Lease can help you help your tenant succeed. After all, it's in your interest for the new venture to succeed, so you won't have to worry about leasing the space again anytime soon. And if you're the retailer, you want to make sure your needs are taken care of. Is there faulty wiring where you're going to hang the chandelier? Do you want to ask permission to paint your new perfume store pink? You may need to negotiate. Whether you're the landlord or the tenant, you don't want to rush this part of the process. Make sure you're both happy with the arrangement. A Retail Space Lease can help cement a great relationship.

Other names for this document: Retail Lease, Retail Space Lease Agreement
---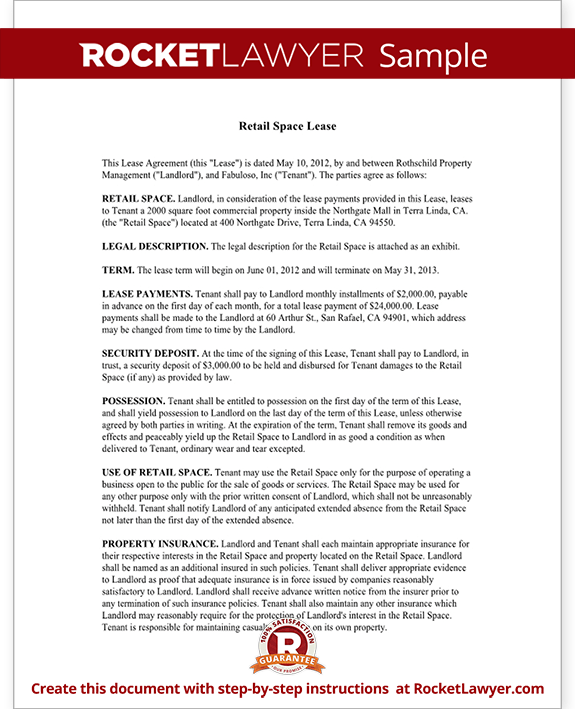 View Sample
Sample Retail Space Lease
More than just a template, our step-by-step interview process makes it easy to create a Retail Space Lease.

Save, sign, print, and download your document when you are done.

Sample Retail Space Lease
Our step-by-step interview process makes creating a printable Retail Space Lease easy.
Make Document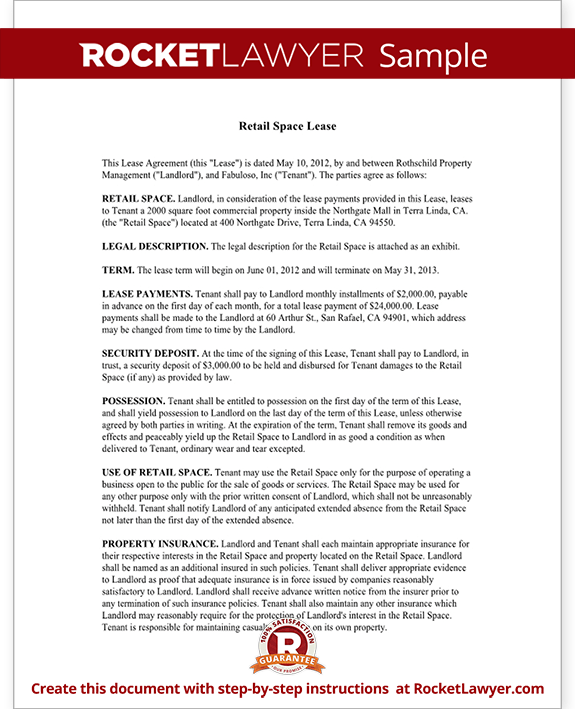 ---
Ready to create your Free Retail Space Lease?
Your document is free within your one week membership trial.
Make Document