Premarital Agreement Basics
A Premarital Agreement is an agreement between a couple that governs property rights, expenses, assets, and liabilities. A lot happens legally when you get married and move in together with your spouse; both assets and liabilities that were once individually owned can become a joint responsibility. Having a Premarital agreement can help you protect yourself and your spouse.
Use the Premarital Agreement document if:
You're considering marriage.
You own significant amounts of property.
You have previously been married.
You have children from a prior marriage.
Getting married is a substantial financial event, in addition to a personal one, a Premarital Agreement helps straighten out the financial details before they become a problem. A Premarital Agreement isn't simply a guard against a tough divorce; having an agreement in place can protect specific assets and sort debts so you can enjoy a healthy financial situation and a healthy marriage.

Depending on state, when you get married much of your individual property becomes jointly owned; this includes everything from your earnings to any debts you may incur while married. If either you or your spouse gather any debt from student loans or starting a business both of you are responsible for paying it off. Furthermore, declaring bankruptcy can affect both of you, not just the individual who files. In addition to protecting assets, a Premarital Agreement can be used to manage expenses. This can be important if either you or your significant other have had kids. Having a Premarital Agreement can help you protect the financial well being of you and your spouse.

Other names for this document: Prenuptial Agreement, Antenuptial Agreement, Separate Property Agreement
---
<![CDATA[ ]]>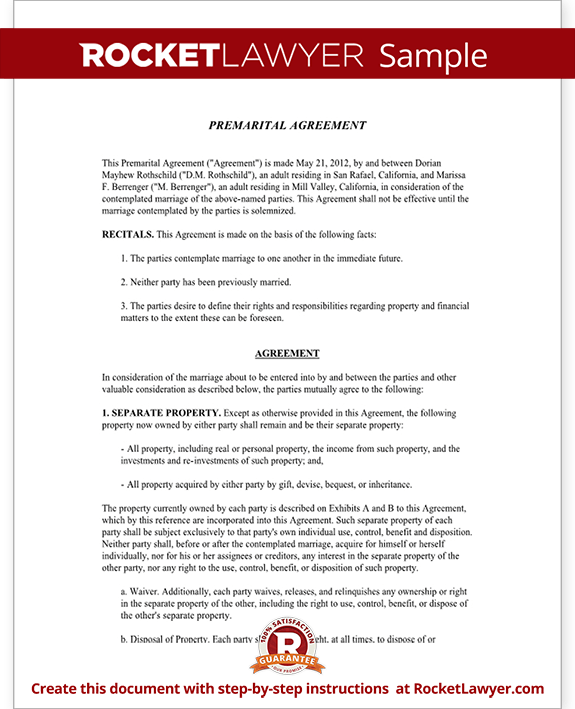 View Sample
Sample Premarital Agreement
More than just a template, our step-by-step interview process makes it easy to create a Premarital Agreement.

Save, sign, print, and download your document when you are done.

Sample Premarital Agreement
Our step-by-step interview process makes creating a printable Premarital Agreement easy.
Make Document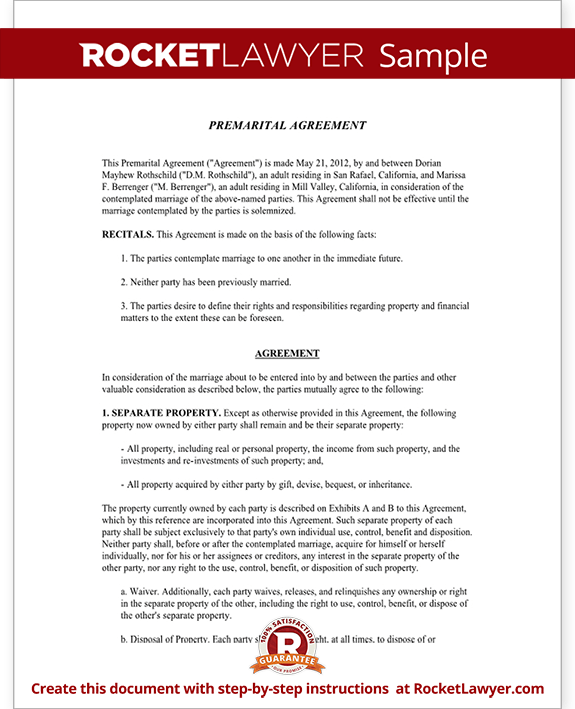 Why choose Rocket Lawyer?
Legally reviewed
Researched by lawyers
and legal staff.
Specialists to help
We're here to answer your
questions.
Free Trial
Your document is free with your subscription.
Our quality guarantee
We guarantee our service is
safe and secure.