MAKE YOUR FREE
Ohio Eviction Notice
Answer simple questions to create your document

Sign & share your document online

Save progress and finish on any device; download & print at home
Start Now

Preparing your document questions
We've sent you an email
with information about how to access your document from any device

Make your Free
Ohio Eviction Notice
Ohio Eviction Notice Basics
As a landlord, sometimes you have no choice but to evict a tenant. Giving your tenant an Eviction Notice (more formally known as a Notice to Leave in Ohio) is the first step in attempting to remove a tenant from a rental property. Ohio law requires a landlord to give a tenant proper notice before the eviction process can begin. Use a Ohio Eviction Notice if you want to begin the process of removing your tenant.
Use the Ohio Eviction Notice document if:
Your tenant has failed to pay the rent.
Your tenant has violated the lease or rental agreement.
You wish to end a periodic tenancy (such as month-to-month).
Please Note:
You may never forcibly evict a tenant without going through the formal tenant eviction process.
---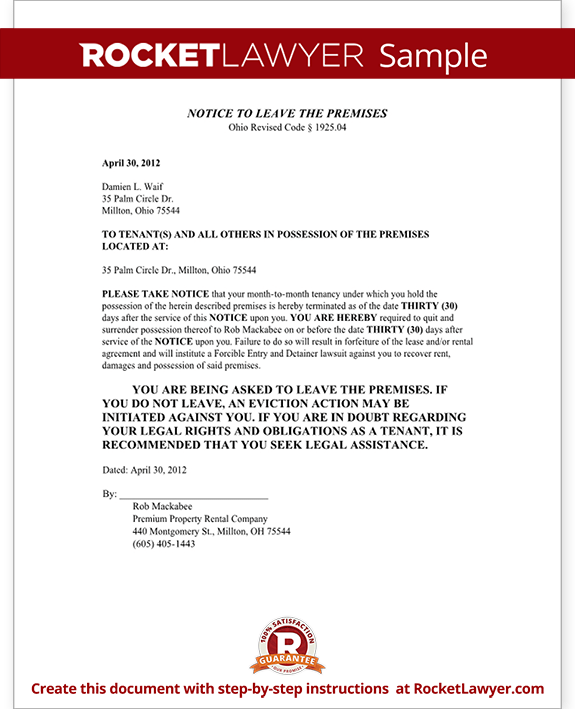 View Sample
Sample Ohio Eviction Notice
More than just a template, our step-by-step interview process makes it easy to create an Ohio Eviction Notice.

Save, sign, print, and download your document when you are done.
This document is sometimes called a Notice to Leave the Premises.

Sample Ohio Eviction Notice
Our step-by-step interview process makes creating a printable Ohio Eviction Notice easy.
Make Document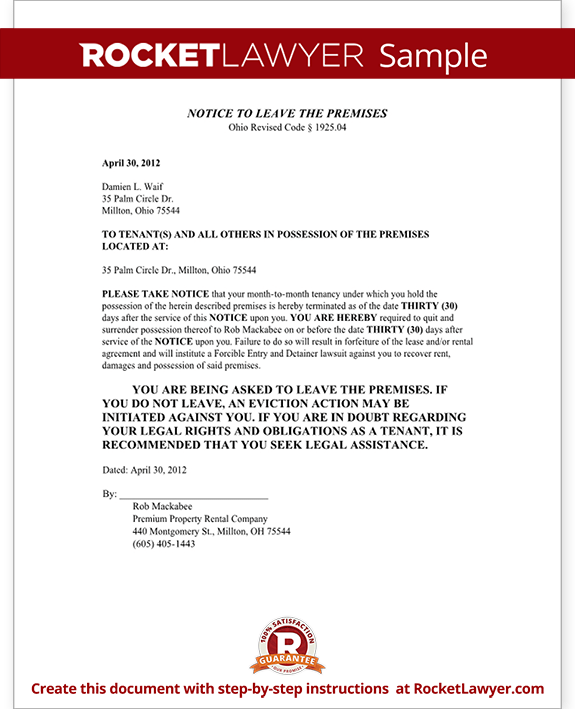 ---
Ready to create your Free Ohio Eviction Notice?
Your document is free within your one week membership trial.
Make Document