Business today is driven by ideas. If you need to use someone else's intellectual property, you can use a License Agreement to help specify the details. Or maybe you own in-demand property and are willing to license it to someone else; perhaps you'll be getting a royalty payment in exchange, or maybe not. Either way, a License Agreement is an important step in establishing a solid relationship.
Use the License Agreement document if:
You want to use intellectual property that isn't yours.
You'd like to let someone use your intellectual property.
A License Agreement is a document which outlines how the licensor (the party with the property) will grant the licensee (the party who is using the licensor's property). You can determine the length of use and how the property is utilized with a Licence Agreement; you can specify, for example, whether the licensee will have the right to the use the licensor's trademark on a specific product, or the right to sell or distribute the licensor's intellectual property, like computer software for example. Having a License Agreement can help set the foundation for a great business exchange.

Other names for this document: Licensing Agreement, Software License Agreement, Trademark License Agreement
---
<![CDATA[ ]]>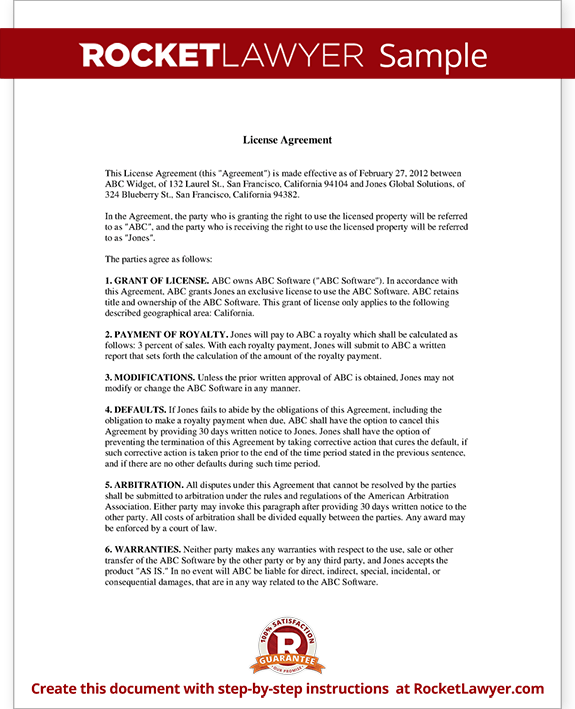 View Sample
Sample License Agreement
More than just a template, our step-by-step interview process makes it easy to create a License Agreement.

Save, sign, print, and download your document when you are done.

Sample License Agreement
Our step-by-step interview process makes creating a printable License Agreement easy.
Make Document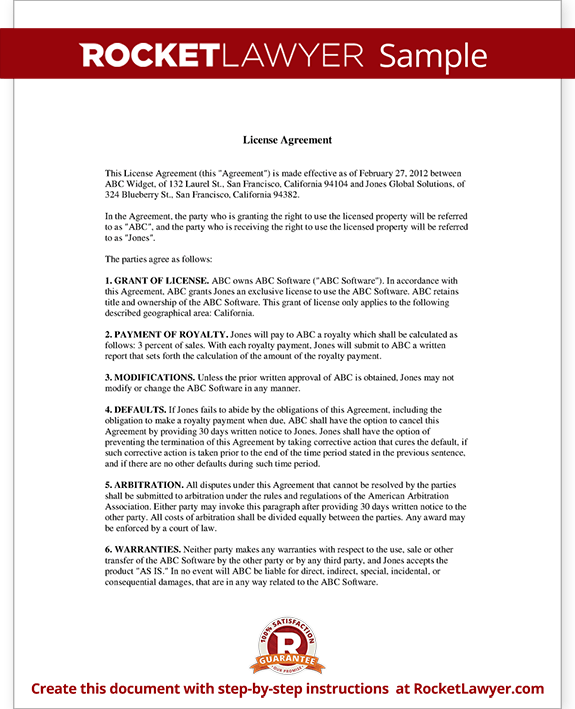 Why choose Rocket Lawyer?
Legally reviewed
Researched by lawyers
and legal staff.
Specialists to help
We're here to answer your
questions.
Free Trial
Your document is free with your subscription.
Our quality guarantee
We guarantee our service is
safe and secure.