MAKE YOUR FREE

Merchandising Agreement
Other Names:
Merchandising Contract
Merchandise License Agreement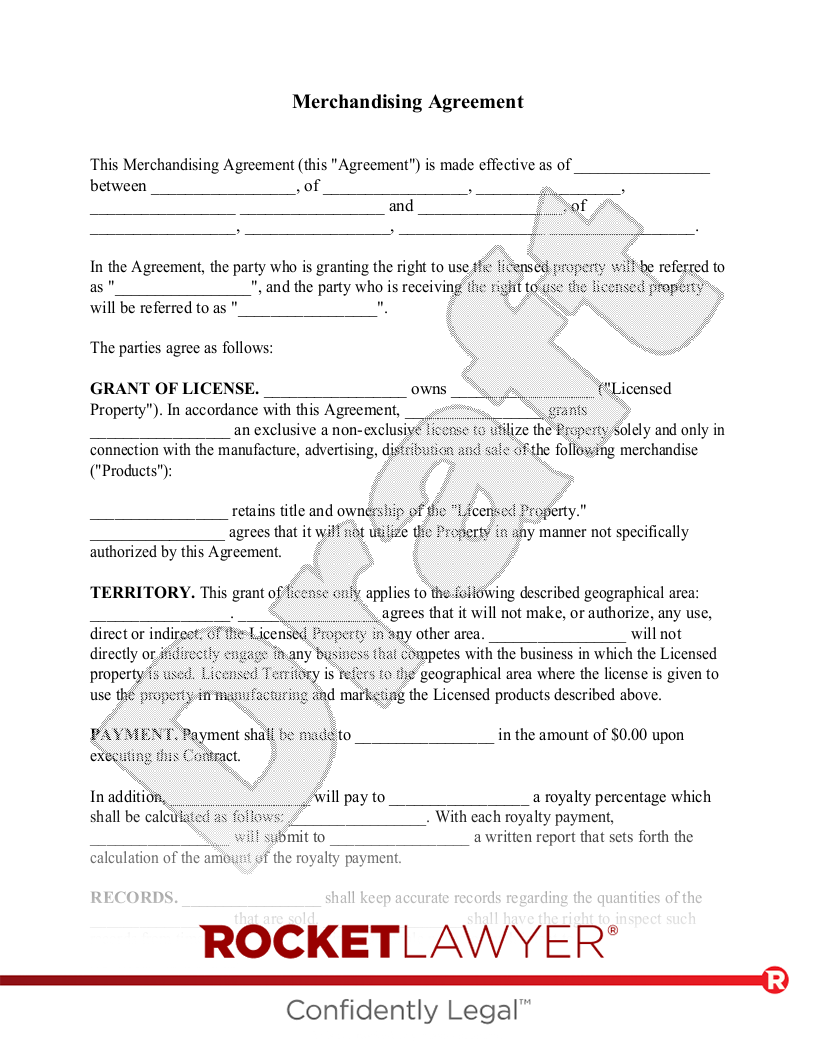 What is a Merchandising Agreement?
If you've created a character that's gone viral, written a killer app, or want to make a new product bearing your favorite team's logo, a Merchandising Agreement is your gateway to the marketplace. Merchandising Agreements help manufacturers, retailers, and license owners lay out the terms for selling a new product or process.

A Merchandising Agreement may cover a character, mascot or logo that is easily recognized by the public. It could also be used for a piece of software or other patented technology such as a manufacturing process. Such agreements may be exclusive or nonexclusive. With a Merchandising Agreement, you can lay out both parties' roles and responsibilities, including who maintains the rights to the item that you are licensing. You can define the geographical areas where the product will be sold, length of the term, and financial details such as royalties or payments per unit sold. You may also want to include quality control parameters to ensure that the new products are up to snuff. Since there's always the potential for a dispute, you'll likely want to work out a method for conflict resolution in advance.

If you're in the lucky position of selling the rights to your creation, or you have a great idea for new licensed memorabilia or profitable use for a patented technology, a Merchandising Agreement helps you iron out the details.
When to use a Merchandising Agreement:
You own licensing rights to a product and would like to grant license for another company to use to produce.
You are a Retailer or Manufacturer and you would like the license to produce or manufacture a product for distribute and sale.
Sample Merchandising Agreement
The terms in your document will update based on the information you provide
This document has been customized over 8.3K times
Legally binding and enforceable
Ask a lawyer questions about your document
Sign this document online for free with RocketSign®
Merchandising Agreement
This Merchandising Agreement (this "Agreement") is made effective as of between , of , , and , of , , .
In the Agreement, the party who is granting the right to use the licensed property will be referred to as "", and the party who is receiving the right to use the licensed property will be referred to as "".
The parties agree as follows:
GRANT OF LICENSE. owns ("Licensed Property"). In accordance with this Agreement, grants an exclusive a non-exclusive license to utilize the Property solely and only in connection with the manufacture, advertising, distribution and sale of the following merchandise ("Products"):
retains title and ownership of the "Licensed Property." agrees that it will not utilize the Property in any manner not specifically authorized by this Agreement.
TERRITORY. This grant of license only applies to the following described geographical area: . agrees that it will not make, or authorize, any use, direct or indirect, of the Licensed Property in any other area. will not directly or indirectly engage in any business that competes with the business in which the Licensed property is used. Licensed Territory is refers to the geographical area where the license is given to use the property in manufacturing and marketing the Licensed products described above.
PAYMENT. Payment shall be made to in the amount of upon executing this Contract.
In addition, will pay to a royalty percentage which shall be calculated as follows: . at the time of the signing of this Agreement. for which the royalty percentage is applicable.
MODIFICATIONS. may not modify or change the in any manner.
COPYRIGHT AND TRADEMARK NOTICES.
(a) Copyright and Trademark Notices:
shall cause to be imprinted irremovably and legibly on all Licensed Products and on at least the principal face of all packaging, enclosure materials and advertising materials for the Licensed Products the complete copyright notice: a copyright symbol, i.e., a circled "C," (name of copyright owner date of copyright). (The year of the copyright notice shall be the year in which the latest revision of the respective Licensed Products, packaging, enclosure or advertising is first placed on sale, sold or publicly distributed by the under the authority from ). shall also cause to be imprinted irremovably and legibly on all Licensed Products and on at least the principal face of all packaging, enclosure materials and advertising materials for the Licensed Products the appropriate trademark notice, either "TM" or "R" as shall determine, and shall affix the notice as specified by .
(b) Copyright Samples, Approval and Registration:
Prior to the production of any particular Licensed Product or of any packaging, enclosure, promotion and advertising therefore, shall deliver, at 's expense to the following;
-

a complete set of art work or sketches and actual samples, if available of the applicable Licensed Product;
-
its packaging, enclosures, promotional materials and advertising; for 's written approval of the copyright and trademark form and of the manner and style of use of the Property. Once approves the trademark or copyright notice, will not deviate from the -approved notice. Public sale and distribution will not be made until 's approval pursuant to this Sub clause is received.(Promptly after the first public sale or distribution, shall deliver, at 's expense, five (5) complete prototypes of each Licensed Product, packaging, enclosure, promotion and advertising for copyright and trademark registration at 's discretion and expense; however, has no obligation to obtain such registration(s). will advise in writing of the date of first public sale and distribution. Copyrights and trademarks in all such material shall be owned by .
LICENSOR'S APPROVAL OF LICENSED PRODUCTS, ADVERTISING, CONTAINERS, MATERIALS. The quality and style of the Licensed Products as well as any carton, container, packing or wrapping material shall be subject to the express written approval of prior to distribution and sale thereof. Each and every tag, label, imprint or other device used in connection with any Licensed Products and all advertising, promotional or display material bearing the Property shall be submitted by to for express written approval prior to use by . Such approval may be granted or withheld as in its sole discretion may determine. Said samples shall be sent to by means permitting certification of receipt at the mailing address stated in the notice clause herein. Failure by to approve in writing any of the samples furnished to within two weeks from the date of submission thereof shall be deemed approval thereof. After samples have been approved pursuant to this clause, shall not depart there from in any respect without the express prior written approval of . The prototypes shall conform to the requirements of Copyright and Trademark Notice Section of this Agreement.
PROTECTION OF RIGHTS AND INTERESTS. and agree that 's utilization of the Property upon or in connection with the manufacture, distribution and sale of the Licensed Products is conditioned upon 's protection of its rights and obtaining the goodwill resulting from such use. agrees to protect 's rights and goodwill as set forth herein below and elsewhere in this Agreement.
GOODWILL AND PROTECTION. recognizes the great value of the publicity and goodwill associated with the Property and, in such connection, acknowledges that such goodwill exclusively belongs to and that the Property has acquired a secondary meaning in the mind of the purchasing public. further acknowledges that all rights in any additional material, new versions, or other changes in the Property which may be created by or for , shall be and will remain the exclusive property of and the same shall be and will remain a part of the Property under the terms and conditions of this Agreement.
shall assist and or 's authorized agents to all reasonable extent requested by in obtaining and maintaining in 's name any and all available protection of 's rights in and to the Property; specifically, agrees to sign documents, give testimony, provide exhibits, provide facts and otherwise cooperate with and its agents in obtaining registrations, assignments, certificates and the like evidencing 's rights in the Property.
may, if it so desires, and in its reasonable discretion, commence or prosecute any claims or suits against infringement of its right in the Property and may, if it so desires, join as a party in such suit. shall notify in writing of any activities which believes to be infringements or utilization by others of the Property or articles of the same general class as the Licensed Products, or otherwise. shall have the sole right to determine whether or not any action shall be undertaken as a result of such activity and shall have sole discretion in the accommodation or settlement of any controversies relating thereto.
INDEMNIFICATION. For purposes of this Agreement Indemnified Parties" refer to , its subsidiaries and affiliates, and co-venturers of and other personnel in or associated with the Property and s of rights relating to the Property, and the person or firm whose rights are being licensed hereunder and, where applicable, sponsors of the Property and their respective advertising agencies, and officers, directors, employees and agents of each of the foregoing and all persons connected with and or employed by them and each of them.
Except for the rights licensed hereunder by to , hereby indemnifies and shall hold harmless the Indemnified Parties and each of them from and against the costs and expenses of any and all claims, demands, causes of action and judgments arising out of the unauthorized use of any patent, process, method or device or out of infringement of any copyright, trade name, patent or libel or invasion of the right of privacy, publicity, or other property fight, or failure to perform, or any defect in or use of the Licensed Products, the infringement or breach of any other personal or property right of any person, firm or corporation by , its officers, employees, agents or anyone, directly or indirectly, acting by, through, on behalf of, pursuant to contractual or any other relationship with in connection with the preparation, manufacture, distribution, advertising, promotion and or sale of the Licensed Products and or any material relating thereto and or naming or referring to any performers, personnel, marks and or elements.
With respect to the foregoing indemnity, shall defend and hold harmless Indemnified Parties and each of them at no cost or expense to them whatsoever, including but not limited to attorneys' fees and court costs. shall have the right but not the obligation to defend any such action or proceeding with attorneys of its own selection.
INSURANCE. shall obtain and maintain at its sole cost and expense throughout the term standard Product Liability Insurance, Advertiser's Liability Insurance , the form and minimum coverage amount of which must be acceptable to , from a qualified insurance company licensed to do business in the Licensed Territory naming as additional named insured, which policy shall provide protection against any and all claims, demands and causes of action arising out of any defects or failures to perform, alleged or otherwise, in the Licensed Products or any material used in connection therewith or any use thereof. The policy shall provide for thirty (30) days' notice to and from the Insurer by Registered Mail, return receipt requested, in the event of any modification, cancellation or termination. agrees to furnish a certified copy of the policy providing such coverage within thirty (30) days after the date of this Agreement and in no event shall manufacture, distribute or sell the Licensed Products prior to receipt by of such evidence of insurance.
DEFAULTS. If fails to abide by the obligations of this Agreement, including the obligation to make a royalty payment when due, shall have the option to cancel this Agreement by providing days written notice to .
The occurrence of any of the following shall constitute a material default under this Contract:
a.The failure to make a required payment when due.
b.The insolvency or bankruptcy of either party.
c.The subjection of any of either party's property to any levy, seizure, general assignment for the benefit of creditors, application or sale for or by any creditor or government agency.
d.The failure to make available or deliver the Services in the time and manner provided for in this Contract.
FORCE MAJEURE. If performance of this Agreement or any obligation under this Agreement is prevented, restricted, or interfered with by causes beyond either party's reasonable control ("Force Majeure"), and if the party unable to carry out its obligations gives the other party prompt written notice of such event, then the obligations of the party invoking this provision shall be suspended to the extent necessary by such event. The term Force Majeure shall include, without limitation, acts of God, plague, epidemic, pandemic, outbreaks of infectious disease or any other public health crisis, including quarantine or other employee restrictions, fire, explosion, vandalism, storm or other similar occurrence, orders or acts of military or civil authority, or by national emergencies, insurrections, riots, or wars, or strikes, lock-outs, work stoppages or other labor disputes, or supplier failures. The excused party shall use reasonable efforts under the circumstances to avoid or remove such causes of non-performance and shall proceed to perform with reasonable dispatch whenever such causes are removed or ceased. An act or omission shall be deemed within the reasonable control of a party if committed, omitted, or caused by such party, or its employees, officers, agents, or affiliates.
TRANSFER OF RIGHTS. This Agreement shall be binding on any successors of the parties.
TERMINATION. either party This Agreement shall terminate automatically on .
Upon expiration of the term of this Agreement, shall have the right, pursuant to the provisions hereof, to dispose of all Licensed Products, theretofore manufactured at the time of the expiration of the License granted hereunder, for a period of 90 days after the date of such expiration subject to the condition that pays to all compensation accrued to such time and delivers to a report to such time. Notwithstanding anything to the contrary contained herein, shall not sell or dispose of any Licensed Products if this Agreement was terminated for any material default or breach of this Agreement.
acknowledges that has no adequate remedy at law for any such failure referred to or referenced to in this Clause and in the event of any such failure, shall be entitled to equitable relief by way of temporary and permanent injunctions, in addition to such other further relief as any court of competent jurisdiction may deem just and proper.
CONFIDENTIALITY. The and its employees, agents, or representatives will not at any time or in any manner, either directly or indirectly, use for the personal benefit of , or divulge, disclose, or communicate in any manner, any information that is proprietary to and its employees, agents, and representatives will protect such information and treat it as strictly confidential. This provision will continue to be effective after the termination of this Agreement.
Upon termination of this Agreement, the will return to all records, notes, documentation and other items that were used, created, or controlled by during the term of this Agreement.
ENTIRE AGREEMENT. This Agreement contains the entire agreement of the parties and there are no other promises or conditions in any other agreement whether oral or written. This Agreement supersedes any prior written or oral agreements between the parties.
AMENDMENT. This Agreement may be modified or amended, if the amendment is made in writing and is signed by both parties.
SEVERABILITY. If any provision of this Agreement shall be held to be invalid or unenforceable for any reason, the remaining provisions shall continue to be valid and enforceable. If a court finds that any provision of this Agreement is invalid or unenforceable, but that by limiting such provision it would become valid or enforceable, then such provision shall be deemed to be written, construed, and enforced as so limited.
WAIVER OF CONTRACTUAL RIGHT. The failure of either party to enforce any provision of this Agreement shall not be construed as a waiver or limitation of that party's right to subsequently enforce and compel strict compliance with every provision of this Agreement.
HEADINGS: The headings used in connection with the clauses and sub clauses of this Agreement are inserted only for the purpose of reference. Such headings shall not be deemed to govern, limit, modify, or in any other manner affect the scope, meaning, or intent of the provisions of this Agreement or any part thereof, nor shall such headings otherwise be given any legal effect.
NOTICE. Any notice or communication required or permitted under this Agreement shall be sufficiently given if delivered in person or by certified mail, return receipt requested, to the addresses listed above or to such other address as one party may have furnished to the other in writing. The notice shall be deemed received when delivered or signed for, or on the third day after mailing if not signed for.
APPLICABLE LAW. This Agreement shall be governed by the laws of the State of .
SIGNATURES. This Agreement shall be signed by on behalf of and by on behalf of .