MAKE YOUR FREE
Indemnity Agreement
Answer simple questions to create your document

Sign & share your document online

Save progress and finish on any device; download & print at home
Start Now

Preparing your document questions
We've sent you an email
with information about how to access your document from any device

Make your Free
Indemnity Agreement
Indemnity Agreement Basics
An Indemnity Agreement can help protect you or your business from lawsuits stemming from someone else's negligence. If you're working with another business or a separate third party what happens if someone gets hurt? You can avoid liability issues before they happen with an Indemnity Agreement.
Use the Indemnity Agreement document if:
You're allowing someone to use your property and you want to be protected against damages caused by the other party.
You're hiring someone to provide services for yourself or your business.
You want to protect someone from being sued by others because of your activities.
It's hard to be too safe when liability is concerned; getting an Indemnity Agreement in place can ensure that you're protected. Maybe you're the one using someone else's property. Opting to sign this document means they're not liable for incidents that aren't their fault. Signing an agreement can give the property owner more incentive to allow you to do what you need to. Or maybe you're letting someone use your property, what if there are damages or an accident? You or your business shouldn't be held responsible for incidents that aren't your fault. If you're hiring an outside IT tech, plumber, or other service professional, make sure you're not responsible if something happens because of them. An Indemnity Agreement is your safety net.

Other names for this document: No Fault Agreement, Reparation Agreement, Hold Harmless Agreement
---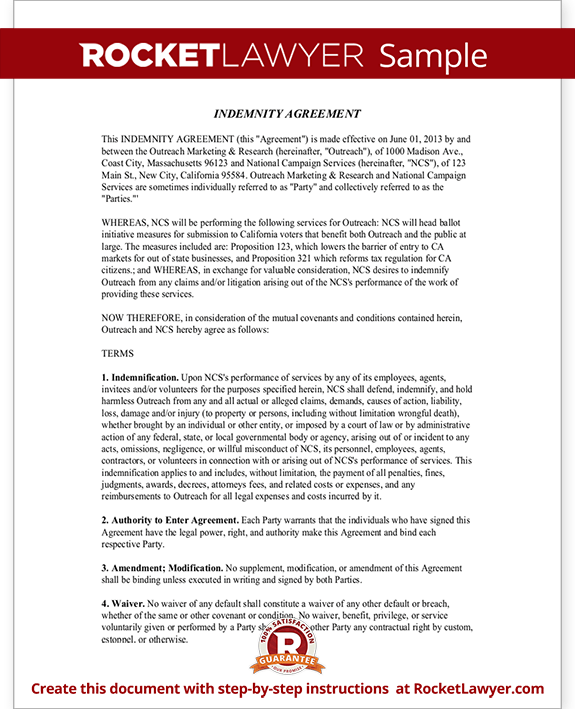 View Sample
Sample Indemnity Agreement
More than just a template, our step-by-step interview process makes it easy to create an Indemnity Agreement.

Save, sign, print, and download your document when you are done.

Sample Indemnity Agreement
Our step-by-step interview process makes creating a printable Indemnity Agreement easy.
Make Document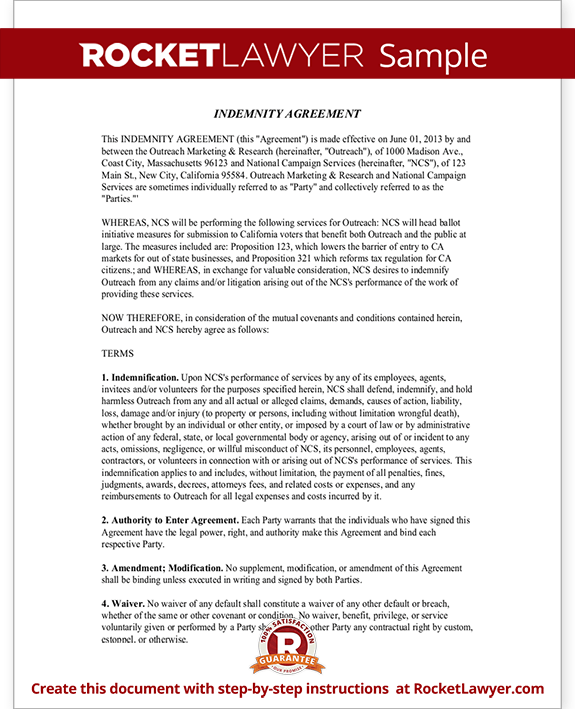 ---
Ready to create your Free Indemnity Agreement?
Your document is free within your one week membership trial.
Make Document