MAKE YOUR FREE

Hold Harmless Agreement
Other Names:
Waiver of Liability
Release of Liability
Hold Harmless
Hold Harmless Release
Hold Harmless Letter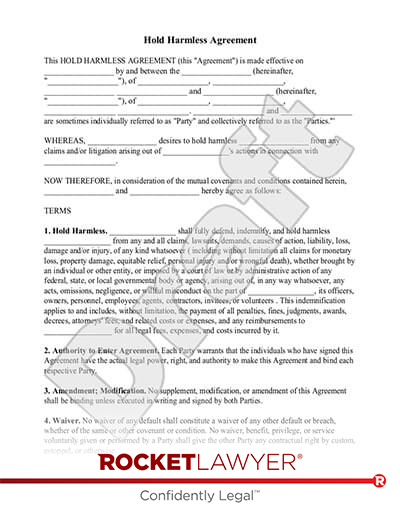 What is a Hold Harmless Agreement?
A Hold Harmless Agreement is a legal contract that states that one or both signers will not hold the other party responsible for injuries or damage. A Hold Harmless clause can be one-way ("unilateral") or two-way ("reciprocal"). Whether signed before or after an activity takes place, this document can lower the risk of future disagreements.
When can you use a Hold Harmless Agreement?​​​​​​​
You are allowing someone to use your property or facility and you want to be protected against damages and liabilities caused by the other party.
A person or company will be performing services for you and you want to be protected from liability if a third party is harmed.
You want to protect someone from being sued by others because of your activities.
Sample Hold Harmless Agreement
The terms in your document will update based on the information you provide
This document has been customized over 28.2K times
Legally binding and enforceable
Ask a lawyer questions about your document
Sign this document online for free with RocketSign®
Hold Harmless Agreement
This HOLD HARMLESS AGREEMENT (this "Agreement") is made effective on by and between (hereinafter, ""), of , , and (hereinafter, ""), of , , . and are sometimes individually referred to as "Party" and collectively referred to as the "Parties."'
NOW THEREFORE, in consideration of the mutual covenants and conditions contained herein, and hereby agree as follows:
TERMS
1. Hold Harmless. shall fully defend, indemnify, and hold harmless from any and all claims, lawsuits, demands, causes of action, liability, loss, damage and/or injury, of any kind whatsoever ( including without limitation all claims for monetary loss, property damage, equitable relief, personal injury and/or wrongful death), whether brought by an individual or other entity, or imposed by a court of law or by administrative action of any federal, state, or local governmental body or agency, arising out of, in any way whatsoever, any acts, omissions, negligence, or willful misconduct on the part of , its officers, owners, personnel, employees, agents, contractors, invitees, or volunteers . This indemnification applies to and includes, without limitation, the payment of all penalties, fines, judgments, awards, decrees, attorneys' fees, and related costs or expenses, and any reimbursements to for all legal fees, expenses, and costs incurred by it.
2. Authority to Enter Agreement. Each Party warrants that the individuals who have signed this Agreement have the actual legal power, right, and authority to make this Agreement and bind each respective Party.
3. Amendment; Modification. No supplement, modification, or amendment of this Agreement shall be binding unless executed in writing and signed by both Parties.
4. Waiver. No waiver of any default shall constitute a waiver of any other default or breach, whether of the same or other covenant or condition. No waiver, benefit, privilege, or service voluntarily given or performed by a Party shall give the other Party any contractual right by custom, estoppel, or otherwise.
5. Attorneys' Fees and Costs. If any legal action or other proceeding is brought in connection with this Agreement, the successful or prevailing Party, if any, shall be entitled to recover reasonable attorneys' fees and other related costs, in addition to any other relief to which that Party is entitled. In the event that it is the subject of dispute, the court or trier of fact who presides over such legal action or proceeding is empowered to determine which Party, if any, is the prevailing party in accordance with this provision.
6. Entire Agreement. This Agreement contains the entire agreement between the Parties related to the matters specified herein, and supersedes any prior oral or written statements or agreements between the Parties related to such matters.
7. Enforceability, Severability, and Reformation. If any provision of this Agreement shall be held to be invalid or unenforceable for any reason, the remaining provisions shall continue to be valid and enforceable. If a court finds that any provision of this Agreement is invalid or unenforceable, but that by limiting such provision it would become valid and enforceable, then such provision shall be deemed to be written, construed, and enforced as so limited. The intent of the Parties is to provide as broad an indemnification as possible under law. In the event that any aspect of this Agreement is deemed unenforceable, the court is empowered to modify this Agreement to give the broadest possible interpretation permitted under law.
8. Applicable Law. This Agreement shall be governed exclusively by the laws of the , without regard to conflict of law provisions.
9. Exclusive Venue and Jurisdiction. Any lawsuit or legal proceeding arising out of or relating to this Agreement in any way whatsoever shall be exclusively brought and litigated in the federal and state courts of the . Each Party expressly consents and submits to this exclusive jurisdiction and exclusive venue. Each Party expressly waives the right to challenge this jurisdiction and/or venue as improper or inconvenient. Each Party consents to the dismissal of any lawsuit that they bring in any other jurisdiction or venue.
10. Signatures. This Agreement shall be signed on behalf of by , , and on behalf of by , , and effective as of the date first written above.
Hold Harmless Agreement Checklist
Make It Legal™
Find out next steps for your document
___Sign this document. This document needs to be signed by:
The Agreement can be signed online. It becomes effective as of the date specified in the Agreement.
___Everyone gets a copy. Anyone named in the document should receive a copy of the signed document. If you sign this agreement online a copy will be securely stored in your account. You can share your document from your account.
About Hold Harmless Agreements
Learn how to protect yourself from liability in many situations
How To Write a Hold Harmless Agreement

What goes into your Hold Harmless Agreement will depend on your specific needs. Here are some things to consider when deciding on how to create your own document.

Do you need a Hold Harmless Agreement at all?

Not every activity requires a Hold Harmless Agreement to afford some protection against liability for harm to others. For example, if you go to a baseball game, you risk getting hit by a foul ball, but the stadium owner will not require you to sign a hold harmless release before letting you in. If you go to a grocery store you might slip on a grape and fall to the floor, but you do not need to sign a liability release at the door. In these situations, reasons exist for not requiring the use of a Hold Harmless Agreement:

Implied assumption of risk - Most state laws recognize that there are some situations where a reasonable person understands that engaging in an activity carries an inherent risk. When you go to a baseball game, in the eyes of the law you implicitly accept the risk that you might get hit by a stray ball. It is not necessary for the stadium owner to inform you of this risk, or to contractually require you to accept it to watch the game. The law will assume these things.
Impracticality - Especially for businesses that experience large customer foot traffic on their premises, it is simply not practical to stop each potential customer and have that person sign a Hold Harmless Agreement. This is not to say that the grocery store owner is not potentially liable to the customer that slips on that grape. Rather, the store owner accepts slip-and-fall accidents as a risk of doing business and relies on other ways to limit liability exposure: making sure that floors are kept clean, that spills and dropped items are removed promptly, that signs are used around spill locations to warn customers, and security cameras are in use to catch customers who try to fake accidents.

Your own professional experience in your occupation or industry is one guide to use when deciding if you need to have a Hold Harmless Agreement. If you are not sure, consulting with an attorney can help you to know whether you need one for your specific business, activity, or location.

Do you need a separate Hold Harmless Agreement?

If you need to have a Hold Harmless Agreement, then the next question is what kind of agreement should you use? Two common forms of Hold Harmless Agreements are separate agreements and hold harmless clauses in other contracts.

No matter their form, Hold Harmless Agreements do not exist in a vacuum. They must have a connection with an activity in which harm might occur. Because of this, many Hold Harmless Agreements are included as sections or clauses in a larger agreement.

Still, some situations exist in which a separate Hold Harmless Agreement is useful. For example:

You can use a Hold Harmless Agreement as a tool to incentivize someone to work for you, like a corporation agreeing in advance to hold harmless and indemnify a potential board member for decisions made as a board member.
You can use a Hold Harmless Agreement as a condition to releasing information, like membership lists, to keep from being liable for any misuse of that information.
A liability release form can be useful when no separate written agreement exists, or to verify that customers are fully aware of the risks involved in an activity even if they do not read the contract. Also, depending on the activity, some states can require an additional liability release for enforceability purposes.

Because the need for a separate Hold Harmless Agreement is situation-specific to you, consulting with an attorney can help you to choose the right kind of document for your needs.

What goes into a Hold Harmless Agreement?

A separate Hold Harmless Agreement is like any other contract in that it must first meet basic state law requirements for legality and enforceability. At a minimum, it must identify the parties to the agreement, must be based on an offer to contract and its acceptance, and must involve some exchange of consideration. Other essential elements can include identifying the time and place of performance.

A Hold Harmless Agreement often starts with a preamble, an explanation of who is making the agreement, what the agreement covers, and a specific explanation for who is being held harmless from what. Typically, a Hold Harmless Agreement also includes standard contract terms covering:

Attorney fees in case there is a dispute over the agreement.
How to amend or modify the agreement.
What happens if one part of the agreement cannot be enforced.
Which state's laws apply, and where lawsuits must be filed.

Before starting, you will need to prepare some information for your Hold Harmless Agreement. Once you have gathered your information, all you need to do is answer a few simple questions to customize your Rocket Lawyer document. Here is the key information you will need to complete your Hold Harmless Agreement:

Who is to be held harmless - If you are protecting yourself or your business, you will put your information here. Otherwise, you will need to fill in the name and contact information, as well as the name of the person signing.
Who is providing protection - You need to add the name and contact information of the person who will agree to hold harmless the other party.
The type of situation - You need to select services, use of property, or general based on the nature of your situation. If your activity is not a service or use of property arrangement, you can select general.
Description of services, property use, or reason for the agreement - This may be the services that the protecting party is agreeing to provide the protected party. For example, for bartending services, it would explain what the bartender is expected to do. If you are renting property for a party, this would include the property address and reason for the rental.
Date - The date the agreement will be effective.

When making your Hold Harmless Agreement, you will want to be sure to select your state from the drop-down menu. State law requirements vary on the type of language required and what legal claims you may or may not release.

Generally, states require indemnification language in a Hold Harmless Agreement to be specific as to who it applies to. For example, in California, for an indemnification clause to apply to the person promising to indemnify, the agreement must state that it applies to claims brought by that person. Florida and Texas require any agreement for indemnification to specifically explain that the person promising to indemnify understands that it applies to harm they may themselves suffer.

Finishing steps

Because your Hold Harmless Agreement can affect your legal rights and because your state's laws may have specific requirements for it to be valid, having an attorney review your document is good practice. Attorney review is included in your Rocket Lawyer Premium Membership services.

Once you are ready, you can send the Hold Harmless Agreement to everyone online and they can sign it electronically in a few simple steps using RocketSign®. From start to finish, this solution is more affordable than finding and hiring a traditional attorney to draft a Hold Harmless Agreement for you.

Special Considerations for Construction-Related Hold Harmless Agreements

Hold Harmless Agreements are frequently used by construction contractors and other trades. To protect the customers and workers, however, many states have laws that limit these agreements. In the following paragraphs we examine how the laws in three states - California, Texas, and Florida - affect the application of Hold Harmless Agreements in construction.

California

In California, statutory law states that any Hold Harmless Agreement requiring a subcontractor to indemnify a general contractor or property owner is void to the extent that it would indemnify the owner or general contractor from their own active negligence or willful misconduct.

A California Court of Appeals Case, Oltmans Construction Company v. Bayside Interiors, Inc. (March 30, 2017), shows how the law can apply. The case involved a general contractor and two subcontractors: a first-tier subcontractor the general contractor hired, and a second-tier subcontractor that the first-tier subcontractor hired. An employee of the second-tier subcontractor was injured when he fell through an unsecured skylight opening on the construction site. The employee sued the general contractor and the property owner for negligence. The general contractor sought indemnification under its contract with the first-tier subcontractor and sued the second-tier subcontractor for being negligent as well.

The trial court decided the general contractor was negligent and that accordingly, California law precluded it from seeking indemnification from the first-tier subcontractor. The Court of Appeals disagreed with the trial court, however, and held that to the extent that the negligence of others contributed to the injury, the general contractor was entitled to indemnification under the Hold Harmless Agreement with the first-tier subcontractor.

California's construction-related indemnification laws date to 1967, but the state legislature has modified them multiple times since. The laws are complex, cross-reference to many other laws in their application, and have several exceptions where they do not apply. In the case above, even the trial court judge misinterpreted how the restrictions on general contractor indemnification work. It is sound practice to have an attorney review your construction Hold Harmless Agreement to make sure it is enforceable with the latest laws and how the courts are interpreting them.

Texas

The Texas Anti-Indemnity Act (TAIA) is part of the Texas Insurance Code. It is similar to the California law above: in construction contracts, a Hold Harmless Agreement cannot require a subcontractor to indemnify the general contractor for the general contractor's own negligence. An exception to this rule exists for claims of bodily injury. The law also does not apply to construction in oil and gas fields, these are covered by a different statute.

The TAIA has not created much legal controversy. Texas courts that have considered the TAIA have looked at subjects like its applicability to additional insured parties or what duty a general contractor owes to subcontractor employees who are injured on the job site because the TAIA does not apply to bodily injury claims.

Florida

Florida differs from California and Texas in that under some circumstances, one contractor on a construction project might be required under a Hold Harmless Agreement to indemnify another contractor even if the other contractor is negligent. This potential obligation is subject to the important requirement, however, that indemnification for such negligence must have a reasonable dollar limit. Failing to observe this requirement can be fatal to an indemnification claim.

For example, in the case of Griswold Ready Mix Concrete, Inc. v. Tony Reddick, & Pumpco, Inc., 134 So. 3d 985, 987 (1st Dist. Ct. of Appeal 2012), a concrete contractor hired a subcontractor to pour concrete. An accident happened, injuring a third party. The subcontractor settled with the injured individual, then sought indemnification from the contractor. The indemnification clause in the contract between the contractor and subcontractor did not set a dollar limit for negligence-based indemnity. The trial court sided with the subcontractor. The appeals court reversed the trial court decision because of the missing dollar amount limit and held the indemnity provision void as a matter of law.

This case shows the importance of carefully drafting your Hold Harmless Agreement to make sure it complies with all the requirements of your state's laws. A simple mistake, in this case a missing dollar amount, can compromise your ability to recover under your agreement. Consulting with an attorney to review your Hold Harmless Agreement, can minimize the risk of such simple yet consequential errors.
Hold Harmless Agreement FAQs
What is a Hold Harmless Agreement?

A Hold Harmless Agreement is a binding arrangement under which one party agrees to protect the other from claims of legal liability, or from the financial consequences of being held liable. The nature of the hold harmless protection depends on the intent of the parties. It usually means either or both of the following:

One party agrees not to seek a legal remedy against the other party for harm it may suffer while engaged in an activity the other is sponsoring, or while on the premises of the other party.
Example: A scuba diving school may contractually require a student to hold the school harmless by agreeing not to sue the school if during instruction or while on the school premises the student is injured.
One party commits to keep the other party from suffering the consequences of harm done, by agreeing to defend it from legal claims and to pay any judgments, awards, penalties, or other amounts it is held liable for.
Example: A construction equipment lease company may require its customers to agree to defend the lease company from legal claims if the customer's use of the equipment causes harm, and to reimburse the lessor for any amounts it may be found liable for in connection with the harm.

The Rocket Lawyer Hold Harmless Agreement template is easy to customize to your needs. Plus, if you get into a legal dispute over it, your Premium Membership provides access to Document Defense® support from a Rocket Lawyer network attorney.

When should I use a Hold Harmless Agreement?

A Hold Harmless Agreement can be a cost-effective way to reduce the risk of a lawsuit if an accident happens on your property or during an event you are sponsoring. This agreement is simple to make and easy to customize. Use our Hold Harmless Agreement template when:

Someone will be renting out your property and you want to protect yourself from liability should an incident occur.
You are hiring a service and want to protect yourself should an injury occur while the services are being performed.
Participants or customers will be engaging in a physical activity you are providing that involves risk, such as a sporting event, and you want to protect your business or organization.
You are hosting an event and want to be protected should a participant become injured.
An incident has occurred on your property or during an event you sponsored, and the injured person is agreeing not to hold you or your business liable.
You are embarking on a dangerous activity and agree not to hold anyone liable for your actions.

For example, suppose you hire a contractor to remodel your house. You do not want to be held liable if one of the contractor's employees or subcontractors is hurt or hurts someone else while on your property. You can have the contractor sign a Hold Harmless Agreement to protect yourself against this possibility.

What are some examples of how Hold Harmless Agreements are used?

You can use a Hold Harmless Agreement in many situations. Common examples are:

Real estate: Lease and rental agreements often include a section holding the property owner harmless from loss or damage caused by the tenant's negligence.
Construction: Owners and contractors usually want protection during a construction project.
Sports: Participants in sporting or other physical activities, like a gym membership, are often asked to sign a release that includes a Hold Harmless Agreement.
Amusement: Companies that offer fun yet potentially risky activities, like hot air balloon rides, horseback riding, or skydiving, usually require participants to sign a Hold Harmless Agreement.
Venue rentals: If you rent venue space for events like weddings or family celebrations, you can include a Hold Harmless Agreement with your venue rental.
Contract or service providers: Service providers and anyone working under a contract are frequently asked to sign a Hold Harmless Agreement.

What are the protections a Hold Harmless Agreement can provide?

A Hold Harmless Agreement can vary in the level of protection it offers. Here are the three main forms of protection that this kind of agreement can provide:

Limited Form: One party holds the other harmless only for incidents caused by that party's own negligence.
Intermediate Form: Similar to limited form, with the addition that instances of joint negligence are also subject to the hold harmless requirement.
Broad Form: One party holds the other party harmless regardless of who is responsible for the negligence.

Not every state permits a broad-form Hold Harmless Agreement. In most states, a Hold Harmless Agreement cannot be used to shield a party from its own negligence. For example, a flight instruction school that fails to properly maintain its aircraft may not be able to rely on a broad form Hold Harmless Agreement if one of its planes crashes due to a mechanical defect.

Furthermore, many states limit or prohibit the use of Hold Harmless Agreements for activities they define as inherently dangerous. Each state has its own definition of what an inherently dangerous activity is. Generally such an activity is one in which harm will probably happen unless steps are taken to prevent it. A common type of inherently dangerous activity is construction.

When filling out our customizable Hold Harmless Agreement document, you can specify who is providing the protection and who is being protected from liability. This helps you account for potential liability situations and clearly provide for who should be responsible in different scenarios.

What forms can a Hold Harmless Agreement take?

A Hold Harmless Agreement can be a separate agreement, or it can be part of another agreement. It can apply to only one side (a unilateral Hold Harmless Agreement) or to both (a bilateral agreement). Hold harmless clauses can appear in many kinds of contracts. For example, if a hospital hires a company to maintain patient monitoring equipment, the maintenance contract may have a clause in which the maintenance contractor will hold the hospital harmless if the contractor accidentally discloses patient personal information when servicing the equipment.

One example of a separate Hold Harmless Agreement is a Release of Liability form, like a form the customer signs before going on a river rafting excursion, agreeing to hold the provider company harmless for injuries that might happen if the customer is harmed during the activity.

What is the difference between holding someone harmless and indemnifying that person?

Many Hold Harmless Agreements require a party to "indemnify and hold harmless" the other party. To indemnify someone else is a variation of holding that person harmless: both concepts seek to shield that party from legal liability. But there are differences between them:

In a Hold Harmless Agreement, one or both parties agree not to make legal claims against the other if harm occurs of the kind provided for in the agreement.
To indemnify the other party is to hold it harmless from third-party claims. An indemnification clause may require the indemnifying party to pay the costs to defend against legal claims by others, and to pay any judgments, fines, settlement amounts, or other sums for which the indemnified party may be held liable.

For example, if you rent a car, the rental agreement might have an indemnification clause that states that if you get into an accident, you will indemnify the rental company for claims made against it. You cannot keep another party to the accident from suing the rental car company, so you cannot hold it harmless from that. But you can be required by the indemnification clause to hold the rental car company harmless by paying for its legal defense and being responsible to pay any amounts the third party may recover.

Indemnification clauses may require the purchase of insurance policies naming the party to be indemnified as an additional insured.

What is the difference between a Hold Harmless Agreement and a Release of Liability?

A Release of Liability is a less formal kind of Hold Harmless Agreement. A Hold Harmless Agreement is often part of a larger agreement between the parties. A Release of Liability, on the other hand, is usually simpler: In exchange for participating in an activity, an individual agrees not to hold the activity provider liable if harm occurs. Liability releases can be useful to avoid liability claims for voluntary participation in an activity for which no contract exists. They can be helpful when you want to be sure you can prove a customer or client understood the risks of an activity beforehand.

How enforceable a Release of Liability is depends on your state's law. In California, for example, a liability release cannot protect you from anything more than ordinary negligence. It will not be effective in cases of gross negligence, recklessness, violations of federal or state law, or intentional acts. California law also requires a liability release to be clear, unambiguous, and conspicuous: a release in small print that is not easily found may be held unenforceable in a court in that state.

If you have more questions about this topic or would like to use a Release of Liability instead, please visit our Release of Liability form.

What are the legal considerations of Hold Harmless Agreements?

The most important consideration behind a Hold Harmless Agreement is whether you can enforce it. Because state laws govern these agreements, it is important to know what requirements and restrictions those laws impose. Some states will not uphold agreements that use overly broad language for liability protection. Some states have anti-indemnity laws that restrict the use of Hold Harmless Agreements in construction contracts. If you have questions about how to make an enforceable Hold Harmless Agreement in your state, it is advisable to ask a lawyer.

You may also want to check specific bank requirements if one party must indemnify another; some institutions may require a notary to consider your Hold Harmless Agreement valid. Also, if you are the one being held responsible through the Hold Harmless Agreement, you may want to check your insurance to see if it can cover for the kinds of harm the agreement anticipates.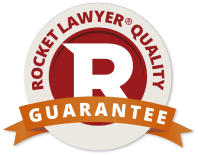 Our quality guarantee
We guarantee our service is safe and secure, and that properly executed Rocket Lawyer legal documents are legally enforceable under applicable US laws.
Need help? No problem!
Ask a question for free or get affordable legal advice when you connect with a Rocket Lawyer network attorney.
Hold Harmless Agreement checklist
Complete your free Hold Harmless Agreement with our Make it Legal™ checklist