MAKE YOUR FREE

COVID-19 Health Screening Form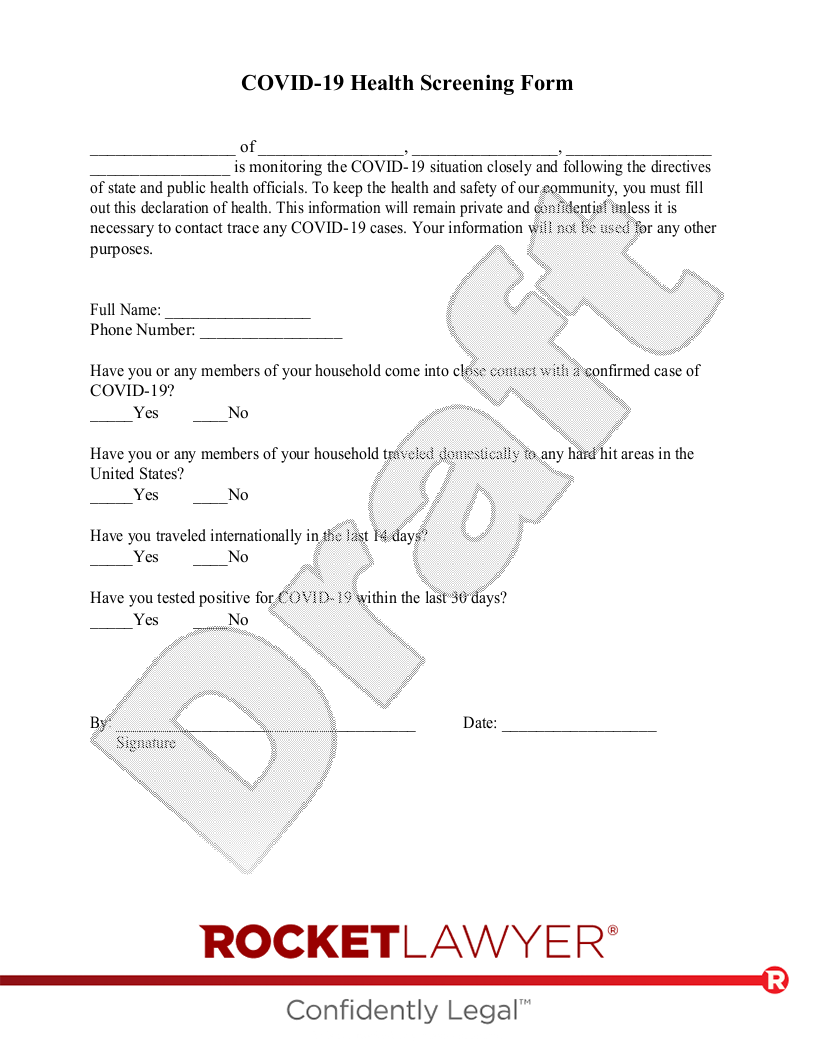 What is a COVID-19 Health Screening Form?
This COVID-19 Health Screening Form is a document that individuals can fill out upon entering a business' premises to help protect the health and safety of the community. COVID-19 Screening Forms acts as a declaration of health contains questions regarding common symptoms of COVID-19 and ask individuals if them or their immediate family members have come in contact with a confirmed case of COVID-19. If your business is works with or employs individuals who are high risk for COVID-19, it is helpful to have this form on hand for guests to fill out.
If used properly, a COVID-19 Health Screening Form can help to prevent the spread of illness and support contact tracing in a business environment. When making a COVID-19 Health Screening Form, you will need to be sure that your business meets the state and local regulations for reopening and returning to work. Before you allow customers and employees back, it is important that you are following all local rules and regulations.
Ask a lawyer
if you are unsure about the guidelines that apply to your business.
When to use a COVID-19 Health Screening Form:
You are a business owner who wants to ensure the safety of your staff and customers.
You want to ensure the safety of your employees.
Sample COVID-19 Health Screening Form
The terms in your document will update based on the information you provide
This document has been customized over 2.9K times

Documents and communicates
Ask a lawyer questions about your document
of , , is monitoring the COVID-19 situation closely and following the directives of state and public health officials. To keep the health and safety of our community, you must fill out this declaration of health. This information will remain private and confidential unless it is necessary to contact trace any COVID-19 cases. Your information will not be used for any other purposes.
Full Name:
Phone Number:
Have you now, or in the past 72 hours, had any of the following symptoms?
Checklist
Make It Legal™
Find out next steps for your document
___Sign this document. This document needs to be signed by:
This document is effective as of signing.
___Everyone gets a copy. You should keep a copy for your records.