Exclusivity Agreement Basics
A new business partnership can lead to exciting opportunities and increased revenue. If you are entering into a partnership that involves the buying and selling of goods, you can use an Exclusivity Agreement to establish the terms. This contract is between two or more parties to purchase goods exclusively from a seller, so that the seller is the only provider of the goods.
Use the Exclusivity Agreement document if:
You're going to be the exclusive provider of goods or services to a business.
Someone has agreed to provide exclusive services or products to your business.
You want to create a competitive advantage by limiting who your business partners work with.
---
<![CDATA[ ]]>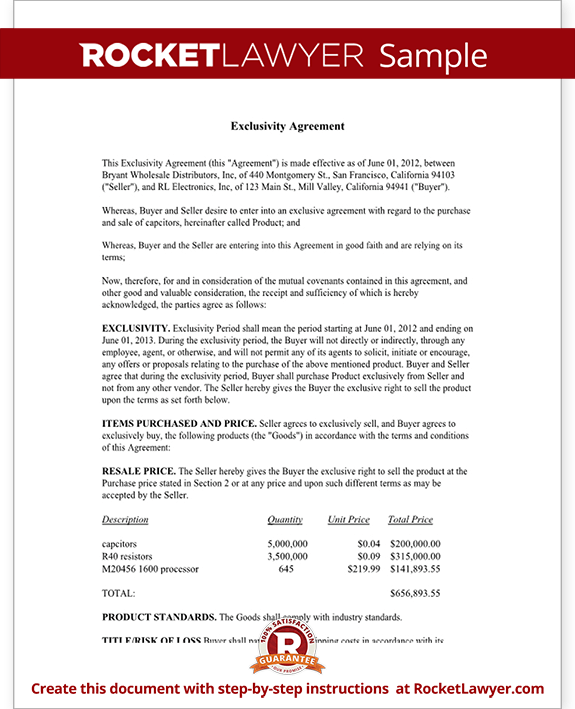 View Sample
Sample Exclusivity Agreement
More than just a template, our step-by-step interview process makes it easy to create an Exclusivity Agreement.

Save, sign, print, and download your document when you are done.

Sample Exclusivity Agreement
Our step-by-step interview process makes creating a printable Exclusivity Agreement easy.
Make Document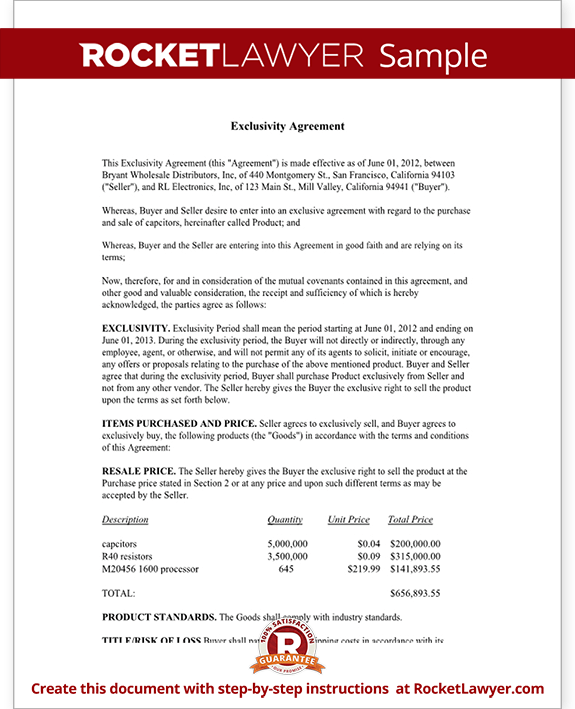 ---
With an Exclusivity Agreement, the buyer agrees not to obtain or solicit the seller's goods from anybody else for the length of the agreement. An Exclusivity Agreement can help create a competitive advantage for a seller by restricting who else can receive those services, as this contract is typically used in a vertical buyer/seller relationship, in which a buyer agrees to buy exclusively from the seller.

Other names for this document: Exclusivity Contract, Exclusivity Agreement Form