Debt Collection Worksheet Basics
If someone owes you money, you can use a Debt Collection Worksheet to help you gather information and recover the money owed to you. Whether you're a professional lender, or you've simply loaned money to a friend, a Debt Collection Worksheet can be useful in collecting on the debt. Think of your Debt Collection Worksheet as your plan of action.
Use the Debt Collection Worksheet document if:
You've lent money to someone and they haven't repaid you.
You regularly lend money and want to keep your files organized.
Someone hasn't paid you back, and you're getting ready to meet with a lawyer about it.
A Debt Collection Worksheet helps you organize who owes you what. With this document you can get the details organized, like the names of the creditor and debtor, the type of debt owed (personal loan, payment for goods or services, trade credit, or debt on rental property) and the amount. Get started, today, with this helpful document, in receiving the money owed to you.

Other names for this document: Debt Worksheet, Debt Management Worksheet, Debt Payment Worksheet
---
<![CDATA[ ]]>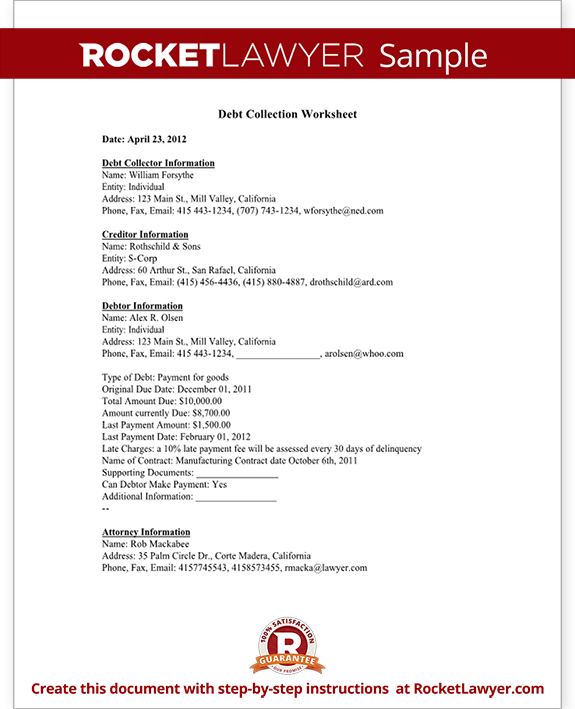 View Sample
Sample Debt Collection Worksheet
More than just a template, our step-by-step interview process makes it easy to create a Debt Collection Worksheet.

Save, sign, print, and download your document when you are done.

Sample Debt Collection Worksheet
Our step-by-step interview process makes creating a printable Debt Collection Worksheet easy.
Make Document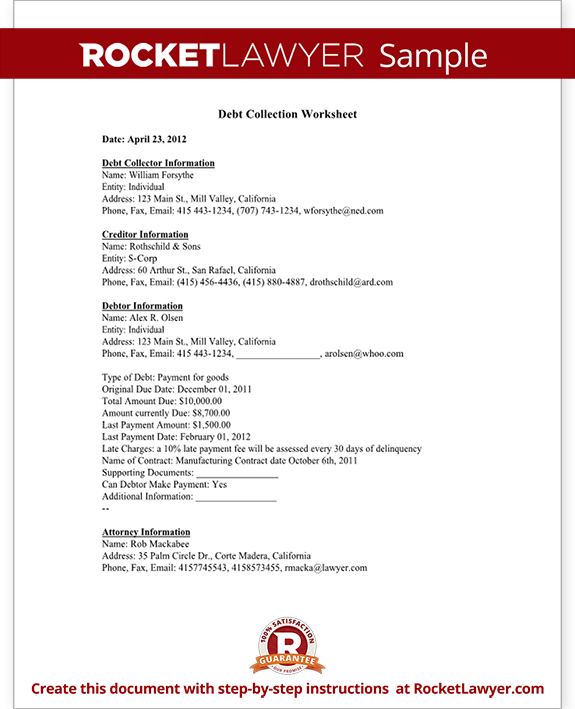 Why choose Rocket Lawyer?
Legally reviewed
Researched by lawyers
and legal staff.
Specialists to help
We're here to answer your
questions.
Free Trial
Your document is free with your subscription.
Our quality guarantee
We guarantee our service is
safe and secure.