You've decided to hire a broker to help set up and finalize a business deal. Or maybe you're the broker, yourself. Either way, creating a Broker Agreement can help protect your rights and obligations. By outlining the terms and conditions of the arrangement, you'll ensure that both sides are on the same page, which means you can focus on closing the perfect deal.
Use the Broker Agreement document if:
You have knowledge and contacts in a certain field and want to introduce a buyer and a seller of a good or service, or an employer and potential employees, to each other for a fee.
You have a good or service but while running your business cannot reach out to find clients or customers yourself so would like to pay a broker to connect you with clients or customers.
You want to purchase a certain good or service but do not know where to look or who to speak with, so want to pay a broker to find you that good or service.

The Broker Agreement should not be confused with the Finder's Fee Agreement, which allows business owners to contract with another party to find potential clients and investors for their business for a fee.
With a Broker Agreement, you (either a broker or client) can set forth the terms and conditions of the broker's payment for his or her services. In this case, a broker is someone with knowledge and contacts in a certain field, who can facilitate the connection of one business or individual with another. Whichever party you represent, a Broker Agreement allows you to specify how much the broker will be paid for an introduction or a successful final deal. You'll want to include details like: the broker's name; who's requesting the broker's services; whether the broker will be finding goods or services; whether the broker will be making introductions, or be involved in the details of the transaction; whether the broker has the licenses and certifications required by the intended industry; the duration of the agreement; any exclusivity or non-circumvention clauses; whether payment depends on the transaction's success; and how the broker's fee will be determined and paid.

Other names for this document: Broker Fee Agreement, Business Broker Agreement, Broker Contract
---
<![CDATA[ ]]>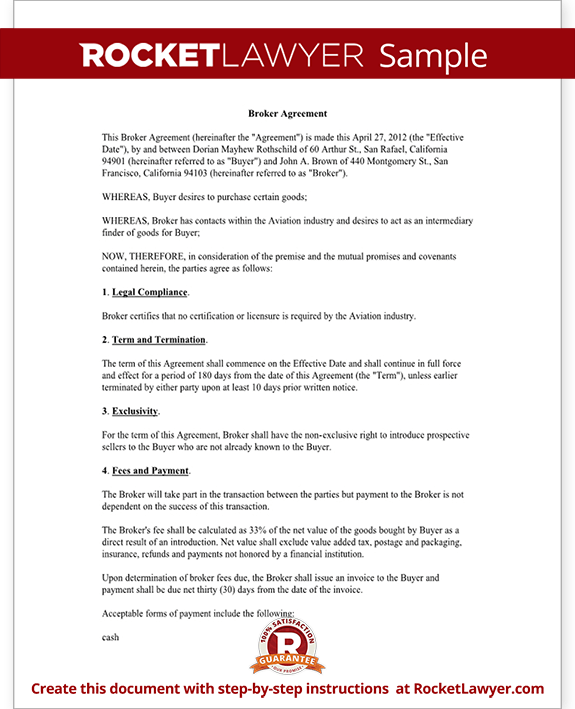 View Sample
Sample Broker Agreement
More than just a template, our step-by-step interview process makes it easy to create a Broker Agreement.

Save, sign, print, and download your document when you are done.

Sample Broker Agreement
Our step-by-step interview process makes creating a printable Broker Agreement easy.
Make Document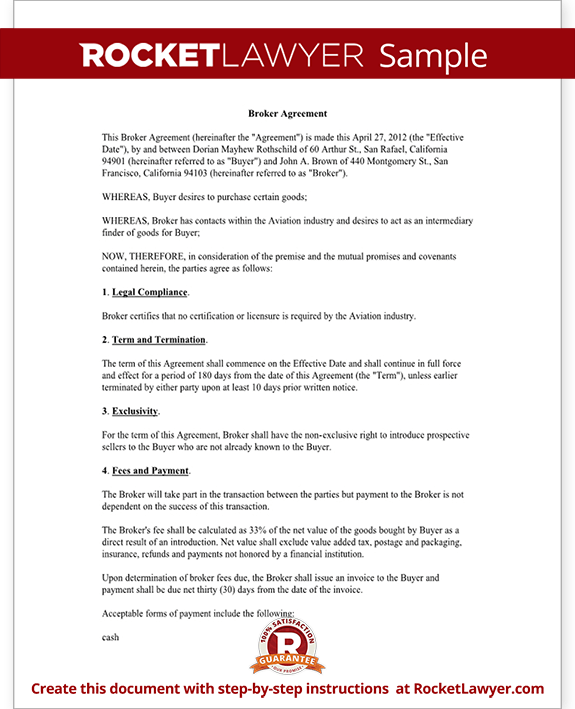 Why choose Rocket Lawyer?
Legally reviewed
Researched by lawyers
and legal staff.
Specialists to help
We're here to answer your
questions.
Free Trial
Your document is free with your subscription.
Our quality guarantee
We guarantee our service is
safe and secure.