Bookkeeping Contract Basics
Do your books need a little professional help? Or are you an accounting wiz looking to sign a new client? A Bookkeeping Contract is a great way to clarify all the terms of service. Having a contract in place can help you protect your legal rights and responsibilities so you can focus on getting those book in order.
Use the Bookkeeping Contract document if:
You're a bookkeeper entering into a business arrangement with a new client to provide accounting or bookkeeping services, and you want a contract in place before you start working.
You represent an accounting firm that's about to handle the bookkeeping for a new client, and you would like to define each party's responsibilities in a contract.
You're an individual looking to hire an accountant to handle your personal accounting needs, and you want a written agreement outlining the scope of the services.
You're a business owner hiring an accountant, bookkeeper or accounting firm to handle certain aspects of your business' finances, and you want to specify the services you need in a written contract.
---
<![CDATA[ ]]>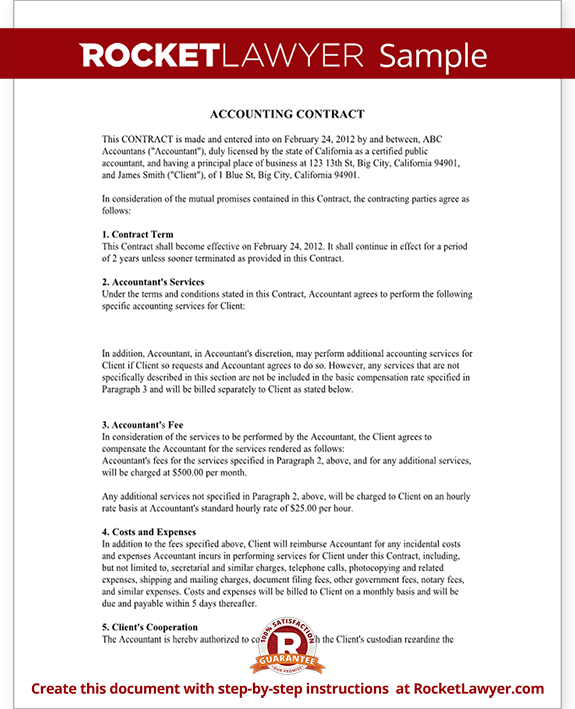 View Sample
Sample Bookkeeping Contract
More than just a template, our step-by-step interview process makes it easy to create a Bookkeeping Contract.

Save, sign, print, and download your document when you are done.
This document is sometimes called an Accounting Contract.

Sample Bookkeeping Contract
Our step-by-step interview process makes creating a printable Bookkeeping Contract easy.
Make Document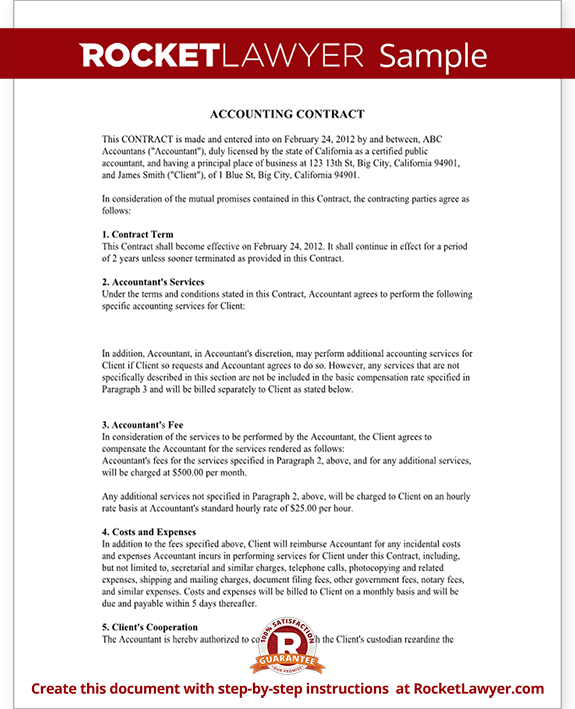 ---
A Bookkeeping Contract, also called an Accounting Contract, explains the services that an accountant or accounting firm will perform on behalf of a business or individual. It also outlines the responsibilities and liabilities of each party. For example, an accountant may be responsible for just an individual's taxes, or for maintaining all the corporate financials, bookkeeping and taxes of a business. Whether you're the client or the accountant, a solid contract should include: the name and address of the accountant or accounting firm; the name and address of the client; information about the accountant's license; when the agreement starts and for how long; what the accountant will be doing for the client; anything that the bookkeeper won't be doing; the price of services and how payment will be made, how the agreement can be ended; and which state's laws will govern the agreement.

Other names for this document: Bookkeeping Contract Agreement, Bookkeeping Services Contract, Bookkeeping Agreement