MAKE YOUR FREE

Financial Services Agreement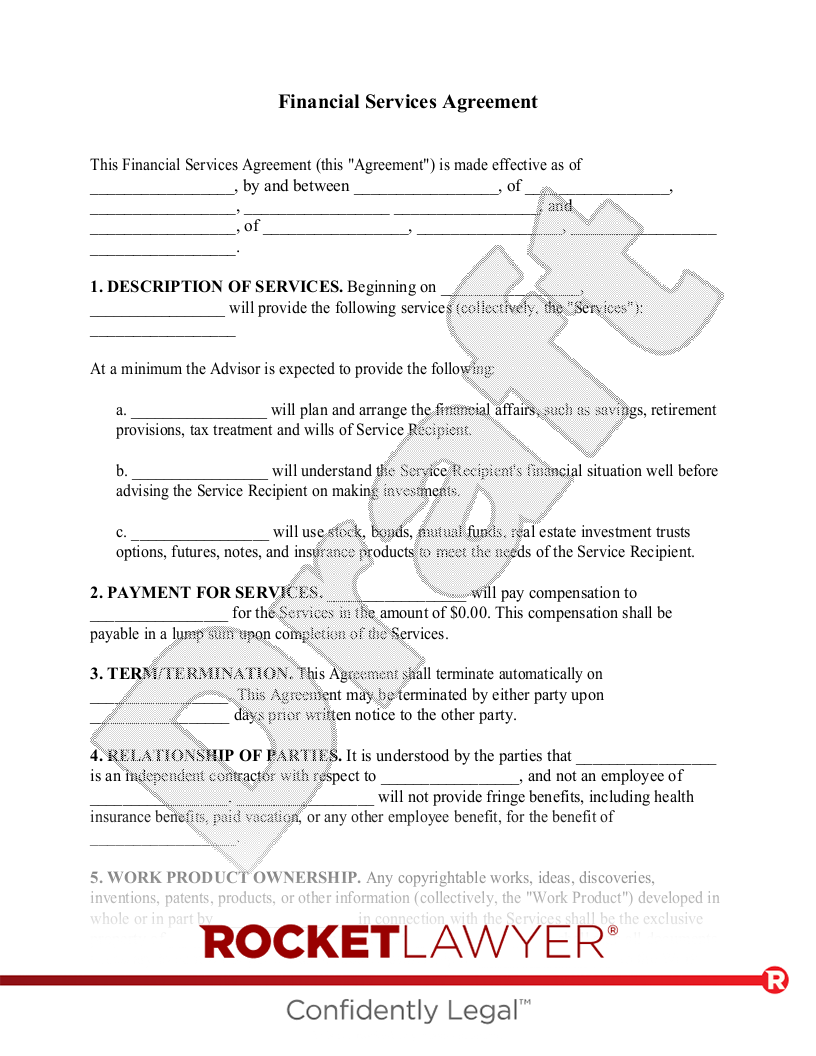 What is a Financial Services Agreement?
Financial advisors and their clients use Financial Services Agreements as a means of defining the scope of services to be performed. As a result of this agreement, all signers are more likely to have the same set of expectations in relation to fiscal matters. Unlike a blank template that you may download from another website, each Financial Services Contract that is built on Rocket Lawyer comes with the option of Document Defense®, so an attorney in our network can review the situation and take action if you don't receive payment or have another issue.
When to use a Financial Services Agreement:
You're hiring a financial advisor to manage your money.
You're being hired as a financial advisor by an individual or business.
Sample Financial Services Agreement
The terms in your document will update based on the information you provide
This document has been customized over 16.9K times
Legally binding and enforceable
Ask a lawyer questions about your document
Sign this document online for free with RocketSign®
Financial Services Agreement
This Financial Services Agreement (this "Agreement") is made effective as of , by and between , of , , , and , of , , .
. DESCRIPTION OF SERVICES. Beginning on , will provide the following services (collectively, the "Services"):
At a minimum the Advisor is expected to provide the following:
a. will plan and arrange the financial affairs, such as savings, retirement provisions, tax treatment and wills of Service Recipient.
b. will understand the Service Recipient's financial situation well before advising the Service Recipient on making investments.
c. will use stock, bonds, mutual funds, real estate investment trusts options, futures, notes, and insurance products to meet the needs of the Service Recipient.
. PAYMENT FOR SERVICES. will pay compensation to for the Services upon completion of the Services. no later than .
. TERM/TERMINATION. This Agreement This Agreement may be terminated by either party upon days prior written notice to the other party.
. RELATIONSHIP OF PARTIES. It is understood by the parties that is an independent contractor with respect to , and not an employee of . will not provide fringe benefits, including health insurance benefits, paid vacation, or any other employee benefit, for the benefit of .
Upon termination of this Agreement, will return to all records, notes, documentation and other items that were used, created, or controlled by during the term of this Agreement.
. REPRESENTATIONS AND WARRANTIES. represents and warrants to that there is no employment contract or other contractual obligation to which is subject, which prevents from entering into this Agreement or from performing fully 's duties under this Agreement.
shall provide its services and meet its obligations under this Contract in a timely and workmanlike manner, using knowledge and recommendations for performing the services which meet generally acceptable standards in 's community and region, and will provide a standard of care equal to, or superior to, care used by service providers similar to on similar projects.
. ENTIRE AGREEMENT. This Agreement contains the entire agreement of the parties, and there are no other promises or conditions in any other agreement whether oral or written.
. SEVERABILITY. If any provision of this Agreement shall be held to be invalid or unenforceable for any reason, the remaining provisions shall continue to be valid and enforceable. If a court finds that any provision of this Agreement is invalid or unenforceable, but that by limiting such provision it would become valid and enforceable, then such provision shall be deemed to be written, construed, and enforced as so limited.
. APPLICABLE LAW. This Agreement shall be governed by the laws of the State of .
. SIGNATURES. This Agreement shall be signed on behalf of by , and on behalf of by .
PARTY CONTRACTING SERVICES:
ADVISOR:
Financial Services Agreement FAQs
What kind of financial consultant should use a Financial Service Contract?

No matter what work you are hired to do as a financial advisor, you should always consider making a Financial Services Agreement. You might decide to make a Financial Services Agreement due to the fact that it grants the following list of benefits:

There are no surprises about how long the engagement lasts
Both parties understand the scope of their responsibilities
Both parties know when invoicing will happen

If you don't have a Financial Services Contract, you and the client may experience any of the following unwanted repercussions: unmet standards of quality, missed deadlines, unexpected changes, difficulty getting paid, and, unfortunately, little to no recourse if problems arise.

How are Financial Services Agreements organized?

Specific details to add are:

The contact information for the client
What tasks you are committed to performing related to investment management or other financial matters
How much you will charge
How long the engagement will last

As you probably expect, Financial Service Contracts made with Rocket Lawyer also include the typical legalese with regard to the non-employer relationship, indemnification, confidentiality, and finally, dispute resolution methods. As you build your contract, you also will have the ability to determine its state of jurisdiction. Further alterations are allowed, as necessary.

How much might I normally pay to get a financial services agreement template created by an attorney?

The fees associated with hiring a conventional legal provider could total anywhere from hundreds of dollars to thousands, depending on the level of complexity. If you wish to draft your free document using Rocket Lawyer, you can follow these directions. As with any legal document that you sign, you can also ask an Rocket Lawyer network attorney to look it over.

If you've got any concerns or hesitations before you begin, connect with an attorney today. You should also feel free to browse our full selection of documents for business .

Am I required to do anything else after writing my contract for Financial Services?

In order to make your Financial Services Agreement truly legal, you will need to sign it, electronically using RocketSign®, or otherwise. Everyone should get copies of the fully executed agreement. With a Rocket Lawyer membership, you also will be able to print, make a copy, and save it as a Word or PDF document as necessary.

Can my Financial Services Contract be reviewed by an attorney?

Getting a legal professional to review your agreement can take longer than you'd expect if you try to do it on your own. An alternate approach might be via Rocket Lawyer attorney services. Rocket Lawyer Premium members have the ability to request a document review from an attorney with experience in business or ask additional questions. As a business owner, you can Work Confidently® knowing that Rocket Lawyer is here to support you.