MAKE YOUR FREE
Affidavit of Eligibility
Answer simple questions to create your document

Sign & share your document online

Save progress and finish on any device; download & print at home
Start Now

Preparing your document questions
We've sent you an email
with information about how to access your document from any device

Make your Free
Affidavit of Eligibility
Affidavit of Eligibility Basics
Real winners play by the rules. If you've been chosen as a winner of a contest or sweepstakes, an Affidavit of Eligibility allows you to legally declare that you're eligible to win. Often the contest organizer will require you to complete an Affidavit of Eligibility before you can claim your prize. With all the rules and prizes organized, the contest can run smoothly, a win-win situation for everyone involved.
Use the Affidavit of Eligibility document if:
You have won a contest of some sort and you have been asked to prove you are eligible for the prize.
You are sponsoring a contest or sweepstakes and require proof the winner is eligible to win the contest.
A completed Affidavit of Eligibility could be the last step between you and that big prize. It's used to certify your eligibility for winning a contest or sweepstakes. Essentially, the Affidavit proves that the winner was qualified by the rules to win. In this way, it helps both the contest organizers and the winner protect their rights and responsibilities. When creating your Affidavit of Eligibility, you'll want to include information like: the name of the contest or sweepstakes; who's making the affidavit; who's requesting the affidavit; where it will be signed; the social security number of the person proving their eligibility (known as "the affiant"); and the affiant's contact information.

Other names for this document: Sweepstakes Affidavit
---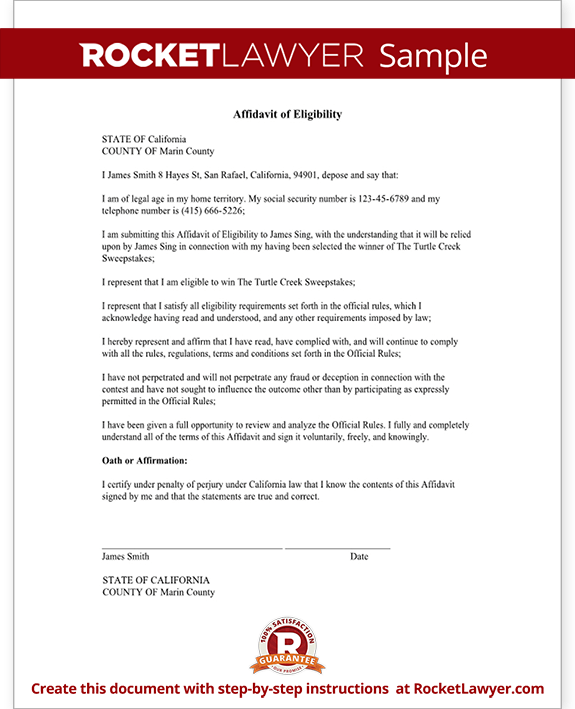 View Sample
Sample Affidavit of Eligibility
More than just a template, our step-by-step interview process makes it easy to create an Affidavit of Eligibility.

Save, sign, print, and download your document when you are done.

Sample Affidavit of Eligibility
Our step-by-step interview process makes creating a printable Affidavit of Eligibility easy.
Make Document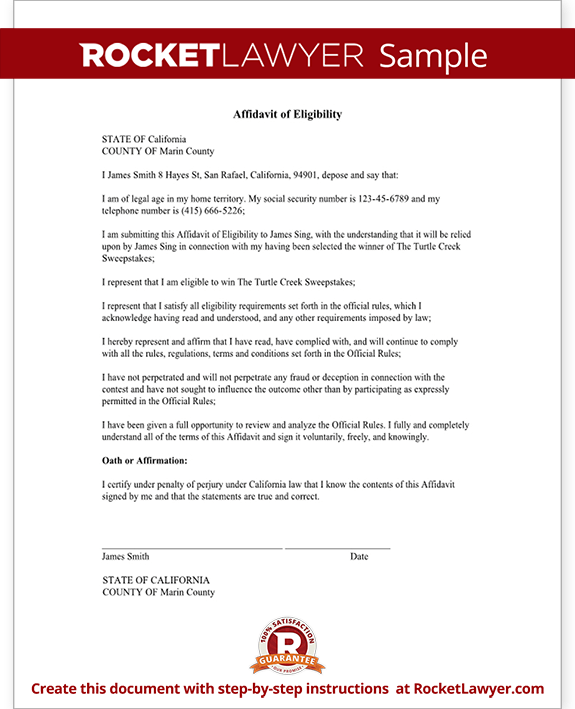 ---
Ready to create your Free Affidavit of Eligibility?
Your document is free within your one week membership trial.
Make Document