MAKE YOUR FREE

Attorney Engagement Letter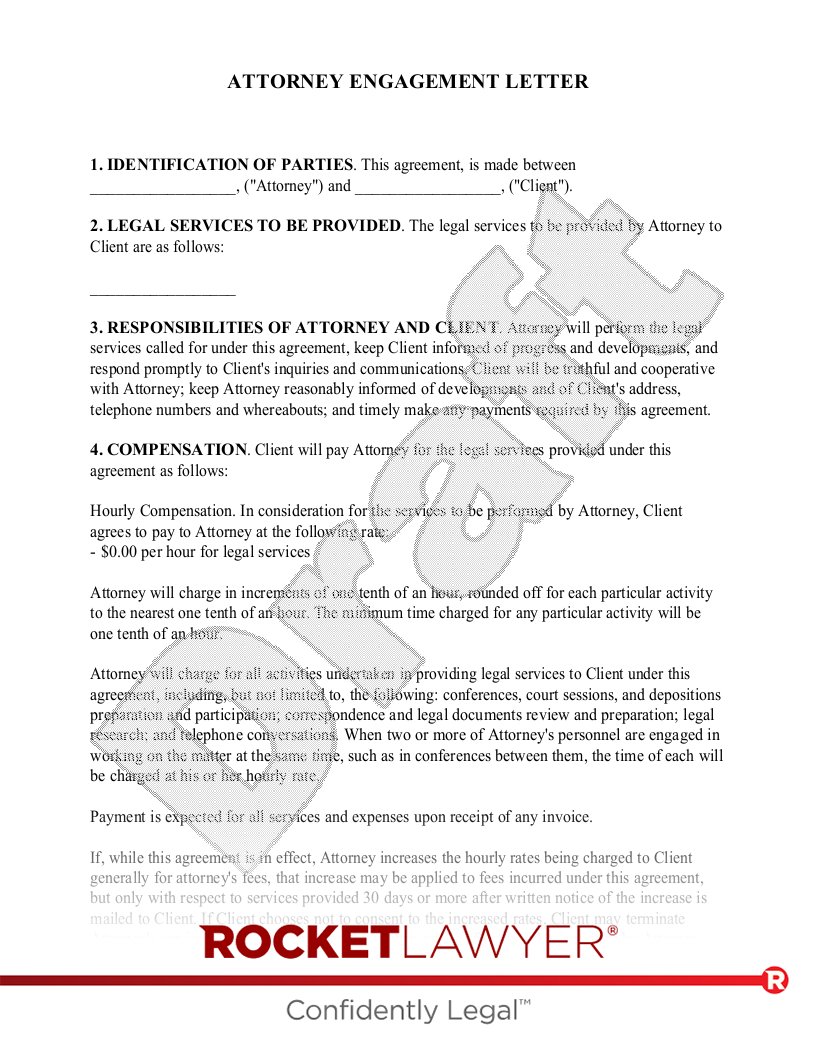 What is an Attorney Engagement Letter?
Lawyers and clients use Attorney Engagement Letters for the purpose of documenting the details of legal services to be delivered. By agreeing to this contract with each other, you and the client will know what to expect. Unlike many other sites that you might stumble upon, there is a lot more to Rocket Lawyer than templates. If the client refuses to pay or there's another issue, your Rocket Lawyer membership offers the optional benefit of Document Defense® protection.
When to use an Attorney Engagement Letter:
You are a lawyer or law firm providing services to another business or individual.
You will be contracting with a lawyer or law firm to receive legal services.
Sample Attorney Engagement Letter
The terms in your document will update based on the information you provide
This document has been customized over 27.4K times

Documents and communicates
Ask a lawyer questions about your document
ATTORNEY ENGAGEMENT LETTER
. IDENTIFICATION OF PARTIES. This agreement, is made between , ("Attorney") and , ("Client").
. LEGAL SERVICES TO BE PROVIDED. The legal services to be provided by Attorney to Client are as follows:
. RESPONSIBILITIES OF ATTORNEY AND CLIENT. Attorney will perform the legal services called for under this agreement, keep Client informed of progress and developments, and respond promptly to Client's inquiries and communications. Client will be truthful and cooperative with Attorney; keep Attorney reasonably informed of developments and of Client's address, telephone numbers and whereabouts; and timely make any payments required by this agreement.
. COMPENSATION. Client will pay Attorney for the legal services provided under this agreement as follows:
Flat Fee. In consideration for the services to be performed by Attorney, Client agrees to pay the sum of , upon completion of the services to be performed.
rate:- per hour for services rendered by partners of the Law Firm- per hour for services rendered by associates of the Law Firm- per hour for services rendered by paralegals of the Law Firm
Attorney will charge for all activities undertaken in providing legal services to Client under this agreement, including, but not limited to, the following: conferences, court sessions, and depositions preparation and participation; correspondence and legal documents review and preparation; legal research; and telephone conversations. When two or more of Attorney's personnel are engaged in working on the matter at the same time, such as in conferences between them, the time of each will be charged at his or her hourly rate.
Payment is expected for all services and expenses 15
If, while this agreement is in effect, Attorney increases the hourly rates being charged to Client generally for attorney's fees, that increase may be applied to fees incurred under this agreement, but only with respect to services provided 30 days or more after written notice of the increase is mailed to Client. If Client chooses not to consent to the increased rates, Client may terminate Attorney's services under this agreement by written notice effective when received by Attorney, provided Client executes and return a substitution-of-attorney form immediately on its receipt from Attorney if Attorney is Client's attorney of record in any proceeding.
Client acknowledges that Attorney has made no promises about the total amount of attorney's fees to be incurred by Client under this agreement.
. COSTS. Client will pay all "costs" in connection with Attorney's representation of Client under this agreement. Costs will be advanced by Attorney and then billed to Client unless the costs can be met out of Client deposits that are applicable toward costs. Costs include, but are not limited to, court filing fees, deposition costs, expert fees and expenses, investigation costs, long-distance telephone charges, messenger service fees, photocopying expenses, and process server fees.
Of this amount, is refundable and is nonrefundable. The nonrefundable portion will be applied against attorney's fees first. If, at the termination of services under this agreement, the total amount incurred by Client for attorney's fees is less than the amount of the initial deposit, the difference, to a maximum of the refundable portion of the deposit, will be refunded to Client.
. GENERAL PROVISIONS. This agreement sets forth the entire understanding of the parties. Any amendments must be in writing and signed by both parties. This agreement shall be construed under the laws of the State of . If any provision of this agreement is held to be invalid, illegal or unenforceable, the remaining portions of this agreement shall remain in full force and effect and construed so as to best effectuate the original intent and purpose of this agreement.
. EFFECTIVE DATE OF AGREEMENT. This agreement becomes effective as of the date it is executed by the parties to do so.
The foregoing is agreed to by:
Attorney Engagement Letter FAQs
Why should a lawyer always use an Engagement Letter?

No matter how small the job, it is important to capture the details of any commitments to the client in writing. You may decide that you want to use this document due to the fact that, when done correctly, it yields this list of helpful benefits:

Roles and responsibilities are understood by all
Everyone knows when billing will happen
The duration of the engagement is agreed upon

Any lawyer deciding against making an Attorney Engagement Letter should brace themselves for common issues like unrealistic requests and overdue invoices.

Is an Engagement Letter required?

State laws differ on the requirement for an Engagement Letter. In certain states, legal services that are expected to cost less than $1,000, for example, do not require an Engagement Letter. However, even when Engagement Letters are not required, they are still considered to be best practice, as they provide a writing to point back to in case of a future disagreement or potential misunderstandings.

Where can I get an Attorney Engagement Letter online for free?

Rocket Lawyer documents, including the Attorney Engagement Letter template, are vetted by lawyers and legal staff, so you can feel confident when using them to manage your legal matters. To begin, just share more details about the project in a step-by-step interview, and we'll handle the rest. Before you sign your Engagement Letter, you can also try asking an attorney in our Rocket Lawyer attorney network to review it for you. This method, in many cases, will be notably less time-consuming than meeting with and hiring a conventional provider at a cost that can add up to hundreds of dollars or more.

If you've got any particular concerns or questions about how to move forward, connect with a lawyer , or check out our library of contracts and other documents for business .

Who prepares an Engagement Letter?

The attorney usually prepares an Engagement Letter for all of the parties to sign. The agreement might include:

The name of the client
The name of the attorney or law firm representing the client
A description of the legal services to be provided (as well as any exclusions)
Fee structure (hourly, lump sum, contingency fee based, etc.)
Which attorney or attorneys may work on the case, as well as how their rates will be calculated
Retainer information (a deposit from which fees will be deducted as the attorney earns them)
What laws govern the agreement
Term of the agreement (for example, for a number of years or until a particular matter is resolved)

The Rocket Lawyer Attorney Engagement Letter is available to use whether you are a lawyer providing services, or an individual contracting with a lawyer to receive legal services.

Where can I get my Attorney Engagement Letter checked out by an attorney?

If you attempt to do it on your own, getting a lawyer to comment on your Attorney Engagement Letter can be fairly time-consuming. Sometimes a lawyer will not even agree to review a contract if they were not the author. If an attorney does decide to offer assistance, they most likely would still charge a fee for doing it. An easier and more cost-effective way to double-check your document would be to go through the Rocket Lawyer attorney network. When you sign up for a Premium membership, you can have your contracts evaluated by an experienced business attorney. Whether you decide to produce additional copies of your Attorney Engagement Letter or other documents, we'll be here for you.