MAKE YOUR FREE

Physician Services Agreement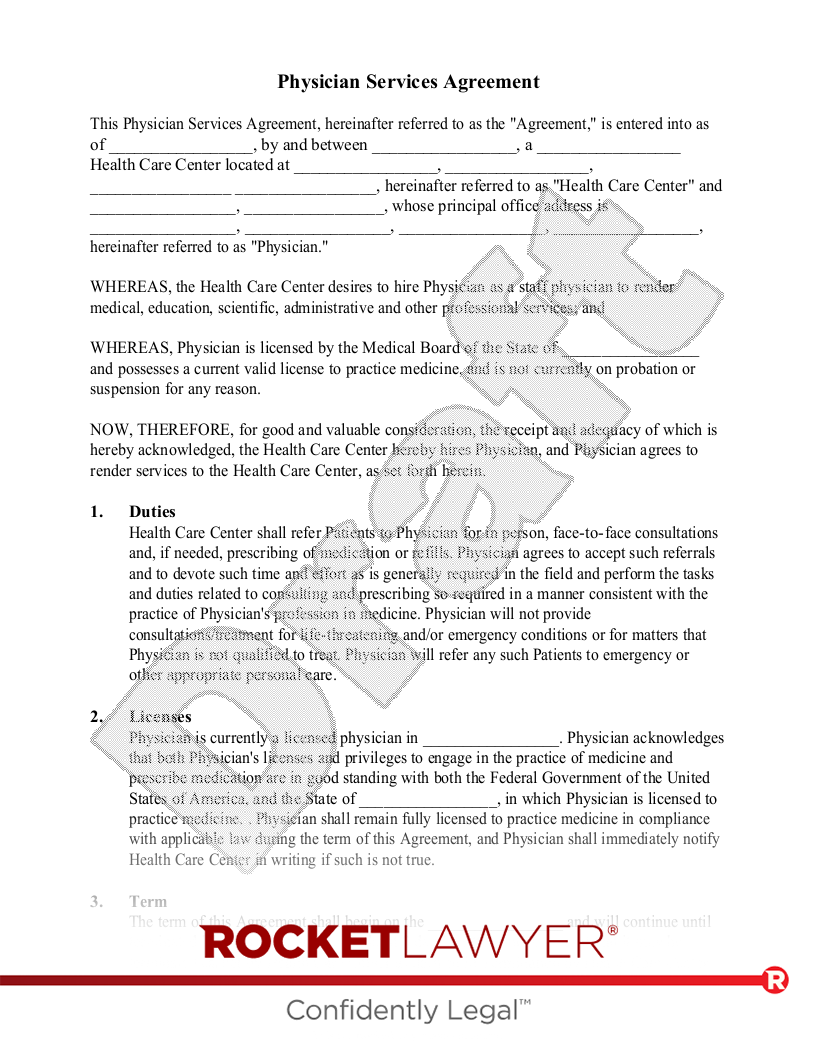 What is a Physician Services Agreement?
Suitable for use in any US state, a Physician Services Agreement is often prepared by a physician to set forth the terms associated with a client relationship. When it contains the appropriate details, this essential legal contract may help to limit the volume of disagreements. Unlike the generic PDF templates that you might download elsewhere, each Physician Services Contract that is built on Rocket Lawyer comes with the option of Document Defense®, so an On Call attorney can reach out on your behalf if you don't get paid or experience any other problem.
When to use a Physician Services Agreement:
You're a health care provider hiring a physician for your health care center.
You're a physician being hired by a health care center.
Sample Physician Services Agreement
The terms in your document will update based on the information you provide
This document has been customized over 10.4K times
Legally binding and enforceable
Ask a lawyer questions about your document
Sign this document online for free with RocketSign®
Physician Services Agreement
This Physician Services Agreement, hereinafter referred to as the "Agreement," is entered into as of , by and between , a Health Care Center located at , , , hereinafter referred to as "Health Care Center" and , , whose principal office address is , , , , hereinafter referred to as "Physician."
WHEREAS, the Health Care Center desires to hire Physician as a staff physician to render medical, education, scientific, administrative and other professional services; and
WHEREAS, Physician is licensed by the Medical Board of the State of and possesses a current valid license to practice medicine, and is not currently on probation or suspension for any reason.
NOW, THEREFORE, for good and valuable consideration, the receipt and adequacy of which is hereby acknowledged, the Health Care Center hereby hires Physician, and Physician agrees to render services to the Health Care Center, as set forth herein.
Health Care Center shall refer Patients to Physician for in person, face-to-face consultations and, if needed, prescribing of medication or refills. Physician agrees to accept such referrals and to devote such time and effort as is generally required in the field and perform the tasks and duties related to consulting and prescribing so required in a manner consistent with the practice of Physician's profession in medicine. Physician will not provide consultations/treatment for life-threatening and/or emergency conditions or for matters that Physician is not qualified to treat. Physician will refer any such Patients to emergency or other appropriate personal care.
Physician is currently a licensed physician in . Physician acknowledges that both Physician's licenses and privileges to engage in the practice of medicine and prescribe medication are in good standing with both the Federal Government of the United States of America, and the State of , in which Physician is licensed to practice medicine. . Physician shall remain fully licensed to practice medicine in compliance with applicable law during the term of this Agreement, and Physician shall immediately notify Health Care Center in writing if such is not true.
The term of this Agreement shall begin on the and will continue until terminated by a Party hereto upon at least days' written notice, except that it may be terminated earlier by Health Care Center as defined in Termination by Health Care Center.
4.
Patient-Physician Relationship
Physician shall establish a valid patient-physician relationship with each Patient pursuant to all applicable local, state, and Federal laws, regulations, and professional standards.
5.
Notification of State or Federal Action or a Complaint
Physician shall notify Health Care Center in writing immediately if Physician is disciplined concerning an allegation of professional misconduct, or if Physician otherwise becomes ineligible or unable to treat Patients and/or prescribe medication, or if any person files any type of complaint against Physician, whether in court or to a state body, or alleges he will do so.
6.
Termination by Health Care Center
Health Care Center may terminate this Agreement by written notice to Physician upon the occurrence of any of the following; with Physician immediately notifying Health Care Center in writing should any such event take place:
a. The revocation, suspension, or cancellation of the Physician's professional license.
b. The imposition of any restriction or limitation on the Physician by any governmental authority having jurisdiction over the Physician to the extent that the Physician cannot render the required professional services.
c. A final determination by any board, or other organization having jurisdiction over the Physician's right to practice that the Physician has engaged in unprofessional or unethical conduct.
d. Physician is convicted in a criminal or civil proceeding of fraud, misappropriation, embezzlement, Medicare or Medicaid fraud and abuse, or the commission of a felony or of narcotics related offense or pleads nolo contendere to any such charge.
e. The failure or refusal of the Physician to comply with the reasonable policies, work requirements, standards, and regulations of the Health Care Center.
f. Physician breaches any material obligation or covenant under this Agreement, or Physician fails to faithfully perform the services required by this Agreement; provided Physician is first given written notice of default and ten (10) business days to cure the alleged breach.
g. Health Care Center in its sole discretion determines that Physician is committing, or has committed during the term hereof, unfair and/or unethical practices, or practices which are or could be harmful to Patients, or in violation of law.
h. The revocation, loss, or relinquishment (either voluntary or involuntary, temporary or permanent) of Physician's medical staff membership or clinical privileges for medical disciplinary cause or reason at any hospital or other health facility where Physician regularly performs professional medical services.
i. The imposition of a substantial restriction on Physician's medical staff membership or clinical privileges at any hospital or other health facility which prevents Physician from regularly performing professional medical services at such hospital or health facility.
j. The exclusion, either temporary or permanent, of Physician from participation in Medicare, Medi-Cal, or other federal or state health care payment programs.
k. The failure by Physician to obtain or retain certification in his medical specialty field.
l. The embezzlement or conversion by Physician of the Health Care Center's assets or properties.
m. Substance or alcohol abuse which is reasonably determined by the Health Care Center to impair Physician's ability to perform professional services.
n. Inadequate or unsatisfactory quality of medical practice or performance of professional medical services of Physician in the sole discretion of the Health Care Center.
o. Any other medical disciplinary cause or reason involving Physician.
Upon termination of this Agreement, neither Party shall have any further rights, duties, nor obligations, under this Agreement, except as otherwise provided herein. The termination or expiration shall not affect any liability or other obligation of either Party that accrued prior to the termination or expiration. Any compensation owed to Physician for services rendered in periods prior to termination shall remain payable to Physician, unless Physician is in breach hereof in which case Health Care Center shall be entitled to withhold any unpaid compensation until the breach is resolved.
8.
Physician Duties upon Termination
Upon the termination of this Agreement, Physician shall take all reasonable steps necessary for the prompt and efficient transfer of Patients under Physician's care to other supervising physicians hired by Health Care Center. For a period of 30 days after the effective date of termination, Physician shall continue to take such actions as are reasonably necessary to ensure that Patients under supervision continue to receive effective professional care.
Physician acknowledges that he has satisfied the continuing education requirements for the State of .
Health Care Center may or may not provide facilities for Physician to see Patients. Physician will conduct Patient services utilizing any facility made available that meets or exceeds all standards necessary for Patient to receive and Physician to perform an in person, face-to-face adequate medical consultation (the "Medical Consultation Criteria"), although Physician in Physician's discretion can see Patients at their residence as long as the Medical Consultation Criteria is satisfied.
Physician shall be paid by Health Care Center on the of every month or as mutually agreed.
Health Care Center understands that Physician may have other activities, including but not limited to, a full-time practice, to which he must devote time.
13.
Non-Exclusive Agreement
This Agreement is not exclusive. The Health Care Center may hire other physicians to perform the same or similar services at any time.
14.
Case Records and Histories
All medical records, films, or files concerning Patients shall belong to and remain the property of the Physician.
15.
Patient Relationships
Physician agrees and acknowledges that all Patients treated pursuant to this Agreement shall only be treated by Physician pursuant to a referral each time from Health Care Center. Physician shall have no follow-up contact with any Patient except pursuant to a then referral from Health Care Center for such Patient, unless Health Care Center is notified by Physician that there is a medical need for such follow-up contact and so agrees.
All notices, requests, demands, and other communications required or permitted to be given hereunder shall be in writing.
17.
Non-Treatment; Non-Competition; Non-Solicitation
Physician agrees that for one (1) year after the termination of this Agreement, Physician shall not treat nor meet professionally with a Patient. Physician further agrees that during the term of this Agreement and for one (1) year thereafter, Physician shall not directly or indirectly, either as an employee, employer, consultant, agent, principal, partner, stockholder, corporate officer, director, or in any other individual or representative capacity, engage or participate in any business anywhere in the United States that is in competition in any manner whatsoever with the business of Health Care Center. Physician further agrees that during the term of this Agreement and for a period of one (1) year after termination of this Agreement, Physician shall not directly or indirectly solicit, hire, recruit, or in any way encourage any employee of Health Care Center to leave Health Care Center.
This Agreement supersedes any and all other agreements, whether oral or written, between the Parties with respect to the subject matter of this Agreement, and no other agreement, statement, or promise relating to the subject matter of this Agreement which is not contained herein shall be valid or binding.
This Agreement and any duties or obligations hereunder shall not be assignable by Physician without the consent of Health Care Center in its sole discretion, except that Physician may sub-contract his services: (i) to another physician as long as such physician is reasonably satisfactory to Health Care Center and executes an agreement with Health Care Center similar to this Agreement; and (ii) to a nurse practitioner or physician's assistant as long as Physician supervises such person and is responsible for such person's work and to the best of Physician's knowledge such person is duly licensed and authorized by the appropriate state and state board to perform such services, except that should (i) or (ii) occur, then in any event the obligations of Section 4 herein must be satisfied, as well as any other obligation that may apply. Health Care Center shall have the right to assign this Agreement to another Health Care Center, firm, or person without Physician's consent provided that the assignment does not amend or alter the material terms and conditions of this Agreement with respect to Physician.
20.
Successors and Assigns
Subject to the provision regarding assignment, this Agreement shall be binding on the heirs, executors, administrators, successors, and assigns of the Parties.
The validity of this Agreement and of any of its terms or provisions, as well as the rights and duties of the Parties hereunder, shall be governed by the laws of the for contracts entered into and to be performed in .
This Agreement cannot be modified or amended except by a writing signed by the Parties.
23.
Captions and Headings
All captions and headings in this Agreement are for reference purposes and convenience only and shall not affect the meaning or interpretation of any provision of this Agreement.
Waiver of any default or breach of this Agreement or of any warranty, representation, covenant, or obligation contained herein shall not be construed as a waiver of any subsequent breach.
This Agreement shall be signed by , on behalf of , and by .
HEALTH CARE CENTER:
PHYSICIAN:
Physician Services Agreement FAQs
Should I create a Physician Contract?

Whether you are hired by a person or a company, your Physician Services Agreement is a step that should never be skipped. You might decide that you want to make this document due to the fact that, when made properly, it can present these benefits:

The duration of the engagement is agreed upon
The physician and health care provider both understand the scope of their responsibilities
Everyone knows when payments are due

Some unfavorable outcomes from not having this document in place include confusion on timing, incomplete payments, incorrect assumptions, and other potential concerns.

How are physician contract template typically organized?

Specifics to cover are:

The health care provider's full name and address
What services will be provided
Whether the project will be ongoing or if it will last for a set period of time
How payment will be made

As expected, your agreement will also include standard language regarding the independent work relationship, the protection of private information, and dispute resolution. As you make your contract, you also will have the ability to pick which state's jurisdiction it will be subject to. Using the document tool, you are able to add further custom editing, as needed.

What would it typically cost me to make a contract for physician services?

The cost of working with your average lawyer could total anywhere from several hundred dollars to thousands, if your matter is complex. If you would like to draft a Physician Services Agreement online for free with Rocket Lawyer, get started by clicking on "Make document" above. You may also try having your document checked by an attorney in our Rocket Lawyer attorney network.

If you have any concerns or questions before getting started, talk to an attorney today. You might also like to take a look at more business documents in our library.

Are there any additional actions that I will need to take once I create my Physician Services Agreement?

Upon finishing the contract, you can review it anytime, anywhere. With a membership, you will be able to edit, copy, download it in PDF format or as a Word document, get electronic signatures through RocketSign®, or print it as needed. Your Physician Services Agreement has its own series of directions for what to do next. You should be sure to provide a final copy of the fully signed contract to the health care provider.

Where do I have my Physician Services Agreement checked out by an attorney?

Hiring a lawyer to comment on your document may take a long time if you attempt to do it alone. An alternate approach could be to request help from the On Call network. Rocket Lawyer members are able to request a contract review from an Rocket Lawyer network attorney with experience in business or get answers to additional legal questions. As a small business owner or operator, you can Work Confidently® knowing that Rocket Lawyer is by your side.