MAKE YOUR FREE

Manufacturing Contract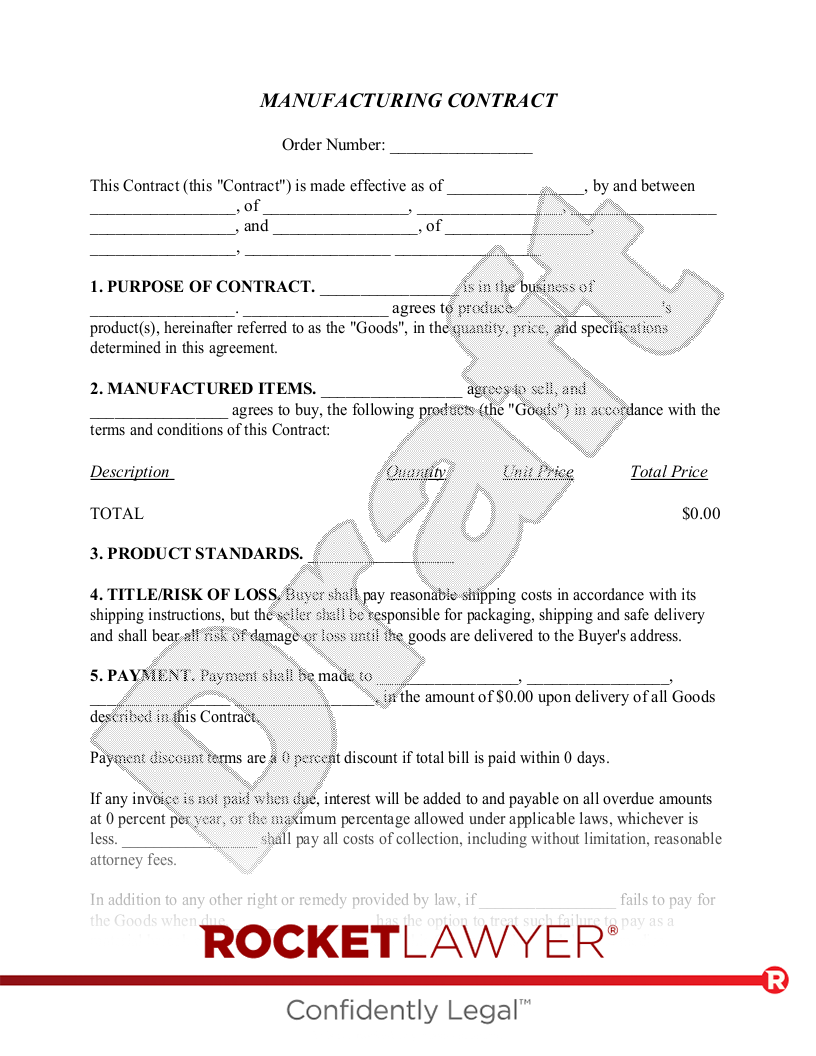 What is a Manufacturing Contract?
Once you've developed a product, a manufacturer brings it to life. A manufacturing contract establishes the service agreement between a product developer and manufacturer. The contract will cover details such as unique product specifications, order numbers, inventory details and payments. With a signed manufacturing contract in place, your product will be ready to market in no time.
When to use a Manufacturing Contract:
Your business is ready to market a product and you want to hire a manufacturer to produce it.
You're a manufacturer and need a business agreement for a manufacturing project.
Sample Manufacturing Contract
The terms in your document will update based on the information you provide
This document has been customized over 50.1K times
Legally binding and enforceable
Ask a lawyer questions about your document
Sign this document online for free with RocketSign®
MANUFACTURING CONTRACT
Order Number:
This Contract (this "Contract") is made effective as of , by and between , of , , , and , of , ,
. PURPOSE OF CONTRACT. is in the business of . agrees to produce 's product(s), hereinafter referred to as the "Goods", in the quantity, price, and specifications determined in this agreement.
. MANUFACTURED ITEMS. agrees to sell, and agrees to buy, the following products (the "Goods") in accordance with the terms and conditions of this Contract:
Description
Quantity
Unit Price
Total Price
. PRODUCT STANDARDS. The Goods shall comply with the specifications in the attached Exhibit A and incorporated into this Contract by this reference.
Title to and risk of loss of goods shall pass to the Buyer upon delivery F.O.B. at the Manufacturer's plant to an agent of the Buyer including a common carrier, notwithstanding any prepayment or allowance of freight by the Manufacturer.
. PAYMENT. Payment shall be made to
Payment discount terms are a percent discount if total bill is paid within days.
In addition to any other right or remedy provided by law, if fails to pay for the Goods when due, has the option to treat such failure to pay as a material breach of this Contract, and may cancel this Contract and/or seek legal remedies.
. DELIVERY. Time is of the essence in the performance of this Contract.
. INDEMNITY AND INSURANCE. agrees to hold harmless and to defend any and all actions, claims, suits, or proceedings that may subject to liability for defects in the Products. represents that it now has in force a valid comprehensive liability insurance policy in the amount of with , and that the policy covers the risk of liability for defects in the Products. If this insurance coverage should change or lapse, agrees that may pay the insurance premiums and deduct this expenditure from the payment due on the Products, beginning with the first shipment of Products following the expenditure.
.
. INSPECTION. , upon receiving possession of the Goods, shall have a reasonable opportunity to inspect the Goods to determine if the Goods conform to the requirements of this Contract. If , in good faith, determines that all or a portion of the Goods are non-conforming, may return the Goods to at must provide written notice to of the reason for rejecting the Goods. will have days from the return of the Goods to remedy such defects under the terms of this Contract.
. DEFAULT. The occurrence of any of the following shall constitute a material default under this Contract:
a. The failure to make a required payment when due.
b. The insolvency or bankruptcy of either party.
c. The subjection of any of either party's property to any levy, seizure, general assignment for the benefit of creditors, application or sale for or by any creditor or government agency.
d. The failure to make available or deliver the Goods in the time and manner provided for in this Contract.
. REMEDIES ON DEFAULT. In addition to any and all other rights a party may have available according to law, if a party defaults by failing to substantially perform any provision, term or condition of this Contract (including without limitation the failure to make a monetary payment when due), the other party may terminate the Contract by providing written notice to the defaulting party. This notice shall describe with sufficient detail the nature of the default. The party receiving such notice shall have days from the effective date of such notice to cure the default(s). Unless waived by a party providing notice, the failure to cure the default(s) within such time period shall result in the automatic termination of this Contract.
, or other labor disputes
Both parties acknowledge that during the course of this Contract, each may obtain confidential information regarding the other party's business. Both parties agree to treat all such information and the terms of this Contract as confidential and to take all reasonable precautions against disclosure of such information to unauthorized third parties during and after the term of this Contract. Upon request by an owner, all documents relating to the confidential information will be returned to such owner.
. CONFIDENTIALITY. Upon termination of this Contract, will return to all records, notes, documentation and other items that were used, created, or controlled by during the term of this Contract.
. NOTICE. Any notice or communication required or permitted under this Contract shall be sufficiently given if delivered in person or by certified mail, return receipt requested, to the addresses listed above or to such other address as one party may have furnished to the other in writing. The notice shall be deemed received when delivered or signed for, or on the third day after mailing if not signed for.
. ENTIRE CONTRACT. This Contract contains the entire agreement of the parties regarding the subject matter of this Contract, and there are no other promises or conditions in any other agreement whether oral or written. This Contract supersedes any prior written or oral agreements between the parties.
. AMENDMENT. This Contract may be modified or amended if the amendment is made in writing and signed by both parties.
. SEVERABILITY. If any provision of this Contract shall be held to be invalid or unenforceable for any reason, the remaining provisions shall continue to be valid and enforceable. If a court finds that any provision of this Contract is invalid or unenforceable, but that by limiting such provision it would become valid and enforceable, then such provision shall be deemed to be written, construed, and enforced as so limited.
. WAIVER OF CONTRACTUAL RIGHT. The failure of either party to enforce any provision of this Contract shall not be construed as a waiver or limitation of that party's right to subsequently enforce and compel strict compliance with every provision of this Contract.
. ATTORNEY'S FEES. If any action at law or in equity is brought to enforce or interpret the provisions of this Agreement, the prevailing party will be entitled to reasonable attorneys' fees in addition to any other relief to which that party may be entitled.
. HEADINGS. Headings used in this Agreement are provided for convenience only and shall not be used to construe meaning or intent.
. APPLICABLE LAW. This Contract shall be governed by the laws of the State of .
. SIGNATURES. This Contract shall be signed on behalf of by , and on behalf of by .
Manufacturing Contract FAQs
What is a contract manufacturer and how does it work?

A contract manufacturer is an organization that entirely produces complete goods for another company. The contract manufacturer sources any raw materials necessary for production and also provides the manufacturing processes necessary to meet specific requirements regarding quality, quantity, and delivery dates.

What is contract manufacturing known as?

Contract manufacturing is also commonly referred to as private label manufacturing.

What is an example of contract manufacturing?

Many mobile phones and game consoles are produced under contract manufacturing agreements.

What is toll manufacturing vs contract manufacturing?

With regard to toll manufacturing, a company would supply a third-party company with raw materials. The third-party company would then provide the manufacturing services. In comparison, the third-party company would be responsible for sourcing raw materials as well as providing manufacturing services for a contract manufacturing agreement.