MAKE YOUR FREE

Shipping Agreement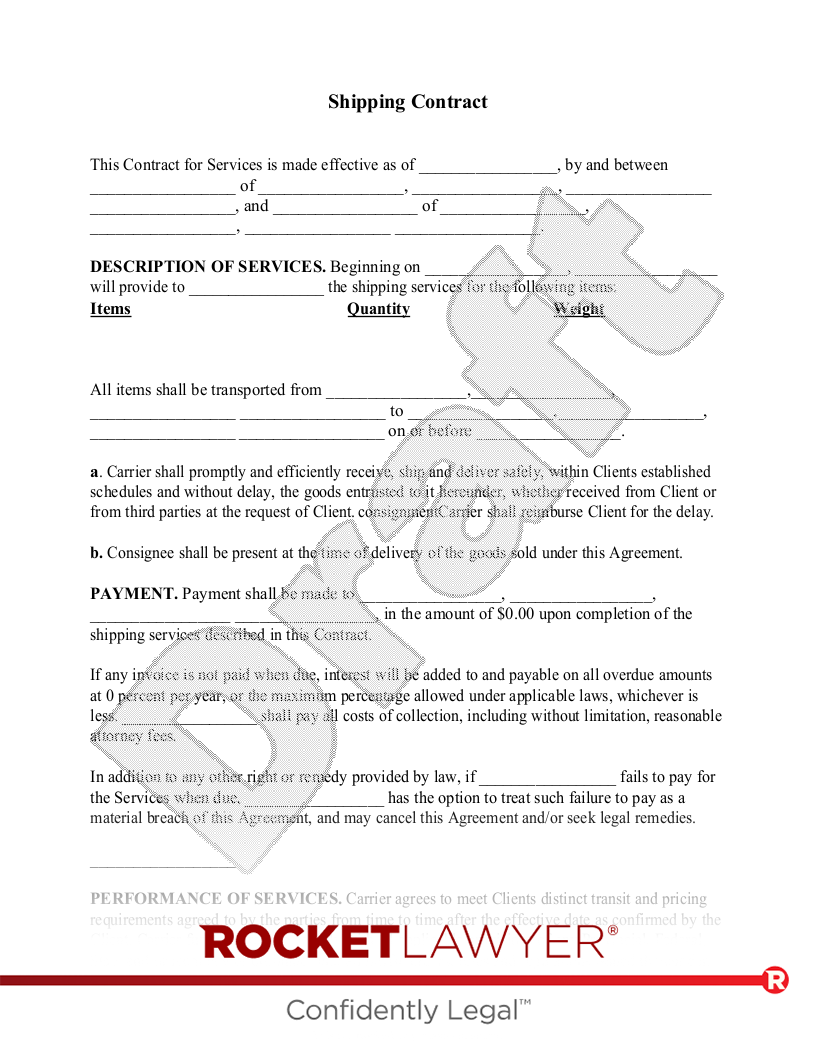 What is a Shipping Agreement?
Suited for usage in any state or locality, a Shipping Agreement allows a shipper to outline the terms and conditions of an arrangement that has been made with a manufacturer. With signatures from the manufacturer and the shipping operator, this essential contract helps each party to set appropriate expectations and limit disagreements. Different from the blank templates that you might find elsewhere, your Shipping Contract comes with the option of Document Defense®, so an attorney can respond on your behalf if you don't receive payment or face another issue.
When to use a Shipping Agreement:
You're hiring a shipping company to ship goods and products.
You're being hired for shipping services.
Sample Shipping Agreement
The terms in your document will update based on the information you provide
This document has been customized over 15.4K times
Legally binding and enforceable
Ask a lawyer questions about your document
Sign this document online for free with RocketSign®
Shipping Contract
This Contract for Services is made effective as of , by and between of , , , and of , , .
DESCRIPTION OF SERVICES. Beginning on , will provide to the shipping services described in the attached Exhibit (collectively, the "Services").
All items shall be transported from ,, to ,, on or before .
a. Carrier shall promptly and efficiently receive, ship and deliver safely, within Clients established schedules and without delay, the goods entrusted to it hereunder, whether received from Client or from third parties at the request of Client. consignmentCarrier shall reimburse Client for the delay.
b. Consignee shall be present at the time of delivery of the goods sold under this Agreement.
PAYMENT. Payment shall be made to , in the amount of
In addition to any other right or remedy provided by law, if fails to pay for the Services when due, has the option to treat such failure to pay as a material breach of this Agreement, and may cancel this Agreement and/or seek legal remedies.
PERFORMANCE OF SERVICES. Carrier agrees to meet Clients distinct transit and pricing requirements agreed to by the parties from time to time after the effective date as confirmed by the Client. Carrier further agrees to comply with all applicable provisions of any Provincial, Federal, State and/or local law or ordinance and all lawful orders, rules and regulations issued thereunder. Carrier agrees that Carrier will perform its services under this Agreement in accordance with the highest standards of industry.
TERM. This Contract
INSURANCE. Carrier at Carriers expense, shall maintain during the term of this Agreement, commercial general liability insurance with minimum limits per occurrence for property damage, and cargo liability insurance with minimum limits per shipment. Carrier shall provide Client certificate of insurance naming Client as Certificate Holder, evidencing the foregoing coverage prior to providing any services to Carrier under this Agreement. Carrier shall provide that said insurance shall not be canceled or materially altered until at least thirty (30) days after written notice is received by Client. The Carrier shall also maintain any insurance coverages required by any government body including workers compensation (if applicable) for the types of shipping and related services specified.
EXCLUSIVE CONTROL. Carrier shall have sole and exclusive control over the manner in which Carrier and its agents perform the shipping service provided for hereunder, and Carrier shall utilize such individuals as it may deem necessary in connection therewith, it being understood and agreed that such individuals shall be subject to discharge, discipline, and control solely and exclusively by Carrier. Carrier represents that it is entirely independent and that it is not substantially economically dependent upon Client and there is no functional integration of the Clients and the Carriers respective operations.
HEALTH & SAFETY. The Carrier is responsible to ensure each Carriers employee/driver/worker receives orientation to his/her job duties, including specific safety requirements, prior to beginning the assignment. No Carrier employee/driver/worker will be placed on equipment or instructed to perform duties for which they do not have the skill or training to perform safely.
PERMITS. Carrier has obtained or shall obtain at Carriers sole expense all permits licenses, certificates, authorities or approvals required to comply with all laws in the performance of this Agreement. Carrier shall provide Client with reasonable advance written notice if any such permits, license, certificate or approval becomes a subject of judicial or administrative action seeking revocation or suspension.
DEFAULT. The occurrence of any of the following shall constitute a material default under this Agreement:
a.
The failure to make a required payment when due.
b.
The insolvency or bankruptcy of either party.
c.
The subjection of any of either party's property to any levy, seizure, general assignment for the benefit of creditors, application or sale for or by any creditor or government agency.
d.
The failure to make available or deliver the Services in the time and manner provided for in this Agreement.
REMEDIES. In addition to any and all other rights a party may have available according to law, if a party defaults by failing to substantially perform any provision, term or condition of this Agreement (including without limitation the failure to make a monetary payment when due), the other party may terminate the Agreement by providing written notice to the defaulting party. This notice shall describe with sufficient detail the nature of the default. The party receiving such notice shall have days from the effective date of such notice to cure the default(s). Unless waived by a party providing notice, the failure to cure the default(s) within such time period shall result in the automatic termination of this Agreement.
, or other labor disputes
ENTIRE AGREEMENT. This Agreement contains the entire agreement of the parties, and there are no other promises or conditions in any other agreement whether oral or written concerning the subject matter of this Agreement. This Agreement supersedes any prior written or oral agreements between the parties.
SEVERABILITY. If any provision of this Agreement will be held to be invalid or unenforceable for any reason, the remaining provisions will continue to be valid and enforceable. If a court finds that any provision of this Agreement is invalid or unenforceable, but that by limiting such provision it would become valid and enforceable, then such provision will be deemed to be written, construed, and enforced as so limited.
AMENDMENT. This Agreement may be modified or amended in writing, if the writing is signed by the party obligated under the amendment.
GOVERNING LAW. This Agreement shall be construed in accordance with the laws of the State of .
NOTICE. Any notice or communication required or permitted under this Agreement shall be sufficiently given if delivered in person or by certified mail, return receipt requested, to the address set forth in the opening paragraph or to such other address as one party may have furnished to the other in writing.
WAIVER OF CONTRACTUAL RIGHT. The failure of either party to enforce any provision of this Contract shall not be construed as a waiver or limitation of that party's right to subsequently enforce and compel strict compliance with every provision of this Agreement.
SIGNATORIES. This Agreement shall be executed on the behalf of by and on behalf of by .
Shipping Agreement FAQs
Why would I use a Shipment Agreement?

Even if your shipping business is brand new, it's crucial to keep track of your work with a contract. The benefits shown here may be helpful for you:

Both parties understand their responsibilities
Everyone knows when invoicing will happen
Timelines are established

If you don't have a Shipping Contract, you might experience one or more of these issues: unmet standards of quality, unclear timelines or delayed delivery, scope creep, difficulty getting paid, and, unfortunately, barely any recourse if something goes wrong.

How should a Shipping Agreement be structured?

Before getting started, you may want to prepare the following details:

The manufacturer's contact information
How payment will be made
What the start and end dates are
What kind of services will be provided

As you might hope from an agreement like this one, any Shipment Contract built with Rocket Lawyer will also include the typical legal language with regard to the non-employment relationship between the shipping operator and manufacturer, liability for losses, the protection of private information, and lastly, dispute resolution methods. As you build your contract, you'll also be able to select which state's jurisdiction it is subject to. Further modifications are allowed, if needed.

How much does it typically cost for a lawyer to provide a shipping contract template?

Fortunately, you won't need to pay a traditional law firm to get your agreement in writing. With the document tools on Rocket Lawyer, any shipping operator is able to draft a Shipping Agreement for free online today. Your document is assembled piece by piece, as you enter information throughout the process. Simply click on the "Make document" button to begin.

If you have any questions or hesitations about how to move forward, you can talk to a lawyer today. You may also wish to take a look at our collection of legal documents for business owners .

Will there be any additional steps to take after I have created my contract for shipping?

Each Shipping Agreement has its own checklist of directions for what you can do next. As a Rocket Lawyer member, you will be able to edit it, print it out, sign it electronically with RocketSign®, copy it, and/or download it as a Word or PDF document as needed. Finally, you should be sure to provide a final copy of the fully signed contract to your client.

Can my Shipping Contract be looked at by an attorney before I sign?

If you try to do it by yourself, locating an attorney to proofread documents might be expensive. Some lawyers will not even agree to review contracts that they did not write. If an attorney does decide to offer feedback, they would still make you pay their standard fees for doing it. A more cost-effective alternative would be via attorney services at Rocket Lawyer. As a Premium member, you can get your contracts evaluated by an experienced business attorney. Whether you create more Shipping Contracts or other contracts for shipping operators, we'll be here for you.