MAKE YOUR FREE

Editor Contract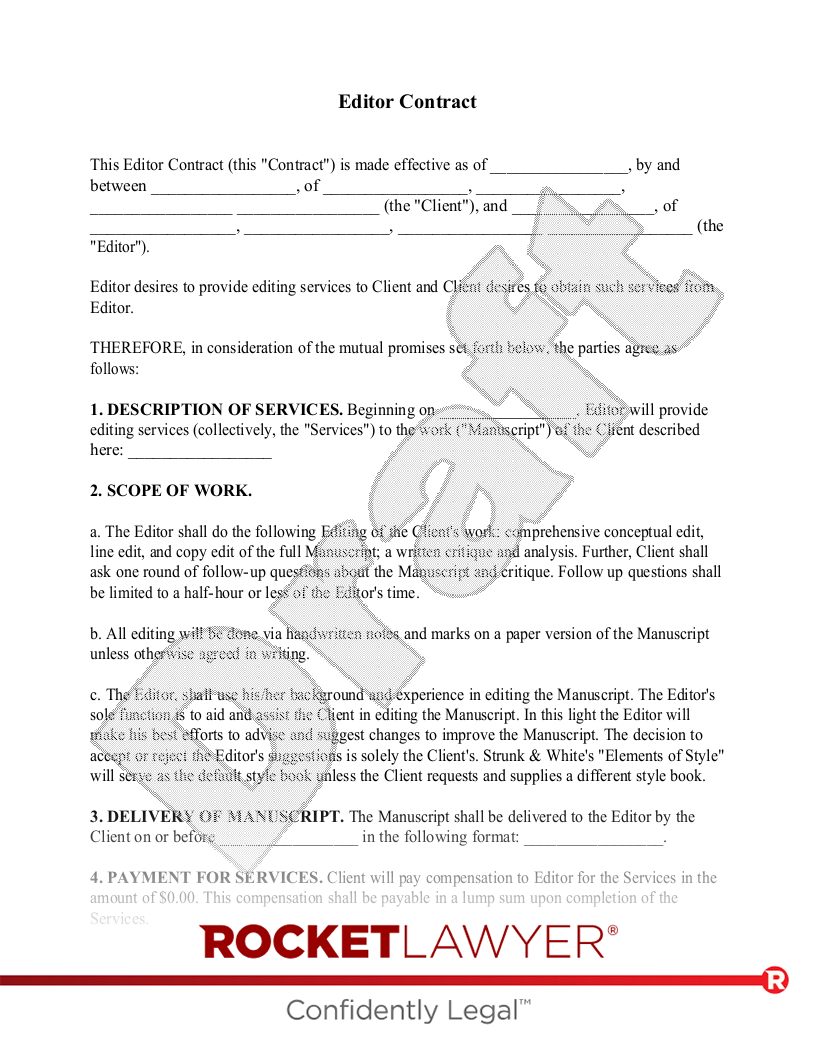 What is an Editor Contract?
A good editor can turn a book, magazine, newsletter or other content into gold. Creating an Editor Contract ensures that both editor and client see eye to eye on scope, voice, price, and timeline. Signing this contract can help both parties to avoid potential disputes down the road. When you build your Editor Contract on Rocket Lawyer, you will have the option to activate Document Defense®, which allows an attorney to help you get paid or enforce your rights.
When to use an Editor Contract:
You're an editor providing services for a client.
You're hiring an editor for a book, magazine or other project.
Sample Editor Contract
The terms in your document will update based on the information you provide
This document has been customized over 33.7K times
Legally binding and enforceable
Ask a lawyer questions about your document
Sign this document online for free with RocketSign®
Editor Contract
This Editor Contract (this "Contract") is made effective as of , by and between , of , , (the "Client"), and , of , , (the "Editor").
Editor desires to provide editing services to Client and Client desires to obtain such services from Editor.
THEREFORE, in consideration of the mutual promises set forth below, the parties agree as follows:
. DESCRIPTION OF SERVICES. Beginning on , Editor will provide editing services (collectively, the "Services") to the work ("Manuscript") of the Client described here:
. SCOPE OF WORK.
a. The Editor shall do the following Editing of the Client's work: comprehensive conceptual edit, line edit, and copy edit of the full Manuscript; a written critique and analysis. Further, Client shall ask one round of follow-up questions about the Manuscript and critique. Follow up questions shall be limited to a half-hour or less of the Editor's time.
b. All editing will be done via handwritten notes and marks on a paper version of the Manuscript unless otherwise agreed in writing.
c. The Editor, shall use his/her background and experience in editing the Manuscript. The Editor's sole function is to aid and assist the Client in editing the Manuscript. In this light the Editor will make his best efforts to advise and suggest changes to improve the Manuscript. The decision to accept or reject the Editor's suggestions is solely the Client's. Strunk & White's "Elements of Style" will serve as the default style book unless the Client requests and supplies a different style book.
. DELIVERY OF MANUSCRIPT. The Manuscript shall be delivered to the Editor by the Client on or before in the following format: .
. PAYMENT FOR SERVICES. Client will pay compensation to Editor for the Services upon completion of the Services. no later than .
Further, the Client shall reimburse the Editor for any direct expenses incurred in fulfilling this Contract, including: photocopying, printouts, electronic data transfer, long-distance calls, parking, travel, couriers and postage.
. TERM/TERMINATION. This Contract
. RELATIONSHIP OF PARTIES. It is understood by the parties that Editor is an independent contractor with respect to Client, and not an employee of Client. Client will not provide fringe benefits, including health insurance benefits, paid vacation, or any other employee benefit, for the benefit of Editor.
. WORK PRODUCT OWNERSHIP. Any copyrightable works, ideas, or other information (collectively, the "Work Product") developed in whole or in part by Editor in connection with the Services shall be the exclusive property of Client. Upon request, Editor shall sign all documents necessary to confirm or perfect the exclusive ownership of Client to the Work Product.
Upon termination of this Contract, Editor will return to Client all records, notes, documentation and other items that were used, created, or controlled by Editor during the term of this Contract.
. INDEMNIFICATION.
a. Editing is intrinsically a subjective process of offering advice and suggestions to the Client. In addition to offering such advice and suggestions, the Editors responsibility is limited to notifying the Client of any unresolved differences with the Client before the work proceeds to the next stage of production. While the Editor will make every effort to bring questionable material to the attention of the Client, the Client agrees to indemnify and save harmless the Editor from any and all claims or demands, including legal fees, arising out of any alleged libel or copyright infringement committed by the Client in creating the work.
b. The Editor, while working to aid the Client in preparing the best manuscript possible given the submitted material, has no way of judging the market or the whims and caprices of the publishing industry.
. ENTIRE AGREEMENT. This Contract contains the entire agreement of the parties, and there are no other promises or conditions in any other agreement whether oral or written.
. SEVERABILITY. If any provision of this Contract shall be held to be invalid or unenforceable for any reason, the remaining provisions shall continue to be valid and enforceable. If a court finds that any provision of this Contract is invalid or unenforceable, but that by limiting such provision it would become valid and enforceable, then such provision shall be deemed to be written, construed, and enforced as so limited.
. APPLICABLE LAW. This Contract shall be governed by the laws of the State of .
. SIGNATORIES. This Agreement shall be signed by on behalf of and by on behalf of . This Agreement is effective as of the date first above written.
Editor Contract FAQs
Is it mandatory for me to make an Editing Contract?

Regardless of whether the engagement is short- or long-term, it is critical to capture the details of your agreements with those hiring you in writing. Making this document most likely will be a smart move for you because of this list of benefits:

The length of the engagement is established
Neither party is confused about the payment schedule
Roles and responsibilities are understood by all

A few consequences of not having one might include unclear due dates, late payments, impractical expectations, and other concerns.

What should my Editor Contract contain?

Specific details that you might want to include are:

The name and address of your client
How much you will charge
Whether the project will be ongoing or if it will last for a set period of time
What specific tasks you will be doing once hired

As you might expect from an agreement like this one, any Editing Contract made with Rocket Lawyer will also include the standard legal language regarding the independent work relationship between the parties, reimbursement for losses, the protection of confidential information, and the method(s) of dispute resolution. As you make your agreement, you'll also have the ability to determine which state's laws will govern it. With the document tool, you have the power to add more custom alterations, if necessary.

How do I get an editing contract template online?

Luckily, you won't need to start from scratch when getting your agreement in writing. When using the document tools on Rocket Lawyer, any editor should feel empowered to draft Editor Contracts with ease. Your agreement is assembled step by step, as you answer simple questions to provide more details. Ordinarily, given the level of personalization, you could end up paying a conventional lawyer fees in the hundreds of dollars, if not more.

If you have any concerns about how to move forward, ask a lawyer today. You might also like to browse our entire library of business documents .

Would I have to take additional actions after a contract for editing services has been made?

Editor Contracts each have their own series of instructions for what to do next. You should feel free to try any or all of the following actions with your document: making edits, downloading it as a Word or PDF document, getting signatures via RocketSign®, and printing it. Most importantly, you will need to provide a copy of your fully signed agreement to the client.

Where can I get my Editor Contracts evaluated by an attorney?

Locating an attorney to double-check your Editor Contract can take longer than you think if you do it on your own. Another approach would be to request help from the Rocket Lawyer attorney network. Rocket Lawyer members can ask for feedback from an experienced lawyer or ask additional questions. As a business owner, you can be confident that Rocket Lawyer is by your side.