MAKE YOUR FREE

Pet Foster Care Agreement
Other Names:
Pet Fostering Contract
Temporary Pet Care Agreement
Foster Pet Contract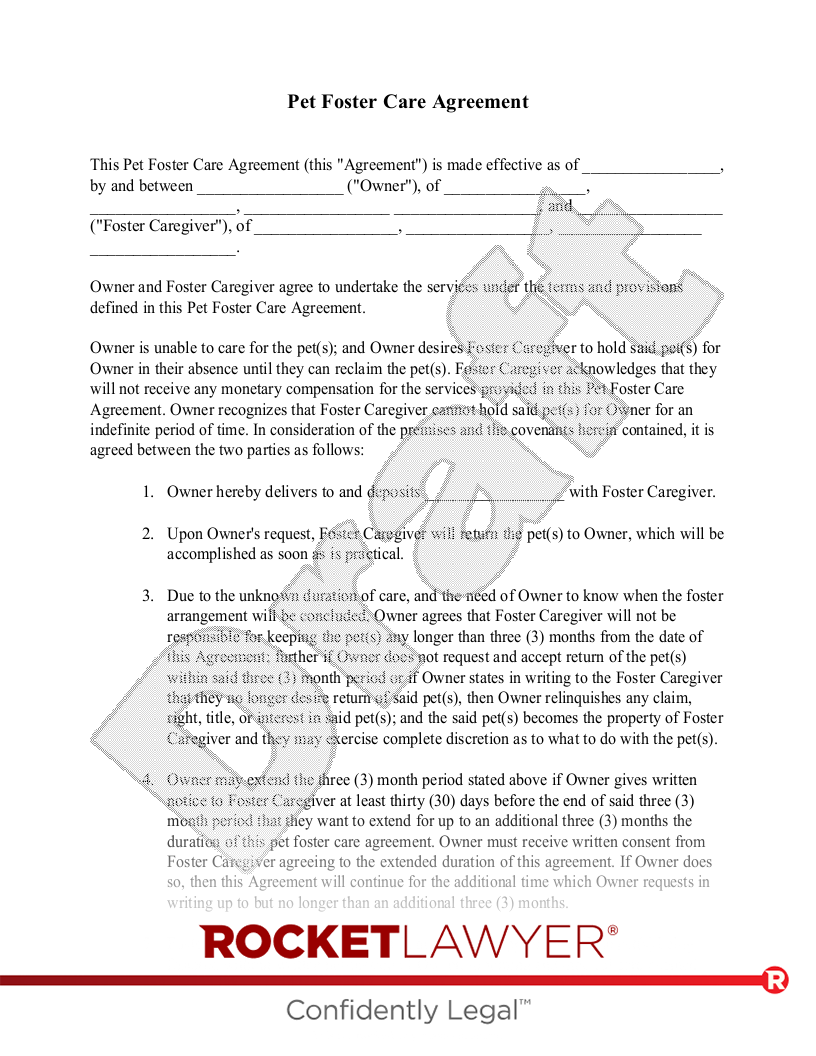 What is a Pet Foster Care Agreement?
A Pet Foster Care Agreement can help you arrange the terms of temporary pet care, whether you are unable to care for your pet, you are a foster care organization, or you are a pet foster parent.

A Pet Foster Care Agreement helps pet owners and foster care organizations arrange temporary pet care. In the event that a pet owner becomes unable to provide care and shelter for their pet, this contract allows them to set up care plans with a local foster family who can help. This agreement will list the intended foster caregiver, details on the pet(s), and any specific medications and dietary restrictions that are needed to provide the best care possible.
When to use a Pet Foster Care Agreement:
You are a pet owner who needs to arrange temporary care.
You are a foster organization who wants to connect pet owners and local foster families.
Sample Pet Foster Care Agreement
The terms in your document will update based on the information you provide
This document has been customized over 2.5K times
Legally binding and enforceable
Ask a lawyer questions about your document
Sign this document online for free with RocketSign®
This (this "Agreement") is made effective as of , by and between ("Owner"), of , , ,
Owner and Foster Caregiver agree to undertake the services under the terms and provisions defined in this .
Owner is unable to care for the pet(s); and Owner desires Foster Caregiver to hold said pet(s) for Owner in their absence until they can reclaim the pet(s). Foster Caregiver acknowledges that they will not receive any monetary compensation for the services provided in this . Owner recognizes that Foster Caregiver cannot hold said pet(s) for Owner for an indefinite period of time. In consideration of the premises and the covenants herein contained, it is agreed between the two parties as follows:
Owner hereby delivers to and deposits with Foster Caregiver.
Upon Owner's request, Foster Caregiver will return the pet(s) to Owner, which will be accomplished as soon as is practical.
Due to the unknown duration of care, and the need of Owner to know when the foster arrangement will be concluded, Owner agrees that Foster Caregiver will not be responsible for keeping the pet(s) any longer than three (3) months from the date of this Agreement; further if Owner does not request and accept return of the pet(s) within said three (3) month period or if Owner states in writing to the Foster Caregiver that they no longer desire return of said pet(s), then Owner relinquishes any claim, right, title, or interest in said pet(s); and the said pet(s) becomes the property of Foster Caregiver and they may exercise complete discretion as to what to do with the pet(s).
Owner may extend the three (3) month period stated above if Owner gives written notice to Foster Caregiver at least thirty (30) days before the end of said three (3) month period that they want to extend for up to an additional three (3) months the duration of this pet foster care agreement. Owner must receive written consent from Foster Caregiver agreeing to the extended duration of this agreement. If Owner does so, then this Agreement will continue for the additional time which Owner requests in writing up to but no longer than an additional three (3) months.
Foster Caregiver agrees not to alter in any way the appearance of the pet(s) being fostered without written permission of Owner, grooming and medical care deemed necessary by a veterinarian is an exception. This includes declawing and cropping of ears or tails.
Foster Caregiver agrees to provide adequate food, water, shelter and humane treatment for said pet(s) at all times.
In addition, Foster Caregiver agrees to adhere to all state and local animal laws. Foster Caregiver agrees to follow all oral and/or written additional instructions from Owner.
In the event of an emergency, Foster Caregiver shall contact Owner at the numbers provided to confirm Owner's choice of action. If Owner cannot be reached in a timely manner, Foster Caregiver is authorized to:
a. Transport the pet(s) to the listed veterinarian on the attached Veterinary Release Form;
b. Request treatment from an alternate veterinarian;
c. Transport the pet(s) to an emergency clinic if the previous two options are not feasible.
Owner will not reimburse Foster Caregiver for medical expenses. Owner acknowledges that should medical care and attention for the pet(s) be warranted, the Owner authorizes up to to be provided to cover the cost for care and will reimburse the Foster Caregiver this amount. If care exceeds this amount, Foster Caregiver will:
If said pet(s) dies or becomes accidentally injured, ill, or lost, Owner does not hold Foster Caregiver responsible and releases Foster Caregiver from any claim arising from said injury. In addition, if said pet(s) bites or injures any human or other animal, Owner will hold harmless, indemnify, and protect Foster Caregiver from any claim or suit filed by anyone as a result of such an incident.
If
cannot take care of ,
will be contacted.
If a problem arises with the foster care that Foster Caregiver is unable to handle, they understand that Owner is the point of contact. If Owner cannot be reached, Foster Caregiver will contact the emergency contact. If Foster Caregiver needs to return the foster pet(s) for any reason, they will make every attempt to provide Owner with as much notice as possible to ensure that other arrangements may be made. If Owner wants to cancel this Agreement for any reason, they can contact the Foster Caregiver at any time to arrange a return.
This Agreement is the entire agreement of the parties, and there are no oral promises or representations made in addition to this contract and it may only be changed in a writing signed by both Foster Caregiver and Owner.
Pet Name:
Age:
Gender:
Species:
Color and Distinguishing Marks:
Spayed/Neutered:
Vaccinated for Rabies:
Microchip:
Any history of biting or scratching:
Feeding Instructions:
Medication Instructions:
CONTACT INFORMATION
Owner
Name:
Address:
,
Phone:
E-mail Address:
excluding euthanasia including euthanasia
Primary veterinarian contact information:
,