MAKE YOUR FREE

Nanny Agreement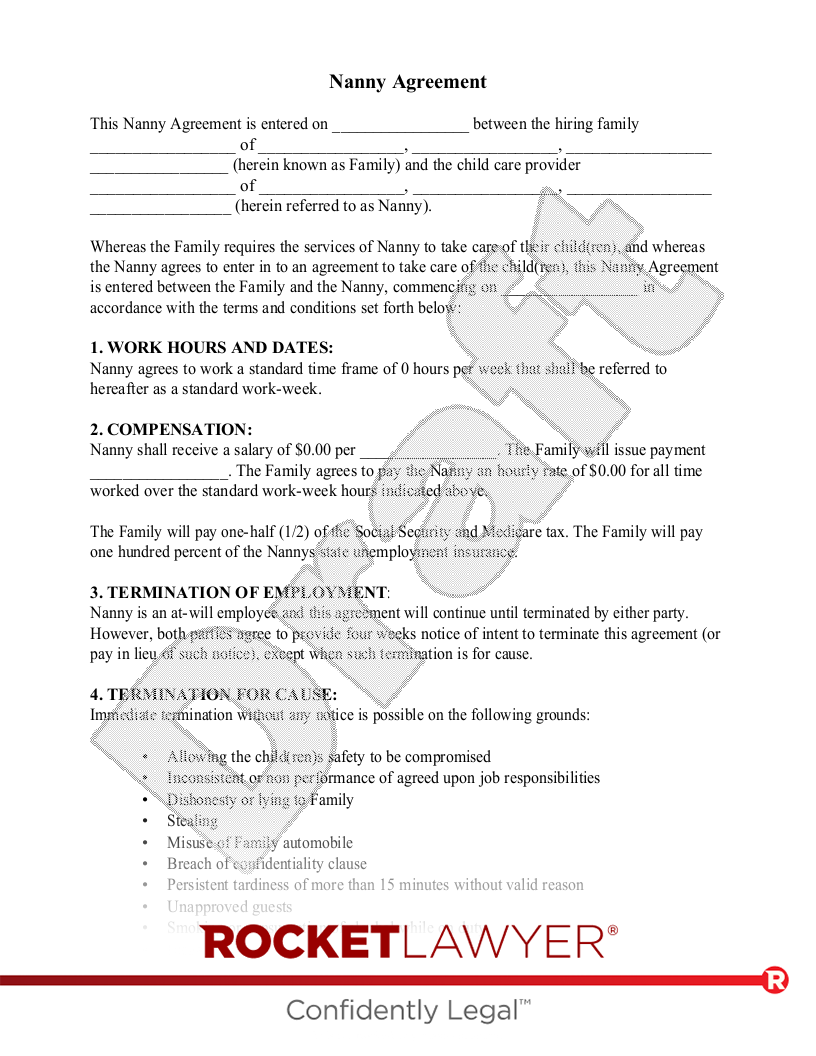 What is a Nanny Agreement?
Nanny Agreements typically are made to define the terms and conditions connected to child care being provided. With the appropriate information, this legal agreement can help to reduce disagreements by ensuring that there is a mutual understanding between the signing parties. Different from the other websites that you may stumble upon, there is a lot more that Rocket Lawyer offers besides PDF templates. In the event of nonpayment or another issue, your Premium membership provides optional access to Document Defense® protection.
When to use a Nanny Agreement:
You are hiring a nanny.
You are a nanny about to accept a new position.
Sample Nanny Agreement
The terms in your document will update based on the information you provide
This document has been customized over 77.2K times
Legally binding and enforceable
Ask a lawyer questions about your document
Sign this document online for free with RocketSign®
This Nanny Agreement is entered on between the hiring family of , , (herein known as Family) and the child care provider of , , (herein referred to as Nanny).
Whereas the Family requires the services of Nanny to take care of their child(ren), and whereas the Nanny agrees to enter in to an agreement to take care of the child(ren), this Nanny Agreement is entered between the Family and the Nanny, commencing on in accordance with the terms and conditions set forth below:
1. WORK HOURS AND DATES:
Nanny agrees to work a standard time frame of hours per week that shall be referred to hereafter as a standard work-week.
2. COMPENSATION:
Nanny shall receive a salary of per . The Family will issue payment . The Family agrees to pay the Nanny an hourly rate of for all time worked over the standard work-week hours indicated above.
Nanny shall reside at the Family's home and Family will cover room and board related expenses.
The Family will pay one-half (1/2) of the Social Security and Medicare tax. The Family will pay one hundred percent of the Nannys state unemployment insurance.
3. TERMINATION OF EMPLOYMENT:
Nanny is an at-will employee and this agreement will continue until terminated by either party. However, both parties agree to provide four weeks notice of intent to terminate this agreement (or pay in lieu of such notice), except when such termination is for cause.
4. TERMINATION FOR CAUSE:
Immediate termination without any notice is possible on the following grounds:
•
Allowing the child(ren)s safety to be compromised
•
Inconsistent or non performance of agreed upon job responsibilities
•
Dishonesty or lying to Family
•
Misuse of Family automobile
•
Breach of confidentiality clause
•
Persistent tardiness of more than 15 minutes without valid reason
•
Smoking or consumption of alcohol while on duty
•
Failure of the Family to remit payment for more than 1 month
•
Fear of harm or threat by either party due to actions of the other party
5. JOB RESPONSIBILITIES:
Nanny agrees to perform the following duties as a requirement of employment:
7. VACATION/SICK PAY/HOLIDAYS:
Nanny shall receive the following paid holidays: New Years Day, Memorial Day, Independence Day, Labor Day, Thanksgiving Day and Christmas Day. If any of the above holidays occur on a weekend, Nanny will be given the official Federal holiday that is observed. The Nanny is provided a cumulative of days of vacation, sick days and personal time, referred to as paid time off (PTO) as used according to the Nanny's discretion. Nanny agrees to use best efforts to take vacation time when Family takes their vacation. If Nanny cannot coordinate this vacation schedule, Nanny agrees to give Family at least four (4) weeks notice. In the event that Nanny travels with Family, Nanny shall be paid her regular salary plus over time hours as previously agreed upon by Family and Nanny.
8. CONFIDENTIALITY:
Nanny understands that any and all private information obtained about Family during the course of employment, including but not limited to medical, financial, legal, career and Family's assets are strictly confidential and may not be disclosed to any third party for any reason. Nanny is prohibited from providing information or posting photos of the Family or their home without prior consent. The obligations of the Nanny under this clause survive termination of this Agreement.
9. GENERAL PROVISIONS:
Nanny understands Family has a smoke free home and that smoking by Nanny or Nanny's guests is never permitted in the home. Nanny agrees never to smoke while providing childcare to Family's child(ren) even on walks, trips to playground, outside activities or field trips.
All guests must be pre-approved by Family before being allowed entrance into Family's home.
Alcohol consumption is never permitted while Nanny is on duty.
Nanny hereby certifies that Nanny does not use illegal drugs and understands that such use is cause for immediate termination.
Nanny agrees to limit personal calls to 15 minutes or less.
The Nanny agrees to maintain valid credentials for providing child care according to state law including but not limited to child CPR and First Aid. The Nanny will provide proof of credentials at the request of the Family.
At time of termination, and prior to receipt of final paycheck, Nanny agrees to return to the Family all Family property, including but not limited to house and car keys, remote entry devices, and car safety seats.
the
10. GOVERNING LAW
This Agreement shall be construed under and in accordance with the laws of the .
The Parties hereby agrees to be fully bound to the terms of this Agreement.
Nanny Agreement FAQs
Why should I write a contract for nanny jobs?

No matter how many children are being cared for, a Nanny Agreement is a good idea. You might choose to make a Nanny Agreement due to the fact that it grants these benefits:

Schedules are established
Neither party is confused about compensation
Both parties understand the scope of their responsibilities

A few outcomes from not having this document in place may include late payments, unclear due dates, and impractical expectations.

What details does the average nanny contract template include?

At the minimum, you'll want to include basic information such as wages and benefits. Here are some other specifics to consider:

Logistical details - Contact information for the parent(s) and the nanny, wage information including overtime and holiday pay, work schedule, paydays, tax and benefit information, and sick day requirements.
Nanny duties - Outline expectations for child care including topics such as discipline, limitations on screen time, dietary guidelines, homework and extracurricular activities, hygiene and personal habits, and so on.
Transportation - You may want to specify what vehicles will be used and who pays for gas and other travel expenses. If applicable, you may also wish to include information about car seats.
Communication - Express how and how often the parents will communicate with the nanny and/or children. Some examples include phone, text, family blog, video chat, photos, and childcare apps.
Confidentiality - Many parents do not want pictures of their children posted on social media or for the nanny to discuss with others details about their personal life. Rules about what can be shared or discussed can be included in the Nanny Agreement.
House rules - Outline house rules such as who is allowed in the home, when to set the alarm, pet rules, where to park, cleanliness expectations and more.
Restrictions - Most parents at the minimum will request that nannies do not smoke or drink when working. You can add other things such as limitations on phone or internet usage.
Additional duties - Some parents want the nanny to do more than just care for the children. A nanny may also need to prepare meals, run errands or shop, or care for the pets, as well.

When you make your Nanny Contract, you'll also have the ability to choose its state of jurisdiction. With the document tool, you have the ability to implement additional personalized editing, if necessary.

What are typical nanny duties?

Typical nanny duties include:

Preparing meals and feeding the children
Indoor and outdoor play
Bathing and dressing the children
Children's laundry

What might I usually pay to get a Nanny Contract prepared by a lawyer?

Fortunately, you will not need to pay an expensive lawyer to put your contract in writing. With Rocket Lawyer, any nanny should feel empowered to create a Nanny Agreement for free online today. Your document will be built piece by piece, as you provide more details throughout the process. Simply tap or click the "Make document" button above to begin.

If you have any questions or hesitations before you begin, ask an attorney . You might also like to check out the other business legal documents in our library.

Am I required to do anything else next after creating a Nanny Agreement?

Alongside your Nanny Agreement, you will discover a list of instructions for what comes next after the document is completed. You also may take any of the following actions related to your document: editing, downloading it, printing, and/or signing it electronically using RocketSign®. Most importantly, you should be sure that the parent receives copies of your fully executed contract.

Will Rocket Lawyer be able to review my Nanny Agreement?

If you opt to do it on your own, getting a legal professional to proofread documents may be time-intensive and relatively expensive. Sometimes a lawyer will not even accept requests to review a contract if they weren't the author. In the event that a lawyer does decide to provide feedback on your contract, they most likely would still make you pay a fee for doing it. A more cost-effective way to get a second pair of eyes on your document would be via the On Call network. When you become a Premium member, you can get your documents evaluated by an Rocket Lawyer network attorney with experience in business. Whether you decide to make additional copies of your Nanny Contract or other legal documents, we're by your side.

How do you terminate a nanny's employment?

Before terminating a nanny, refer to the work agreement (i.e. Nanny Contract) signed by both parties. The terms of this agreement, as it relates to termination of employment, should be adhered to. However, instances when a nanny can be immediately fired can include reckless behavior such as substance abuse, safety concerns, theft, etc.

Remember that, by law, you cannot terminate an employee based on race, creed, national origin, age, handicap, gender, sexual orientation, or marital status.

Do you give your nanny a raise?

Common reasons to give your nanny a raise include:

A year has passed
Your nanny has been given additional duties
Your nanny will be responsible for another child

Do I have to disclose that I use a nanny camera?

Legally, you do not have to tell your nanny that you use cameras, but some states have laws about audio recording without consent, and often, without disclosure, recordings cannot be used as evidence. It is recommended that you do tell your nanny that cameras are being used. Plus, many states have privacy and recording laws to consider. When you discuss the cameras with your nanny, you can set the tone as "I have cameras, so I can see how my children's day is going," rather than "I don't trust you." This will help maintain a positive atmosphere. Additionally, you should not put cameras in private areas such as the bedroom of a live-in nanny or bathrooms.