MAKE YOUR FREE

Dog Walking Contract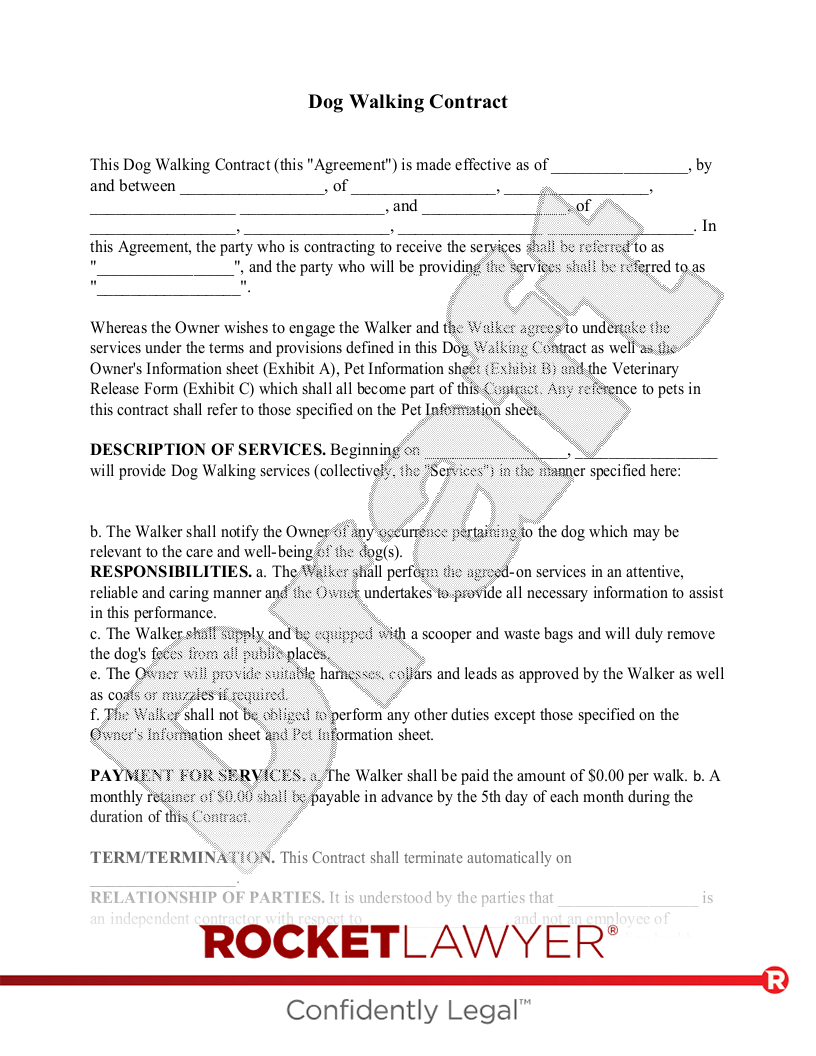 What is a Dog Walking Contract?
Dogs need fresh air and exercise several times a day. A Dog Walking Contract helps establish the arrangement between a pet owner and a dog walker for services during working hours, vacations, or whenever help is needed. This document clarifies details like fees, optimal walking times, and getting in and out of the pet owner's home. When it is drafted properly, this legal contract can limit the number of disputes in the future. Different from many other websites you may come across, there's more that Rocket Lawyer offers besides dog walking contract templates. In the event of missed payments or any other issue, your Rocket Lawyer membership provides optional access to Document Defense® protection.
When to use a Dog Walking Contract:
You're providing dog walking services for a pet owner client.
You're hiring an independent contract for dog walking services.
Sample Dog Walking Contract
The terms in your document will update based on the information you provide
This document has been customized over 14K times
Legally binding and enforceable
Ask a lawyer questions about your document
Sign this document online for free with RocketSign®
Dog Walking Contract
This Dog Walking Contract (this "Agreement") is made effective as of , by and between , of , , , and , of , , . In this Agreement, the party who is contracting to receive the services shall be referred to as "", and the party who will be providing the services shall be referred to as "".
Whereas the Owner wishes to engage the Walker and the Walker agrees to undertake the services under the terms and provisions defined in this Dog Walking Contract as well as the Owner's Information sheet (Exhibit A), Pet Information sheet (Exhibit B) and the Veterinary Release Form (Exhibit C) which shall all become part of this Contract. Any reference to pets in this contract shall refer to those specified on the Pet Information sheet.
DESCRIPTION OF SERVICES. Beginning on , will provide Dog Walking services (collectively, the "Services") in the manner specified here:
b. The Walker shall notify the Owner of any occurrence pertaining to the dog which may be relevant to the care and well-being of the dog(s).
RESPONSIBILITIES. a. The Walker shall perform the agreed-on services in an attentive, reliable and caring manner and the Owner undertakes to provide all necessary information to assist in this performance.
c. The Walker shall supply and be equipped with a scooper and waste bags and will duly remove the dog's feces from all public places.
d. The Walker reserves the right to walk other compatible dogs at the same time but undertakes to limit the number of dogs walked with one person to .
e. The Owner will provide suitable harnesses, collars and leads as approved by the Walker as well as coats or muzzles if required.
f. The Walker shall not be obliged to perform any other duties except those specified on the Owner's Information sheet and Pet Information sheet.
PAYMENT FOR SERVICES. a. The Walker shall be paid the amount of per walk. b. A monthly retainer of shall be payable in advance by the 5th day of each month during the duration of this Contract.
TERM/TERMINATION. This Contract shall terminate automatically on .
RELATIONSHIP OF PARTIES. It is understood by the parties that is an independent contractor with respect to , and not an employee of . will not provide fringe benefits, including health insurance benefits, paid vacation, or any other employee benefit, for the benefit of .
SECURITY. The Walker warrants to keep safe and confidential all keys, remote control entry devices, access codes and personal information of the Owner and to return same to the Owner at the end of the contract period or immediately upon demand.
LIABILITY. a. The Walker accepts no liability for any breach of security or loss of or damage to the Owner's property if any other person has access to the property during the term of this Contract.
b. The Walker shall not be liable for any mishap of whatsoever nature which may befall a dog or caused by a dog who has unsupervised access to the outdoors.
d. The Walker is released from all liability related to transporting dog(s) to and from any veterinary clinic or kennel, the medical treatment of the dog(s) and the expense thereof.
e. The Walker is released from all liability of injury to dog(s) caused by other dog(s) or animal(s) not under the control of the Walker.
INDEMNIFICATION. The parties agree to indemnify and hold harmless each other as well as respective employees, successors and assigns from any and all claims arising from either party's willful or negligent conduct. agrees to indemnify and hold harmless from all claims, losses, expenses, fees including attorney fees, costs, and judgments that may be asserted against that result from the acts or omissions of , 's employees, if any, and 's agents.
RELAXATION OF TERMS. No relaxation, indulgence, waiver or release by any party of any of the rights in the terms of this Contract on one occasion shall prevent the subsequent enforcement of such rights and shall not be deemed to be a waiver of any subsequent breach of any of the terms.
ENTIRE AGREEMENT. This agreement contains the entire agreement of the parties, and there are no other promises or conditions in any other agreement whether oral or written.
SEVERABILITY. If any provision of this Contract shall be held to be invalid or unenforceable for any reason, the remaining provisions shall continue to be valid and enforceable. If a court finds that any provision of this Contract is invalid or unenforceable, but that by limiting such provision it would become valid and enforceable, then such provision shall be deemed to be written, construed, and enforced as so limited.
APPLICABLE LAW. This Contract shall be governed by the laws of the State of .
SIGNATORIES. This Contract shall be signed on behalf of by and on behalf of by .
EXHIBIT A
Owners Information Sheet
Name:
Address: , City: ,
State: , Zip Code:
Home Phone:
Work Phone:
Cell Phone:
E-Mail Address:
Emergency Contact Name: Number:
EXHIBIT B
Pet Information Sheet
Pet Name
Age
Gender
Species
Color
EXHIBIT C
Veterinary Release Form
,
TO WHOM IT MAY CONCERN
I hereby authorize the attending veterinarian to treat any of my pets as listed on the Pet Information sheet and I accept full responsibility for all fees and charges incurred in the treatment of any of my pets.
The Dog Walker is authorized to transport my pet to and from the veterinary clinic for treatment or to request "on-site" treatment if deemed necessary. If I cannot be reached in case of an emergency, the Walker shall act on my behalf to authorize any treatment excluding euthanasia.
Dog Walker's Full Name:
Date:
_________________________
Dog Walking Contract FAQs
Why is it necessary to use a Dog Walking Contract?

Even if your dog walking business is brand new, it's always valuable to get the details of your work in writing. You might decide to sign a Dog Walking Contract due to the fact that it grants the helpful benefits listed here:

Roles and responsibilities are understood by all
There are no surprises about how long the agreement will last
There is no confusion about compensation

Any dog walker who decides against signing a Dog Walking Agreement can expect some issues, including unrealistic requests and confusion about due dates.

What information should my Dog Walker Contract contain?

Specific details to cover are:

Your client's full name and address
How payment will be made
What the duration of the agreement is
What kind of services will be delivered

As you may expect for an agreement like this one, any Dog Walker Contract that you make with Rocket Lawyer will also contain the standard legalese with regard to the non-employment relationship between the dog walker and dog owner, dispute resolution methods, and restitution for losses. When you make your agreement, you'll also be able to designate which state's jurisdiction it is subject to. Using the document tool, you are able to add further personalization, as necessary.

Can I get a contract for Dog Walking online for free?

The great news is you will not have to start from scratch when getting your contract in writing. With Rocket Lawyer, anyone should feel empowered to produce Dog Walking Contracts online very easily. Your contract will be built step by step, so you can be sure that it has the proper details within. Normally, given the level of personalization, you might end up paying a traditional lawyer fees in the hundreds of dollars, if not more.

If you have any hesitations about getting started, talk to a lawyer . You should also feel free to browse more business documents in our library.

What should I do next after writing a Dog Walking Contract?

Each Dog Walking Contract will come with a checklist of directions for what you should do next. You also may take any of these actions with your document: making edits, adding electronic signatures with RocketSign®, printing it, and saving it in PDF format or as a Word document. Most importantly, you will need to send a final copy of your fully signed contract to the dog owner.

Can my Dog Walking Contract be looked at by a lawyer?

If you opt to do it by yourself, getting a lawyer to proofread contracts can be costly. Sometimes a lawyer will not even accept requests to review contracts that they did not write. In the event that an attorney does offer to help you, they would still make you pay their standard fees to do so. An easier and more cost-effective alternative would be through attorney services at Rocket Lawyer. If you become a Premium member, you can get your contracts reviewed or ask specific legal questions. Whether you end up making Dog Walking Agreements or other agreements for your business, Rocket Lawyer is here for you.