MAKE YOUR FREE

Home Health Care Contract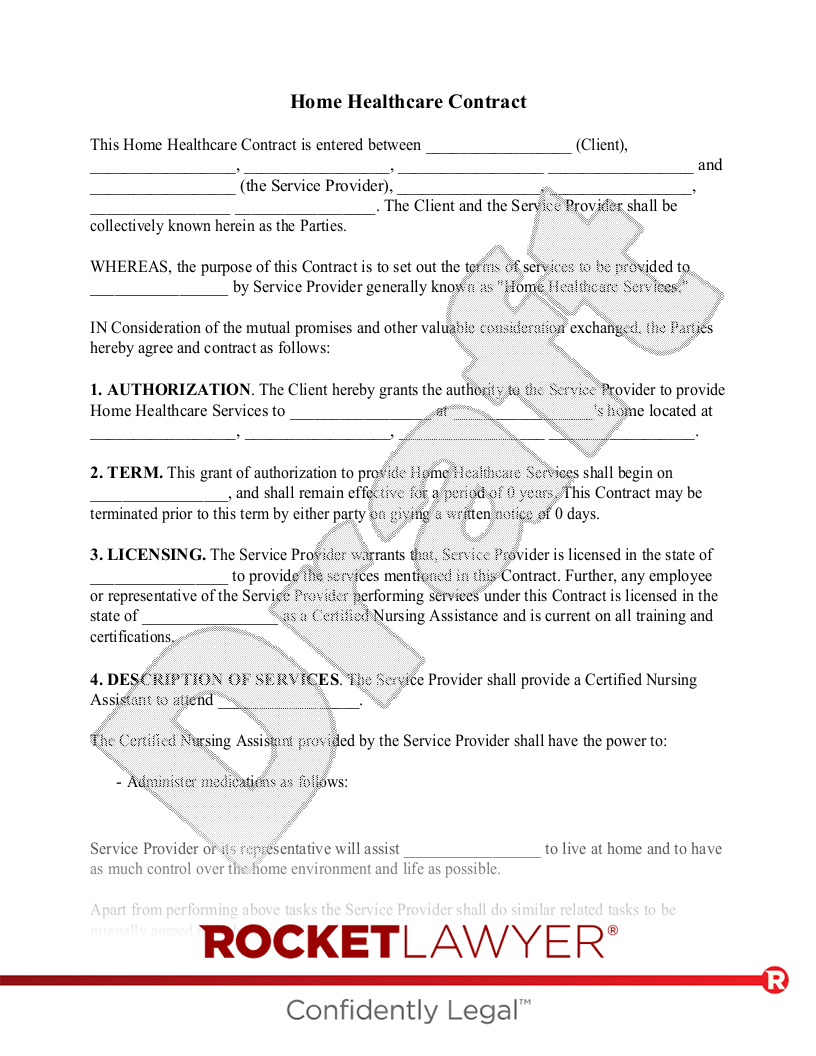 What is a Home Health Care Contract?
Health care providers and their clients use Home Health Care Contracts as a means of laying out the scope of work to be done. If you are a nurse or caregiver who is planning to provide home-based health assitance for an elderly person or another individual, this essential legal contract can help to limit disagreements by ensuring that there is a mutual understanding between the parties. This document clarifies your responsibilities and authority as a home health aide and it underlines important details the patient might not be able to communicate having to do with medication, meals, and schedule. When you build your Home Health Care Contract on Rocket Lawyer, you may opt to access Document Defense®, which allows a lawyer to help you get paid or otherwise enforce your rights as a service provider.
When to use a Home Health Care Contract:
You're hiring a health care provider to assist in your home.
You're granting a home health care provider with certain authority over your health.
You're a home health care provider starting work with a new patient.
Sample Home Health Care Contract
The terms in your document will update based on the information you provide
This document has been customized over 63.4K times
Legally binding and enforceable
Ask a lawyer questions about your document
Sign this document online for free with RocketSign®
Home Healthcare Contract
This Home Healthcare Contract is entered between (Client), , , and (the Service Provider), , , . The Client and the Service Provider shall be collectively known herein as the Parties.
WHEREAS, the purpose of this Contract is to set out the terms of services to be provided to by Service Provider generally known as "Home Healthcare Services,"
IN Consideration of the mutual promises and other valuable consideration exchanged, the Parties hereby agree and contract as follows:
1. AUTHORIZATION. The Client hereby grants the authority to the Service Provider to provide Home Healthcare Services to at 's home located at , , .
2. TERM. This grant of authorization to provide Home Healthcare Services shall begin on , and shall remain effective for a period of years. This Contract may be terminated prior to this term by either party on giving a written notice of days.
3. LICENSING. The Service Provider warrants that, Service Provider is licensed in the state of to provide the services mentioned in this Contract. Further, any employee or representative of the Service Provider performing services under this Contract is licensed in the state of as a Certified Nursing Assistance and is current on all training and certifications.
4. DESCRIPTION OF SERVICES. The Service Provider shall provide a Certified Nursing Assistant to attend .
The Certified Nursing Assistant provided by the Service Provider shall have the power to:
-Administer medications as follows:
Name of medication:
Amount to be given:
Time to be given:
Other instructions:
-
Seek appropriate medical treatment or attention on behalf of as may be required by the circumstances, including but not limited to, medical doctor and/or hospital visits.
Service Provider or its representative will assist to live at home and to have as much control over the home environment and life as possible.
Apart from performing above tasks the Service Provider shall do similar related tasks to be mutually agreed upon by the parties.
5.
CONTACT PERSONS. The Client's contact information is as follows:
,
Relationship to :
In an emergency situation, the Service Provider should immediately contact the following person:
,
If that person is not available, please contact the following alternate choice:
,
6. PAYMENT . The Client shall pay a monthly contract price to the Service Provider at an amount of .
If any additional service is done outside the working hours or on holidays, the Client shall pay per hour to the Service Provider as additional payment.The amount of compensation to be paid to the Service Provider for the Services in this Contract shall be covered
7. DETAILS OF INSURANCE COVERAGE
The details of the plan which covers the home healthcare in whole or in part are as described below:
Provider Name:
Policy Number:
Policy Type:
Billing Address:
Billing City:
Billing State:
Billing Postal Code:
Additional Information:
8. CONFIDENTIALITY. Service Provider understands that any and all private information obtained about the Client, Client's family, , 's family or relatives during the course of employment, including but not limited to medical, financial, legal, career and assets are strictly confidential and may not be disclosed to any third party for any reason. The obligations of the Service Provider under this clause survive termination of this Contract.
9. FORCE MAJEURE. If performance of this Contract or any obligation under this Contract is prevented, restricted, or interfered with by causes beyond either party's reasonable control ("Force Majeure"), and if the party unable to carry out its obligations gives the other party prompt written notice of such event, then the obligations of the party invoking this provision shall be suspended to the extent necessary by such event. The term Force Majeure shall include, without limitation, acts of God, plague, epidemic, pandemic, outbreaks of infectious disease or any other public health crisis, including quarantine or other employee restrictions, fire, explosion, vandalism, storm or other similar occurrence, orders or acts of military or civil authority, or by national emergencies, insurrections, riots, or wars, or strikes, lock-outs, work stoppages or other labor disputes, or supplier failures. The excused party shall use reasonable efforts under the circumstances to avoid or remove such causes of non-performance and shall proceed to perform with reasonable dispatch whenever such causes are removed or ceased. An act or omission shall be deemed within the reasonable control of a party if committed, omitted, or caused by such party, or its employees, officers, agents, or affiliates.
10. SEVERABILITY. In the event any provision of this Contract is deemed to be void, invalid or unenforceable, that provision shall be severed from the remainder of this Contract, so as not to cause the invalidity or unenforceability of the remainder of this Contract. All remaining provisions of this Contract shall then continue in full force and effect. If any provision shall be deemed invalid due to its scope or breadth, such provision shall be deemed valid to the extent of the scope and breadth permitted by law.
11. AMENDMENT. This Contract may be modified or amended in writing, if the writing is signed by the party obligated under the amendment.
12. NOTICE. Any notice or communication required or permitted under this Contract shall be sufficiently given if delivered in person or by certified mail, return receipt requested, to the address set forth in the opening paragraph or to such other address as one party may have furnished to the other in writing.
13. ATTORNEY'S FEES. In the event of any breach of this Contract, the party responsible for the breach agrees to pay reasonable attorneys' fees and costs incurred by the other party in the enforcement of this Contract or suit for recovery of damages. The prevailing party in any suit instituted arising out of this Contract will be entitled to receive reasonable attorneys' fees and costs incurred in such suit.
15. APPLICABLE LAW. This Contract shall be governed by the laws of the State of .
16. SIGNATURES. This Contract shall be signed by and by of .
Client:
Service Provider:
,
Home Health Care Contract FAQs
Do I need to write a Home Care Contract for every patient?

Whether or not the engagement is long- or short-term, having a record of any agreements with those hiring you is important. Using this document could be good for your business because of the benefits outlined below:

There are no surprises about how long the engagement lasts
Neither party is confused about the payment schedule
Roles and responsibilities are understood by both parties

Any support aide who fails to sign a Home Health Care Agreement ought to brace themselves for common issues like unpaid invoices or confusion about what home health services will be provided.

How should I structure my contract for home care services?

In order to make your Home Health Care Contract online, you'll need to prepare the following information in advance:

The name and address of the client
What work you will be doing once hired
What fees will be charged and when
What the duration of the engagement is

As you probably expect, Home Health Care Contracts also include the standard legalese regarding the non-employer relationship between the health care provider and client, confidentiality, reimbursement for losses, and dispute resolution methods. As you build your agreement, you'll also be able to decide which state will govern it. Using the Rocket Lawyer document tool, you have the power to add more custom edits, if necessary.

On average, what would it normally cost for me to get a caregiver contract template?

The good news is you do not need to hire a traditional law firm to get your contract in writing. When using Rocket Lawyer, you can draft a Home Health Care Contract for free today. Your contract will be assembled section by section, as you answer simple questions to provide information throughout the process. Simply click the "Make document" button above to start.

If you have any hesitations or questions about the process, you can always talk to a lawyer . Also feel free to browse our full selection of contracts and other legal documents for small business owners .

What should I do once my Home Health Care Contract is drafted?

After making this customized document with the help of Rocket Lawyer, you'll be able to retrieve it wherever and whenever you choose. You also may try any of the following actions with your contract: making edits, saving it in PDF format or as a Word file, printing it out, or signing it online with RocketSign®. Home Health Care Contracts each come with a series of next steps you should take after the document is finished. You should make sure to give a final copy of the signed agreement to the other party.

Can my Home Health Care Contract be checked by a lawyer before I sign?

If you opt to do it on your own, locating an attorney to give feedback on your agreement may be time-intensive and relatively costly. Some attorneys will not even accept requests to review your contract if they didn't write it. In the event that a lawyer does decide to help, they most likely would still demand their standard rate to do so. A more cost-effective option is through the On Call network. With a Premium membership, you can get your documents reviewed or send any legal questions. Whether you need to produce more copies of your Home Health Care Agreement or other documents for your business, Rocket Lawyer will be here for you.