MAKE YOUR FREE

Recruitment Agreement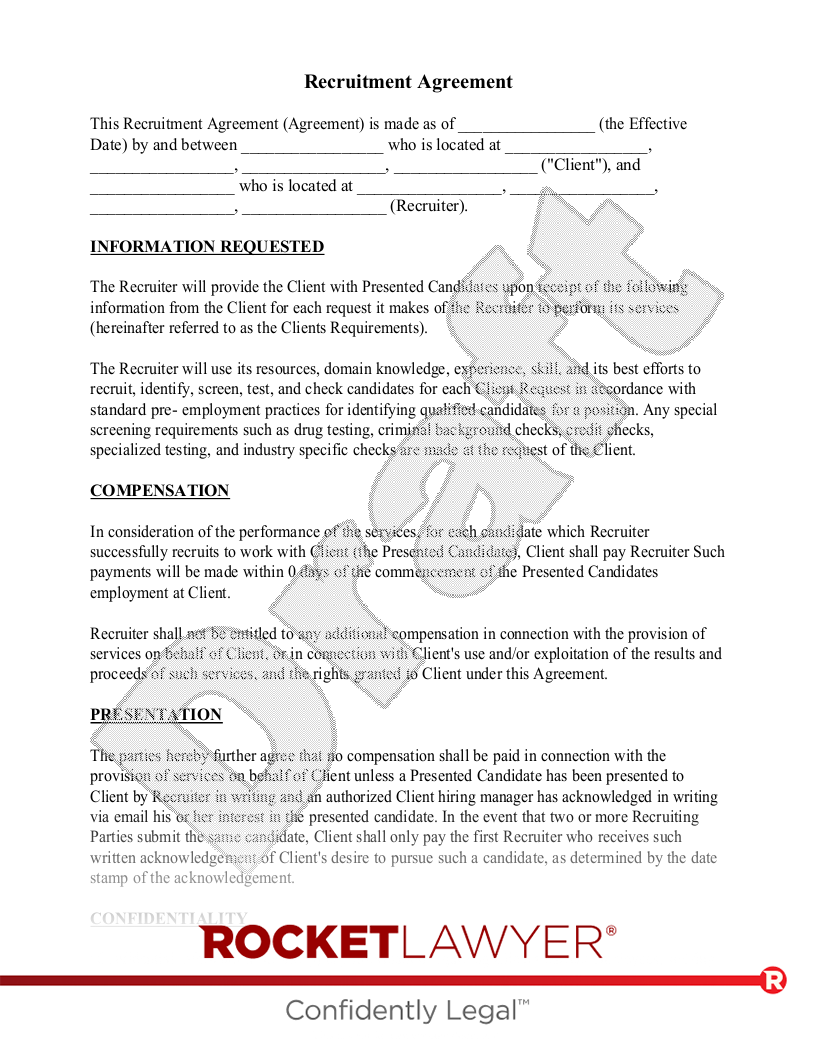 What is a Recruitment Agreement?
Recruiters and their clients often use Recruitment Agreements for the purpose of documenting their business relationship. By agreeing to this contract, all signers will know what to expect. Different from a generic PDF template that you may come across elsewhere, each Recruitment Contract from Rocket Lawyer comes with the option of Document Defense®, so an attorney in our network can reach out on your behalf if you need to demand payment or face another problem.
When to use a Recruitment Agreement:
You would like to hire a recruiter or recruiting firm to find qualified candidates to fill a position at your company.
Sample Recruitment Agreement
The terms in your document will update based on the information you provide
This document has been customized over 27K times
Legally binding and enforceable
Ask a lawyer questions about your document
Sign this document online for free with RocketSign®
Recruitment Agreement
This Recruitment Agreement (Agreement) is made as of (the Effective Date) by and between who is located at , , , ("Client"), and who is located at , , , (Recruiter).
INFORMATION REQUESTED
The Recruiter will provide the Client with Presented Candidates upon receipt of the following information from the Client for each request it makes of the Recruiter to perform its services (hereinafter referred to as the Clients Requirements).
The Recruiter will use its resources, domain knowledge, experience, skill, and its best efforts to recruit, identify, screen, test, and check candidates for each Client Request in accordance with standard pre- employment practices for identifying qualified candidates for a position. Any special screening requirements such as drug testing, criminal background checks, credit checks, specialized testing, and industry specific checks are made at the request of the Client.
COMPENSATION
In consideration of the performance of the services, for each candidate which Recruiter successfully recruits to work with Client (the Presented Candidate), Client shall pay Recruiter . Such payments will be made within days of the commencement of the Presented Candidates employment at Client.
shall recruit another candidate to replace such Presented Candidate at no charge to Client
Recruiter shall not be entitled to any additional compensation in connection with the provision of services on behalf of Client, or in connection with Client's use and/or exploitation of the results and proceeds of such services, and the rights granted to Client under this Agreement.
PRESENTATION
The parties hereby further agree that no compensation shall be paid in connection with the provision of services on behalf of Client unless a Presented Candidate has been presented to Client by Recruiter in writing and an authorized Client hiring manager has acknowledged in writing via email his or her interest in the presented candidate. In the event that two or more Recruiting Parties submit the same candidate, Client shall only pay the first Recruiter who receives such written acknowledgement of Client's desire to pursue such a candidate, as determined by the date stamp of the acknowledgement.
CONFIDENTIALITY
"Confidential Information" means (i) any information regarding Client's current employees, staffing needs, or employment policies, (ii) any information concerning the existing or future products of Client; (iii) the terms of this Agreement, (iv) any software, documentation, materials or information provided to Recruiter by Client in order to assist Recruiter in performing the services; and (v) any additional designated in writing as "confidential" by Client. Confidential Information will not include, however, any information described above to the extent any of the following may be included therein: (1) information that becomes known to the general public without breach of the nondisclosure obligations of this Agreement; (2) information that is obtained from a third party or independently developed without breach of a nondisclosure obligation and without restriction on disclosure; and (3) information that is required to be disclosed in connection with any suit, action or other dispute related to this Agreement.
Recruiter agrees to hold in confidence, and not to use except as expressly authorized in this Agreement, all Confidential Information and to use reasonable care to prevent the unauthorized disclosure or use of the other party's Confidential Information, both during and after the term of this Agreement.
TERM AND TERMINATION
The term of this agreement commences upon the execution of this agreement and expires upon the earlier of days or its termination as described herein.
may terminate this Agreement upon days' prior written notice to the other party at any time, thereafter the Client's only remaining obligation hereunder shall be to pay Recruiter compensation and/or reimbursement expenses, as applicable then due and accrued but not yet paid from performed services.
EQUAL OPPORTUNITY EMPLOYER POLICY
Both the Client and Recruiter are Equal Opportunity Employers, and each of the parties endeavors to recruit, hire, and engage employees, independent contractors, and applicants for employment without regard to race, color, religion, age, sex, marital status, sexual preference, national origin, physical or mental disability, or veteran status.
INDEMNIFICATION
Each party agrees to indemnify and hold the other harmless with respect to any and all losses, damages or expenses (including reasonable attorney's fees) which either party shall sustain as a result of the other's negligent acts, errors or omissions in carrying out the responsibilities in this Agreement. The indemnified Party shall provide the indemnifying Party with prompt written notice of any such indemnification claim. The indemnifying Party shall have sole control and authority with respect to the defense and settlement of any such claim. The indemnified Party shall cooperate fully with the indemnifying Party, at the indemnifying Party's sole cost and expenses, in the defense of any such claim. The indemnifying Party shall not agree to settle any such claim that does not include a complete release of the indemnified Party from all liability with respect thereto or that imposes any liability, obligation or restriction on the indemnified Party without the prior written consent of the indemnified Party. The indemnified Party may participate in the defense of any claim through its own counsel, and at its own expense.
GENERAL TERMS
Recruiter is an independent contractor, and nothing in this Agreement will be deemed to place the parties in the relationship of employer-employee, principal-agent, partners or joint venturers. Recruiter will be responsible for all tax withholdings.
Dispute Resolution. Any controversy or dispute between the parties shall be resolved by arbitration under the Federal Arbitration Act and before the American Arbitration Association (AAA) in accordance with AAA's then governing Commercial Arbitration Rules. The arbitration proceeding shall be held at a location mutually agreed to by the parties in writing. The administrative cost of the arbitration and the arbitrator's fee shall be shared equally by the parties. The arbitrator in such an instance shall have no authority to modify the terms of this Agreement. All decisions of such arbitrator shall be final and binding upon both parties. Both parties are responsible for their own attorney's fees and costs incurred in connection with such arbitration.
Non-Solicitation.
During the term of this agreement and for a period of one year after termination, Recruiter shall not contact, nor shall Recruiter cause to be contacted for purposes of recruiting, any current or prospective employee of Client.
Governing Law. This Agreement will be governed by and interpreted under the laws of the State of , without giving effect to applicable conflicts of law principles.
Survival.
The provisions of the Presentation, Confidentiality, and General Terms sections shall survive the expiration or termination of this Agreement.
Assignment. Recruiter hereby irrevocably assigns information generated in the course of this Agreement to Client. Such information includes, without limitation, resumes, contact information, and call/prospecting histories, or other written or recorded communications with prospective employees of Client. In the event that such information cannot be assigned, Recruiter grants to Client a fully-paid, transferable, assignable, worldwide, exclusive, perpetual license to such information.
Signatures. This Agreement shall be signed by on behalf of and by on behalf of .
The foregoing is agreed to by the undersigned as of the date first written above.
:
,
:
,
Recruitment Agreement FAQs
Why do recruiters write Recruiting Agreements?

Even if you are being contracted by an acquaintance, you should always use a Recruitment Agreement. These benefits might help your decision-making:

The recruiter and client both understand the scope of their responsibilities
Neither party is surprised by how long the engagement lasts
Fee-related information is clearly defined

Any recruiter choosing not to make a Recruitment Contract can expect certain issues, including the miscommunication of requirements and questions about timing.

How should I organize my contract for recruitment?

To complete your Recruiting Agreement right now, you will need the following:

Name and address of your client
What type of services will be delivered
Whether the work will be ongoing or if it will last for a predetermined period of time
How payment will be made

As you would expect, Recruitment Agreements also include the standard language with regard to the non-employer relationship, confidentiality, liability for losses, and dispute resolution methods. While building your contract, you also will be able to designate which state's jurisdiction it is subject to. With the Rocket Lawyer document tool, you have the power to add further personalized editing, as well.

What might it traditionally cost for a lawyer to create a recruitment contract template for me?

Luckily, you don't have to pay an expensive lawyer to get your agreement in writing. When using the document tools on Rocket Lawyer, anyone should feel empowered to create a free Recruitment Agreement online today. Your document is assembled piece by piece, so you can be sure that it has the correct details that you'll need. Simply click on the button that says "Make document" to start.

If you've got any concerns about the process, connect with a lawyer , or take a look at more business documents in our library.

Will there be any additional steps that I should be sure to take after I have made a Recruitment Agreement?

Upon completing this Recruitment Agreement using Rocket Lawyer, you'll be able to get to it in your account wherever and whenever you choose. As a Rocket Lawyer member, you may edit it, sign it electronically with RocketSign®, make copies, print, and/or save it as a Word document or PDF file when needed. Alongside each Recruitment Agreement, there is a series of next steps you can take after the document is finished. As a best practice, you should send a copy of your fully signed contract to the client.

How do I get my Recruitment Agreement reviewed by a professional?

It may depend on whom you contact, but sometimes a lawyer may not even accept requests to review contracts that they did not work on. An easier approach might be via Rocket Lawyer On Call® network of attorneys. If you become a Premium member, you will be able to request advice from an Rocket Lawyer network attorney with experience in business or pose other legal questions about your Recruitment Contract. As always, we are here for you.