MAKE YOUR FREE

Bookkeeping Contract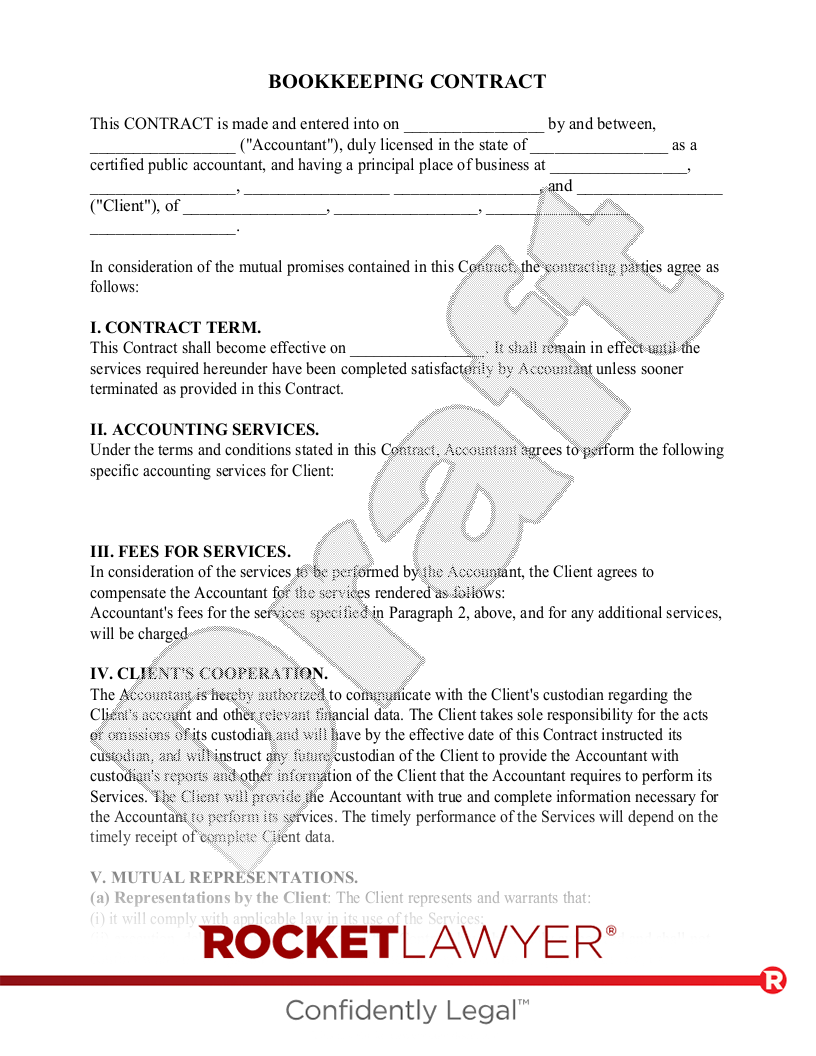 What is a Bookkeeping Contract?
A Bookkeeping Contract enables a bookkeeper to outline the terms of an arrangement with a client. Signed by both the client and the bookkeeper, this essential document helps to set expectations and reduce the risk of conflicts. Different from a generic bookkeeping contract template that you might discover elsewhere, each Bookkeeping Service Agreement from Rocket Lawyer comes with the option of Document Defense®, so an attorney in our network can respond on your behalf if you need to demand payment or face another issue.
When to use a Bookkeeping Contract:
You're a bookkeeper entering into a business arrangement with a new client to provide accounting or bookkeeping services, and you want a contract in place before you start working.
You represent an accounting firm that's about to handle the bookkeeping for a new client, and you would like to define each party's responsibilities in a contract.
You're an individual looking to hire an accountant to handle your personal accounting needs, and you want a written agreement outlining the scope of the services.
You're a business owner hiring an accountant, bookkeeper or accounting firm to handle certain aspects of your business' finances, and you want to specify the services you need in a written contract.
Sample Bookkeeping Contract
The terms in your document will update based on the information you provide
This document has been customized over 35.3K times
Legally binding and enforceable
Ask a lawyer questions about your document
Sign this document online for free with RocketSign®
This CONTRACT is made and entered into on by and between, ("Accountant"), duly licensed in the as a certified public accountant, and having a principal place of business at , , , and ("Client"), of , , .
In consideration of the mutual promises contained in this Contract, the contracting parties agree as follows:
. CONTRACT TERM.
This Contract shall become effective on . It shall remain in effect until the services required hereunder have been completed satisfactorily by Accountant unless sooner terminated as provided in this Contract.
. ACCOUNTING SERVICES.
Under the terms and conditions stated in this Contract, Accountant agrees to perform the following specific accounting services for Client:
Preparation of journals and ledgers
. FEES FOR SERVICES.
In consideration of the services to be performed by the Accountant, the Client agrees to compensate the Accountant for the services rendered as follows:
at Accountant's standard hourly rate of per hour.
. CLIENT'S COOPERATION.
The Accountant is hereby authorized to communicate with the Client's custodian regarding the Client's account and other relevant financial data. The Client takes sole responsibility for the acts or omissions of its custodian and will have by the effective date of this Contract instructed its custodian, and will instruct any future custodian of the Client to provide the Accountant with custodian's reports and other information of the Client that the Accountant requires to perform its Services. The Client will provide the Accountant with true and complete information necessary for the Accountant to perform its services. The timely performance of the Services will depend on the timely receipt of complete Client data.
. MUTUAL REPRESENTATIONS.
(a) Representations by the Client: The Client represents and warrants that:
(i) it will comply with applicable law in its use of the Services;
(ii) execution, delivery, and performance of this Contract have been duly authorized and shall not conflict with any obligation of the Client, whether arising by contract, operation of law, or otherwise;
(iii) this Contract constitutes a valid, binding obligation of the Accountant; and
(iv) the Client has all rights necessary and power necessary to appoint the Accountant as its accounting agent.
(b) Representations by the Accountant: The Accountant represents and warrants that:
(i) it will comply with applicable law in its performance of the Services;
(ii) execution, delivery, and performance of this Contract have been duly authorized and shall not conflict with nature of the Client's business, whether arising by contract, operation of law, or otherwise;
(iii) this Contract constitutes a valid, binding obligation of the Accountant; and
(iv) the Accountant has all rights necessary to provide the Services contemplated herein.
. CONFIDENTIALITY.
Any confidential information (including all technology, processes, trade secrets, contracts, proprietary information; the nature of the information and the manner of disclosure are such that a reasonable person would understand it to be confidential) exchanged between the Accountant and the Client in connection with the performance of the Services shall be held by the Accountant in trust for the benefit of the Client only, and the Accountant will not divulge or authorize anyone to divulge during the term of this Contract, or any period thereafter, any information or knowledge acquired in the course of its performance.
. TERMINATION.
This Contract may be terminated as follows:
(a) This Contract may be terminated by either party by giving 30 days advance written notice to the other party.
(b) Either party has the right to terminate this Contract where the other party becomes insolvent, fails to pay its bills when due, goes out of business, or there is a death of a party.
(c) If either party breaches any provision of this Contract and if such breach is not cured within thirty (30) days after receiving written notice from the other party specifying such breach in reasonable detail, the non-breaching party shall have the right to terminate this Contract by giving written notice thereof to the party in breach, which termination shall go into effect immediately upon receipt.
. NOTICES.
Any notices to be given under this Contract by either party to the other may be effected either by personal delivery in writing or by mail, registered or certified, postage prepaid with return receipt requested. Mailed notices shall be addressed to the addresses of the parties as they appear in the introductory paragraph of this Contract, but each party may change the address by written notice in accordance with this paragraph.
. MISCELLANEOUS.
(a) Governing Law: This Contract shall be construed under and in accordance with the laws of .
(b) Parties Bound: This Contract shall be binding on and inure to the benefit of the parties to this Contract and their respective heirs, executors, administrators, legal representatives, successors and assigns as permitted by this Contract.
(c) Severability: If one or more of the provisions contained in this Contract shall for any reason be held invalid, illegal, or unenforceable in any respect, that invalidity, illegality, or unenforceability shall not affect any other provision. This Contract shall be construed as if the invalid, illegal, or unenforceable provision had never been contained in it.
(d) Prior Contracts Superseded: This Contract constitutes the sole and only agreement of the parties and supersedes any prior understandings or written or oral agreements between the parties respecting the subject matter of this Contract.
(e) Entire Agreement: This instrument contains the entire agreement between the parties relating to the rights granted and the obligations assumed in it. Any oral representations or modifications concerning this instrument shall be of no force or effect except any amendment by the parties by a written agreement.
(f) Attorneys' Fees: If any action at law or in equity is brought to enforce or interpret the provisions of this Contract, the prevailing party will be entitled to reasonable attorneys' fees in addition to any other relief to which that party may be entitled.
. SIGNATORIES.
This Contract shall be signed by and by .
Bookkeeping Contract FAQs
Do bookkeepers always need to write a Bookkeeping Contract?

Even if your bookkeeping business is brand new, it is crucial to record the details of your work in a contract. You may decide that you want this document due to the fact that, when done properly, it presents these benefits:

Both parties know when invoicing will happen
Roles and responsibilities are understood by all
There are no surprises about how long the engagement will last

Anyone opting not to make a Bookkeeping Agreement, in many cases, should anticipate common issues like questions about timing and uncertainty about fees.

What details are required in a contract for bookkeeping services?

Specifics that you should plan to include are:

Your client's contact information
What tasks you are committed to performing
Whether the work will be ongoing or if it will last for a set period of time
What fees will be charged and when

As expected, your agreement will also include typical language in relation to the non-employer relationship between the bookkeeper and client, confidentiality, indemnification, and lastly, dispute resolution methods. When you make your agreement, you'll also be able to select which state's jurisdiction it will be subject to. Using the document tool, you are able to add further custom alterations, as necessary. For the sake of understanding the scope of services provided, it will be important to outline the responsibilities and liabilities of each party. For example, an accountant may be responsible for just an individual's taxes, or for maintaining all the corporate financials, bookkeeping and taxes of an entire business.

Where can I write a Bookkeeping Service Agreement online?

Fortunately, you will not need to start from scratch when getting your contract in writing. With Rocket Lawyer, any bookkeeper can create a free Bookkeeping Contract with relative ease. Your agreement will be assembled step by step, as you enter details along the way. Normally, given the level of customization, you might ultimately pay a traditional attorney fees in the hundreds of dollars, if not more.

If you've got any hesitations or questions about the process, you can ask an attorney today. You should also feel free to browse the other business legal documents in our library.

Is anything else required once my Bookkeeping Services Contract is created?

Alongside each Bookkeeping Service Agreement, there will be a checklist of instructions on what you should do next. As a Rocket Lawyer member, you will be able to edit, print, save it as a Word or PDF file, make a copy, and/or add RocketSign® electronic signatures as needed. Most importantly, you should be sure to send a final copy of the signed agreement to the client.

Where can I have my Bookkeeping Contract evaluated by an attorney?

If you attempt it by yourself, hiring a legal professional to comment on documents could be costly. Some attorneys will not even agree to review documents that they didn't author. In the event that a lawyer does offer to help you, they most likely would still demand their standard rate for doing it. An easier option is via the Rocket Lawyer attorney network. If you become a Premium member, you can get your agreements reviewed by an experienced contracts attorney. Whether you end up producing additional copies of your Bookkeeping Services Contract or other agreements for your business, Rocket Lawyer is here for you.