MAKE YOUR FREE

Administrative Services Contract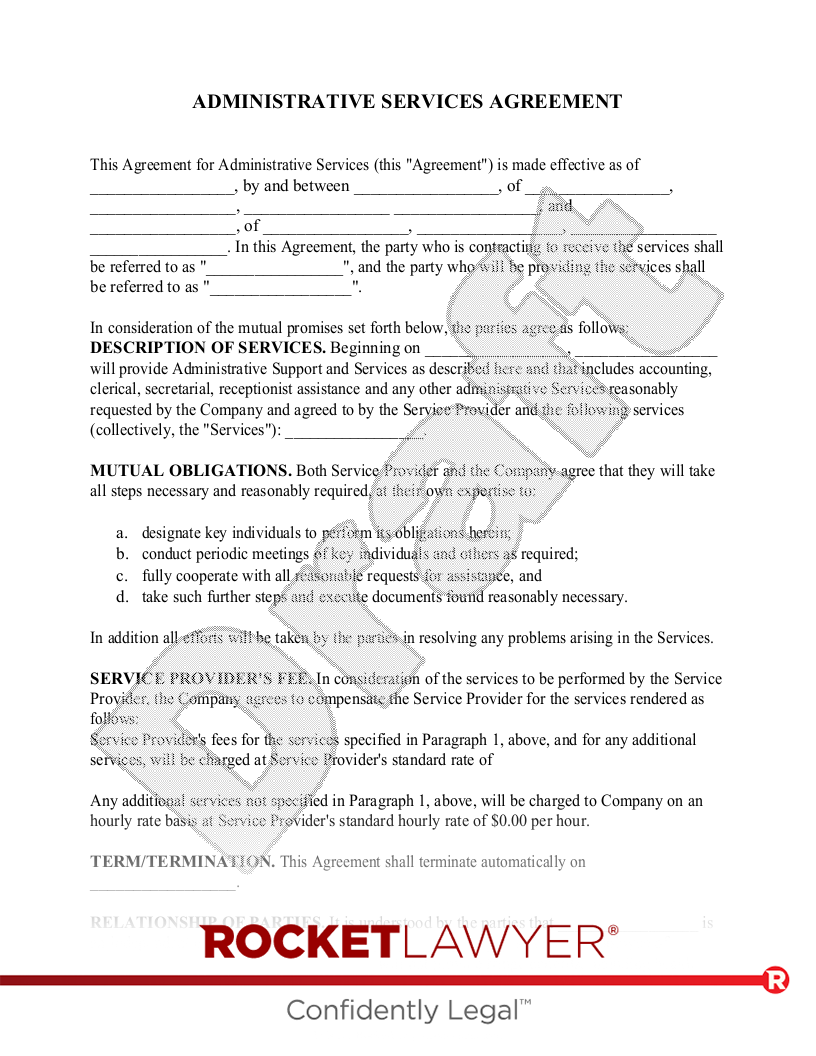 What is an Administrative Services Contract?
If you are an administrative professional, you can create Administrative Services Contracts to protect yourself when you are planning to offer administrative services. Signed by the administrative professional and the client, this contract can help to set expectations. This isn't your run-of-the-mill Administrative Assistant Contract template. When you build your Administrative Services Agreement on Rocket Lawyer, you will have the option to activate Document Defense®, which allows an attorney to help you demand payment or otherwise enforce your legal rights.
When to use an Administrative Services Contract:
You're providing administrative services for a company as an independent contractor.
You're hiring an independent contractor for administrative services.
Sample Administrative Services Contract
The terms in your document will update based on the information you provide
This document has been customized over 31.6K times
Legally binding and enforceable
Ask a lawyer questions about your document
Sign this document online for free with RocketSign®
ADMINISTRATIVE SERVICES AGREEMENT
This Agreement for Administrative Services (this "Agreement") is made effective as of , by and between , of , , , and , of , , . In this Agreement, the party who is contracting to receive the services shall be referred to as "", and the party who will be providing the services shall be referred to as "".
In consideration of the mutual promises set forth below, the parties agree as follows:
DESCRIPTION OF SERVICES. Beginning on , will provide Administrative Support and Services as described here and that includes accounting, clerical, secretarial, receptionist assistance and any other administrative Services reasonably requested by the Company and agreed to by the Service Provider and the following services (collectively, the "Services"): .
MUTUAL OBLIGATIONS. Both Service Provider and the Company agree that they will take all steps necessary and reasonably required, at their own expertise to:
a.
designate key individuals to perform its obligations herein;
b.
conduct periodic meetings of key individuals and others as required;
c.
fully cooperate with all reasonable requests for assistance, and
d.
take such further steps and execute documents found reasonably necessary.
In addition all efforts will be taken by the parties in resolving any problems arising in the Services.
SERVICE PROVIDER'S FEE. In consideration of the services to be performed by the Service Provider, the Company agrees to compensate the Service Provider for the services rendered as follows:
Service Provider's fees for the services specified in Paragraph 1, above, and for any additional services, will be charged at Service Provider's standard rate of per hour.
Any additional services not specified in Paragraph 1, above, will be charged to Company on an hourly rate basis at Service Provider's standard hourly rate of per hour.
TERM/TERMINATION. This Agreement
RELATIONSHIP OF PARTIES. It is understood by the parties that is an independent contractor with respect to , and not an employee of . will not provide fringe benefits, including health insurance benefits, paid vacation, or any other employee benefit, for the benefit of .
Upon termination of this Agreement, will return to all records, notes, documentation and other items that were used, created, or controlled by during the term of this Agreement.
ENTIRE AGREEMENT. This Agreement contains the entire agreement of the parties, and there are no other promises or conditions in any other agreement whether oral or written.
SEVERABILITY. If any provision of this Agreement shall be held to be invalid or unenforceable for any reason, the remaining provisions shall continue to be valid and enforceable. If a court finds that any provision of this Agreement is invalid or unenforceable, but that by limiting such provision it would become valid and enforceable, then such provision shall be deemed to be written, construed, and enforced as so limited.
APPLICABLE LAW. This Agreement shall be governed by the laws of the State of .
SIGNATORIES. This Agreement shall be signed by on behalf of and by , on behalf of . This Agreement is effective as of the date first above written.
SIGNATORIES. This Agreement shall be signed by on behalf of and by on behalf of . This Agreement is effective as of the date first above written.
COMPANY:
SERVICE PROVIDER:
Administrative Services Contract FAQs
Do administrative professionals need to make a contract for Administrative Services?

Even if this isn't your full-time job, creating documentation of your agreements with the client is key. You may prefer to sign an Administrative Services Contract because, when made accurately, it grants the helpful benefits outlined below:

Roles and responsibilities are understood by both parties
There is no confusion about the payment schedule
Neither party is surprised by how long the engagement lasts

Some outcomes from not signing one may include unclear due dates, late payments, and impractical expectations.

What should my Administrative Services Agreement cover?

To complete your Administrative Services Contract with Rocket Lawyer, you'll need the following information:

The contact information for the client
What type of services will be delivered
What the start and end dates are
How much you will charge

Your agreement from Rocket Lawyer also includes the standard language regarding the independent work relationship between the parties, the protection of confidential information, dispute resolution, and finally, compensation for losses. During the process of building your agreement, you'll also be able to select the jurisdiction under which it will be governed. Further personalization is allowed, as needed.

Where can I make an Administrative Contract for free?

The great news is that you will not need to start from scratch when getting your agreement in writing. With Rocket Lawyer, you are able to use our free Administrative Services Agreement template with ease. Your document will be built step by step, so you can be sure that it contains all of the relevant information that you'll need. Typically, given the level of customization, you might ultimately end up paying a traditional attorney fees in the hundreds of dollars, if not more.

If you have any doubts before you begin, talk to an attorney . You might also like to check out our full repository of documents for business .

Am I required to do anything else next after creating my Administrative Services Contract?

Once you've made this contract, you can see it on any device. You also can interact with your contract in one or all of these ways: editing, downloading it in PDF format or as a Word document, printing, and getting signatures with RocketSign®. Alongside each Administrative Service Contract, there's a list of proposed actions you should take to finalize the document. You will need to provide a final copy of your fully signed contract to your client.

How do I have my Administrative Services Contracts checked out by a lawyer?

It will depend on whom you contact, but often some lawyers will not even agree to review documents that they didn't draft. A more favorable approach would be to request help from attorney services at Rocket Lawyer. With a Premium membership, you can request guidance from an experienced attorney or ask additional questions related to your Administrative Services Agreement. As always, Rocket Lawyer is here to help.