MAKE YOUR FREE

Talent Release Form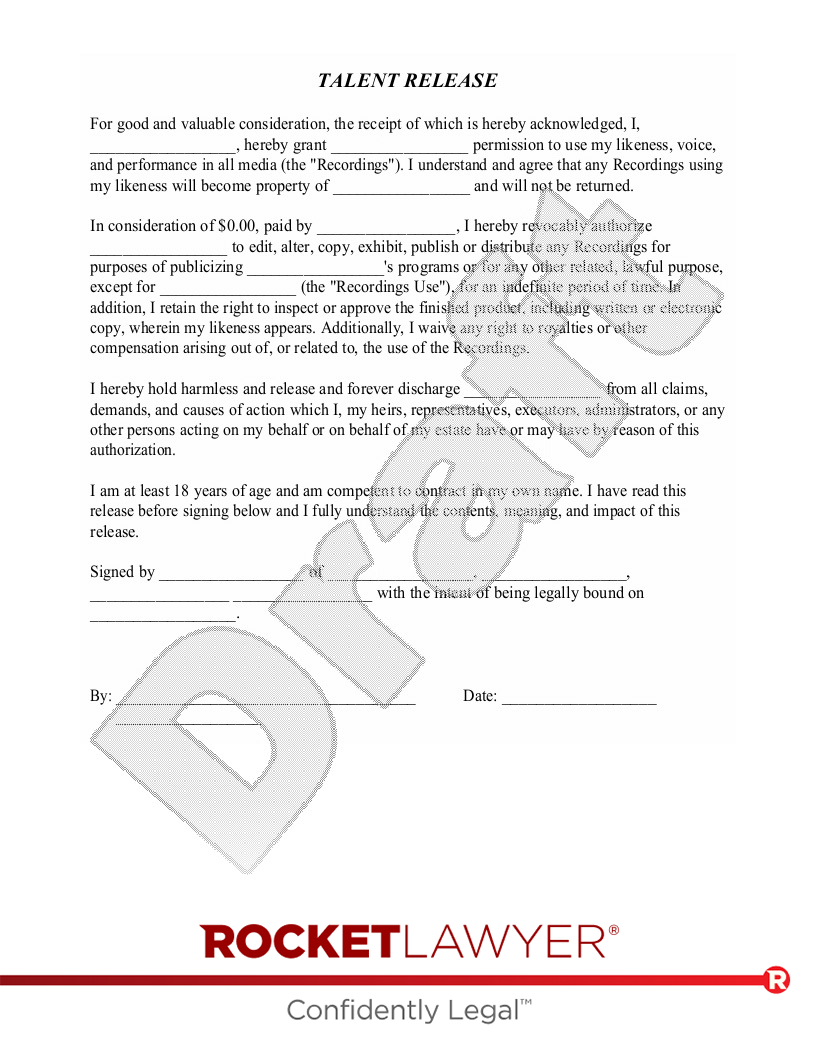 What is a Talent Release Form?
A Talent Release Form is needed whenever you intend to use another person's likeness, voice, or performance. Having a Talent Release Form can help to avoid getting sued for unauthorized use.
Sample Talent Release Form
The terms in your document will update based on the information you provide
Rocket Lawyer members have customized over 93.5M documents
Legally binding and enforceable
Ask a lawyer questions about your document
For good and valuable consideration, the receipt of which is hereby acknowledged, I, , hereby grant permission to use 's likeness, voice, and performance in all media (the "Recordings"). I understand and agree that any Recordings using 's likeness will become property of and will not be returned.
, , I hereby authorize to edit, alter, copy, exhibit, publish or distribute any Recordings for purposes of publicizing 's programs or for any other related, lawful purpose,. In addition, I the right to inspect or approve the finished product, including written or electronic copy, wherein 's likeness appears. Additionally, I waive any right to royalties or other compensation arising out of, or related to, the use of the Recordings.
I hereby hold harmless and release and forever discharge from all claims, demands, and causes of action which I, my heirs, representatives, executors, administrators, or any other persons acting on my behalf or on behalf of my estate have or may have by reason of this authorization.
Signed by , the authorized parent or guardian of , of , , with the intent of being legally bound on .
Talent Release FAQs
Why do you need a Talent Release Form?

A Talent Release Form is an important way to protect yourself. Using someone's likeness, voice, or performance without permission can be a violation of that person's rights and, as a result, they may have the right to sue you. With a Talent Release Form, you can obtain the necessary permission to use another person's likeness, voice, or performance and avoid any legal consequences.

How do I get a Talent Release Form?

With Rocket Lawyer, a Talent Release Form is easy to make. To customize your document, you'll be asked a series of short questions. Our document builder will personalize your document faster if you consider the following questions beforehand:

Who will receive permission to use the talent's voice, performance, or other likeness?
Whose likeness, voice, or performance is being used?
If the talent is a minor, who will be signing on their behalf?
When will the Talent Release Form be signed?