MAKE YOUR FREE

Severance Agreement
Other Names:
Severance Contract
Severance Document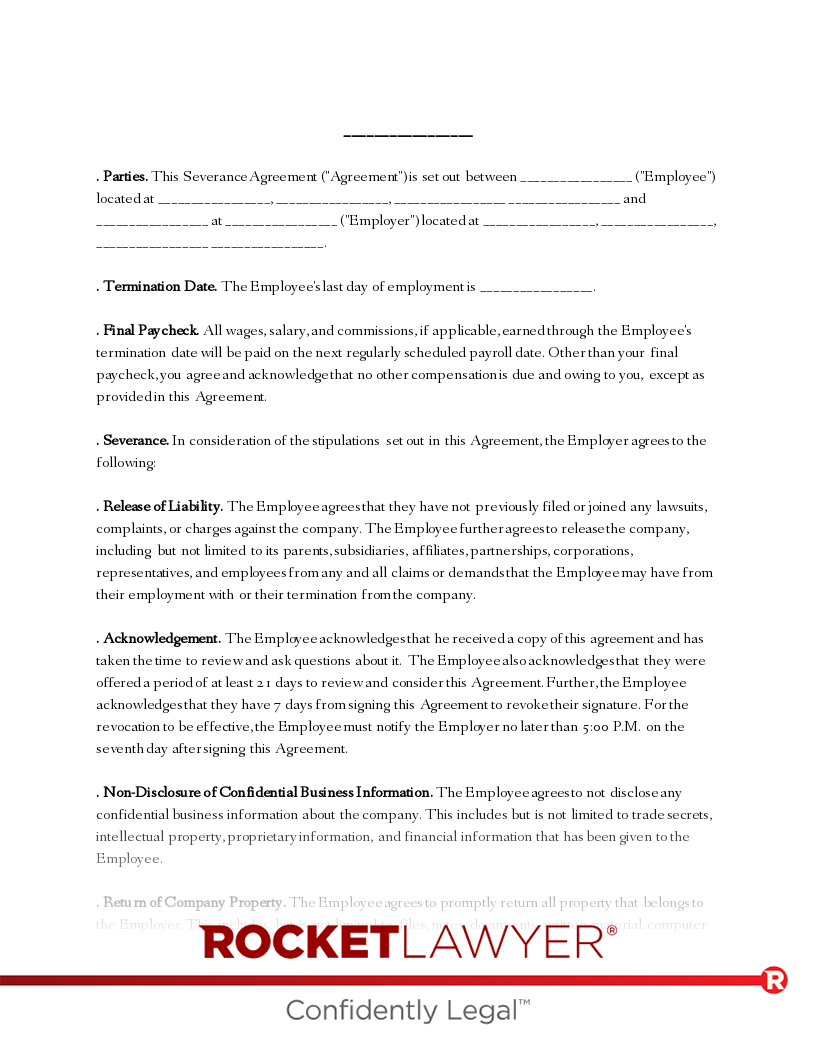 What is a Severance Agreement?
A Severance Agreement is a contract between an employer and employee that documents the terms of the employee's departure. It covers details such as severance pay, confidentiality, and release of liability. This Severance Agreement allows the employer to choose from several different severance pay options, from no severance to a custom severance package. It also offers terms that require the employee to keep key company information in confidence and return company property.
When can you use a Severance Agreement?
As an employer, you wish to provide clarity and protection to both your business and a departing employee when the employment relationship is ending.
Sample Severance Agreement
The terms in your document will update based on the information you provide
Rocket Lawyer members have customized over 93.5M documents
Legally binding and enforceable
Ask a lawyer questions about your document
Sign this document online for free with RocketSign®
. Parties. This Severance Agreement ("Agreement") is set out between ("Employee") located at , , and at ("Employer") located at , , .
. Termination Date. The Employee's last day of employment is .
. Final Paycheck. All wages, salary, and commissions, if applicable, earned through the Employee's termination date will be paid on the next regularly scheduled payroll date. Other than your final paycheck, you agree and acknowledge that no other compensation is due and owing to you, except as provided in this Agreement.
. Severance. In consideration of the stipulations set out in this Agreement, the Employer agrees to the following:
. Release of Liability. The Employee agrees that they have not previously filed or joined any lawsuits, complaints, or charges against the company. The Employee further agrees to release the company, including but not limited to its parents, subsidiaries, affiliates, partnerships, corporations, representatives, and employees from any and all claims or demands that the Employee may have from their employment with or their termination from the company.
. Acknowledgement. The Employee acknowledges that he received a copy of this agreement and has taken the time to review and ask questions about it. The Employee also acknowledges that they were offered a period of at least 21 days to review and consider this Agreement. Further, the Employee acknowledges that they have 7 days from signing this Agreement to revoke their signature. For the revocation to be effective, the Employee must notify the Employer no later than 5:00 P.M. on the seventh day after signing this Agreement.
. Non-Disclosure of Confidential Business Information. The Employee agrees to not disclose any confidential business information about the company. This includes but is not limited to trade secrets, intellectual property, proprietary information, and financial information that has been given to the Employee.
. Return of Company Property. The Employee agrees to promptly return all property that belongs to the Employer. This includes, but is not limited to, files, notes, documents, written material, computer programs, office supplies, and any other item that has been supplied to the Employee by the Employer or that the Employee has created for the Employer, company, clients, parents, subsidiaries, affiliates, partnerships, corporations, representatives, and employees.
. Review and Revocation. The Employee acknowledges and understands that they have 21 days from receiving this Agreement to review, consider, and talk to an attorney about the provisions here within. By signing this Agreement, you are acknowledging and agreeing to the terms of this Agreement and you are doing do of your own free will.
. No Admission. Nothing contained in this Agreement will constitute or be treated as an admission by you or the Company of liability, any wrongdoing, or any violation of law.
. Entirety of the Agreement. All the terms in this Agreement constitute the entire agreement between the Employee and the Employer. No other promises, insinuations, or agreements have been made. The terms of this Agreement may not be altered or modified without the written consent and approval of the Employer.
. Severability. If any term of this Agreement is held to be invalid, void, or unenforceable, the remainder of this Agreement will remain in full force and effect and will not be affected.
. Governing Law. This agreement shall be governed by the laws of the .
I ACKNOWLEDGE AND AGREE THAT I HAVE FULLY READ, UNDERSTAND, AND VOLUNTARILY ENTER INTO THIS AGREEMENT. I ALSO ACKNOWLEDGE THAT MY SIGNATURE BELOW IS AN AGREEMENT TO RELEASE THE COMPANY FROM ANY AND ALL CLAIMS THAT CAN BE RELEASED AS A MATTER OF LAW IN EXCHANGE FOR THE BENEFITS BEING PROVIDED TO ME BY THIS AGREEMENT.
FAQs About Making a Severance Agreement
Why is a Severance Agreement important?

A Severance Agreement is important because it serves to protect both the employer and the employee by setting clear expectations and obligations for both parties following the end of the employment relationship. The agreement can provide the employee with financial compensation or benefits in exchange for waiving certain legal rights, such as the right to sue the employer for claims or demands that stem from their employment with or termination from the company.

A Severance Agreement may provide financial support to the employee while also including provisions that might help protect the employer by preventing the employee from sharing confidential information after they leave.

Overall, a well-drafted Severance Agreement can help ensure a smooth and mutually beneficial transition for both the employer and the employee.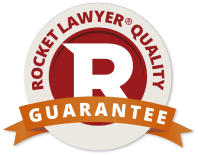 Our quality guarantee
We guarantee our service is safe and secure, and that properly executed Rocket Lawyer legal documents are legally enforceable under applicable US laws.
Need help? No problem!
Ask a question for free or get affordable legal advice when you connect with a Rocket Lawyer network attorney.
Severance Agreement checklist
Complete your free Severance Agreement with our Make it Legal™ checklist