Most purchases are unique so any sample Invoice needs to be customizable as well. No matter what is being purchased, however, there are some common elements that should appear in any sample Invoice. The price and amount of each item is an important start—but beyond that an Invoice will usually want to include a description of the goods or services purchased, taxes or fees present, applicable discounts, and any names or dates involved with the transaction.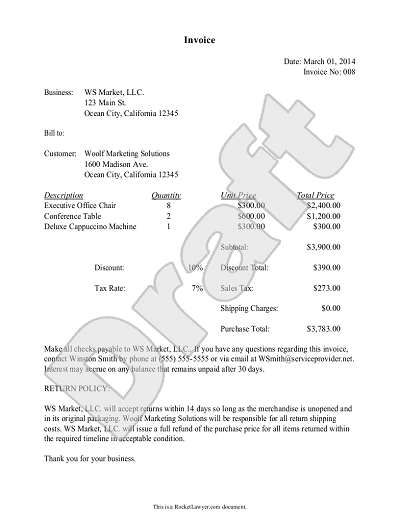 Sample Invoice. To create your own personalized Invoice, click on the image above
Whether it's a single transaction or several, an Invoice can help you stay organized and document your finances. Our sample Invoice can help get you started.
Ready to create your Invoice? Simply click the link below and our step-by-step interview process will help you transform a sample to your specific needs.
Looking for something else? Here are a few related documents that may help:
---