As shown in the template, an Invoice can be as comprehensive as it needs to be—documenting a single transaction or several. However, no matter how many transactions are being tracked there are a few values you'll always want to include: first, an accurate description of the goods or services that were provided and, second, the price—including a breakdown of any fees, taxes, or discounts that may apply. In addition, it's also important to note the parties in the agreement.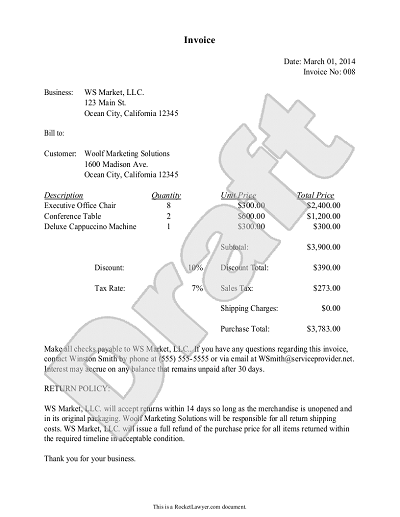 Invoice template. To create your own personalized Invoice, click on the image above
For buyers and sellers, businesses large and small, freelancers or interns—an Invoice template is an important piece to making sure you're paid for services rendered and an important tool for keeping track of all your transactions. Beyond serving as evidence of a deal, an Invoice can help you stay organized and keep records for you or your business.
If you're ready to get started, simply click the link below to start you own customized Invoice. If you're after something else the following related documents might be of help:
---