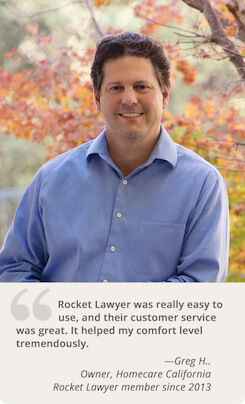 One of the easiest ways to protect your family and your business is to put your agreements in writing. With Rocket Lawyer it's simple to access the step-by-step documents you need, including ones that help you with your real estate and financial needs.
Documents That Protect Your Family
1. Complete Will
Put your wishes in writing. With a Complete Will you decide how your property and assets are distributed, and documents who you want to take care of your children, so there's less guesswork and legal hassle for your loved ones.
2. Power of Attorney
A Power of Attorney (also known as a POA) document gives legal permission to someone else to act on your behalf if you're unable to write checks, sign official documents or handle other legal matters. Some business owners use a POA to elect someone to sign legal documents or write checks for them.
3. Child Care Authorization
Give your nanny or other childcare provider specific and limited powers to make decisions in regards to your children.
4. Medical Treatment Authorization for a Minor
Use this document to authorize a child care provider to obtain medical treatment for your child.
5. Travel Consent Form
A travel consent form can be used when your child is traveling domestically or internationally through an airport or border patrol and is not in the company of both parents. The form allows you to name your child, the destination of their travel, the time frame, and the responsible adult in charge.
Documents That Protect Your Business
6. Independent Contractor Agreement
Make sure you clearly outline your expectations along with payments and schedules for any independent contractors who work for you.
7. Employment Application
Specify the rights and obligations of all your full-time or salaried employees.
8. General Contract for Services
Outline exactly what you will provide as a business or will be provided by another company.
9. LLC Operating Agreement
You can avoid being subject to your state's default LLC laws by filing a
LLC Operating Agreement
. In
some states
, a LLC Operating Agreement is required.
10. Non Disclosure Agreement
Keep your best ideas from walking out the door after an interview. Have potential employees sign a Non Disclosure Agreement before you meet with them.
Real Estate Documents
11. Agreement to Cancel Lease
Whether you're a landlord or a tenant, there are times when you may need to break your lease earlier than expected. Creating and signing an Agreement to Cancel Lease with the other party legally dissolves your landlord-tenant relationship.
12. Lease Agreement
A Lease Agreement organizes all aspects of your lease arrangement in one document, helping you understand and protect all your rights and obligations. When you have a Lease Agreement signed by both parties, you can start your landlord-tenant relationship on the right foot, and answer any questions about your lease as they crop up.
13. Quitclaim Deed
Use a Quitclaim Deed to transfer real property to a family member, former spouse or when you need to place property in a trust.
Financial Documents
14. Bill of Sale
Create a Bill of Sale to transfer ownership of personal property, like furniture, decorative objects, or equipment. If you're buying or selling other personal property like a car, boat or motorcycle, use our
Vehicle Bill of Sale
,
Boat Bill of Sale
, or
Motorcycle Bill of Sale
instead.
15. Promissory Note
Whether you're borrowing money or providing a loan to someone else, a Promissory Note is a great way to establish a record of the transaction and make sure that repayment terms, for example, are clear and fair.
Get started Start Your Power of Attorney Answer a few questions. We'll take care of the rest.
Get started Start Your Power of Attorney Answer a few questions. We'll take care of the rest.