MAKE YOUR FREE

Rent Increase Letter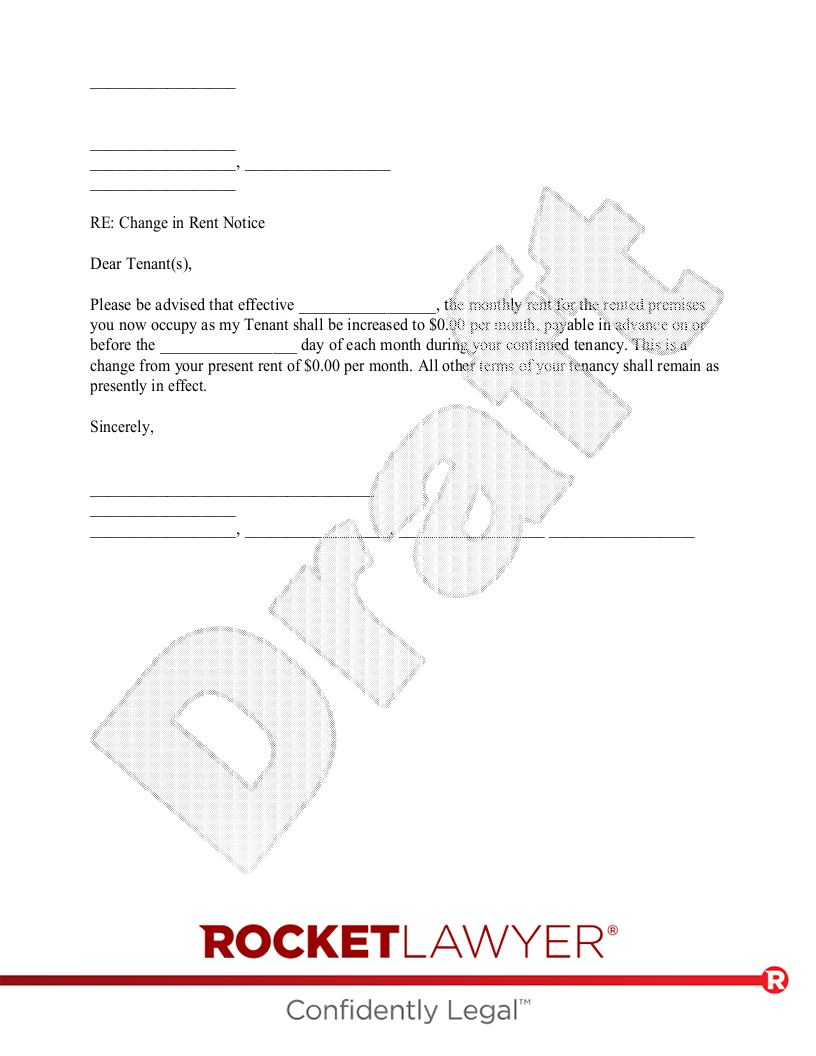 What is a Rent Increase Letter?
As a landlord or property manager, you may increase rents on rental properties periodically. A Rent Increase Notice can be used as a written notification to your tenants. It can include details such as the rate of increase and when the increase takes effect.
When to use a Rent Increase Letter:
You would like to notify a tenant of an increase in their monthly rent.
You want to create a record of notifying the tenant about the rent increase.
Sample Rent Increase Letter
The terms in your document will update based on the information you provide
This document has been customized over 186.2K times
Ask a lawyer questions about your document
,
RE: Change in Rent Notice
Dear Tenant(s),
Please be advised that effective , the monthly rent for the rented premises you now occupy as my Tenant shall be decreased increased to per month, payable in advance on or before the day of each month during your continued tenancy. This is a change from your present rent of per month. All other terms of your tenancy shall remain as presently in effect.
Sincerely,
_________________________________
, ,
Final Checklist for Change in Rent Notice
Finalize
_____
Look over the Notice to ensure it matches your intentions. If you need to make changes to the Notice outside of the interview, you will be able to make changes online or in Word format in the Document Manager at the end of the process.
_____
Print, sign and mail this letter to the Tenant. In order to maintain a detailed record of all requests regarding this option, the Landlord should consider mailing the letter in a method that allows delivery confirmation.
Copies
_____ Keep a copy of all documents for your own records and in case there is a problem.
_____
Your copy should be kept in a safe place. You can use Rocket Lawyer to store and share it. Safe and secure in your Rocket Lawyer File Manager, you can access it any time from any computer, as well as share it for future reference.
Rent Increase Letter FAQs
How do I write a letter to raise my rent?

Making a Rent Increase Letter online is simple. Just answer a few questions, and Rocket Lawyer will build your document for you. Consider these questions beforehand to make the process speedier:

When will the new monthly rent amount take effect?
On what day is the rent due each month, before any late fees are charged?
What is the new amount of monthly rent to be paid by the Tenant?
Is the new rent amount an increase to the previous rent amount? If so, what is the current amount paid by the Tenant every month?

If you don't have all of the details you need, you can skip questions, and save your document for later.

Can you email a Rent Increase Notice?

No, a landlord is required to provide written notice (mailed or hand-delivered) through a rent increase letter before increasing a tenant's rent.

What is a typical rent increase?

Rent increases can vary by unit and by location, however 3-5% is common. There may be limitations on your property due to rent control or other protective measures, so it is best to confirm with a lawyer what percentage is legally allowed and how much notice is required for your specific property.

What is the most a landlord can raise your rent?

Unless you live in a rent-controlled or rent-stabilized apartment, there is no limit to how much a landlord can raise your rent. It is up to the discretion of the landlord. A landlord, however, cannot raise the rent whenever they want. They can only raise your rent when the contract that you have signed with them expires. Typically, they are also required to provide advance notice of an increase.