MAKE YOUR FREE

Washington Bargain and Sale Deed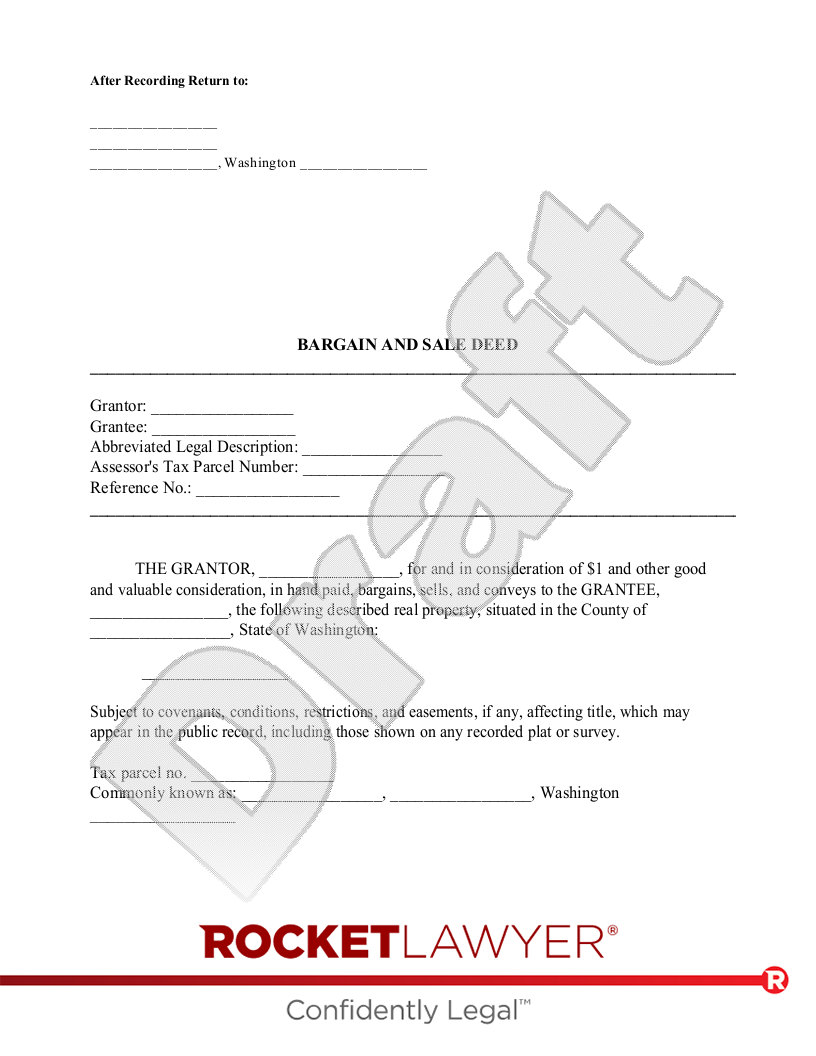 What is a Washington Bargain and Sale Deed?
A bargain and sale deed is a legal document that transfers interest in real property from one person to another, where the grantor makes some promises regarding title, but only related to the period that the grantor owned the property. Therefore, the grantor promises (1) that he or she is the owner of the property, (2) that there are no encumbrances against the property during the time the grantor owned it, and (3) that the grantor will not interfere with the transferee's rights to the property.

In Washington, the requirements for a Bargain and sale deed are simple: it must be in writing, contain a legal description of the property, be signed by the grantor, and the grantor's signature must be notarized.

Bargain and sale deeds are commonly used by banks who have acquired property after foreclosure. A bargain and sale deed could also be used in other situations where the grantor is unwilling to make the broad covenants that go along with a warranty deed.
When to use a Washington Bargain and Sale Deed:
You are conveying real property and the parties have agreed that the seller will convey title with limited warranties.
Sample Washington Bargain and Sale Deed
The terms in your document will update based on the information you provide
Rocket Lawyer members have customized over 93.5M documents
Legally binding and enforceable
Ask a lawyer questions about your document
After Recording Return to:
,
BARGAIN AND SALE DEED
______________________________________________________________________________
Grantor: and
Grantee: and
Abbreviated Legal Description:
Assessor's Tax Parcel Number:
Reference No.:
______________________________________________________________________________
THE GRANTOR, and for and in consideration of $1 and other good and valuable consideration, in hand paid, bargains, sells, and conveys to the GRANTEE, and the following described real property, situated in the County of , State of Washington:
Subject to covenants, conditions, restrictions, and easements, if any, affecting title, which may appear in the public record, including those shown on any recorded plat or survey.
Tax parcel no.
Commonly known as: , , Washington
Grantor Signatures:
I certify that I know or have satisfactory evidence that and