February 23, 2018 — On Feb. 8, 2017, Rocket Lawyer CEO Charley Moore sat down with David Drummond, SVP of Corporate Development & Chief Legal Officer at Alphabet Inc. at the SaaStr Annual 2018 in San Francisco. The two executives discussed some of the valuable lessons they've learned about building successful cloud companies and navigating an increasingly complex legal landscape along the way.
"One of the reasons I started Rocket Lawyer was how often risk and legal was ignored at the peril of clients who got in trouble," Charley said. "We're trying to give everyone access at a price they can afford."
The conference, started by Jason Lemkin in 2012 is now in its seventh year and has grown to over 10,000 participants comprised of founders, VCs and execs.
Aside from learnings the two shared, Charley asked David about Google's moonshot approach to innovation. "A few years ago, Google came up with this Google X idea and started thinking about crazy things and labeled it 'moonshots'," David said. "It actually goes way back in the founders' thinking. When they started Google, they always thought they would do something more than searchable software. The founders said, 'Look, if you are going to invest in us, understand that we are going to be a company that is controlled by the founders. We're not going to sort of focus on short-term results, but we are looking for the long term. Don't be surprised if we invest in things that seem strange."
If you'd like to see Charley and David's entire conversation, you can watch our Facebook live feed here.
But wait! There's more!
Charley announced our new API for e-sign: Rocket Sign. (So make sure to keep your eyes open for more details coming soon!)
Here are more highlights from our time at SaaStr 2018:
Rocket Lawyer had a booth in the main hall at SaaStr, which was held at the Hilton Union Square in SF. Our team shook a lot of hands, introduced booth visitors to Rocket Lawyer Legal Benefits, and gave away some awesome swag, too.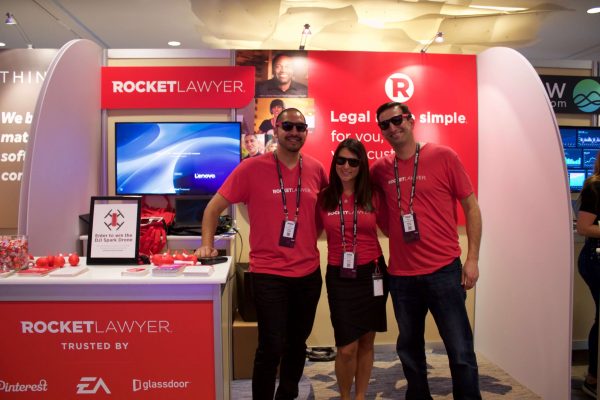 ---