Reviewed by Rocket Lawyer On Call Attorney

Ryan Stibor, Esq
Introduction
Whether you're a consultant or you run a business, creating a Consulting Agreement is a smart way to make sure everything works out for everyone. This agreement outlines all the terms of a consulting engagement to make sure the business gets the help it needs, and that the consultant gets paid.
Use a Consulting Agreement if:
You are hiring an outside expert to consult for your business.
You are providing your professional expertise to a company on a temporary basis.
---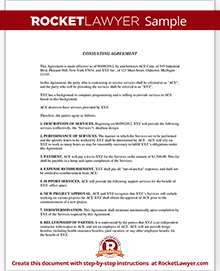 View Sample

Sample Consulting Agreement
Our step-by-step interview process makes creating a printable Consulting Agreement easy.
Make Document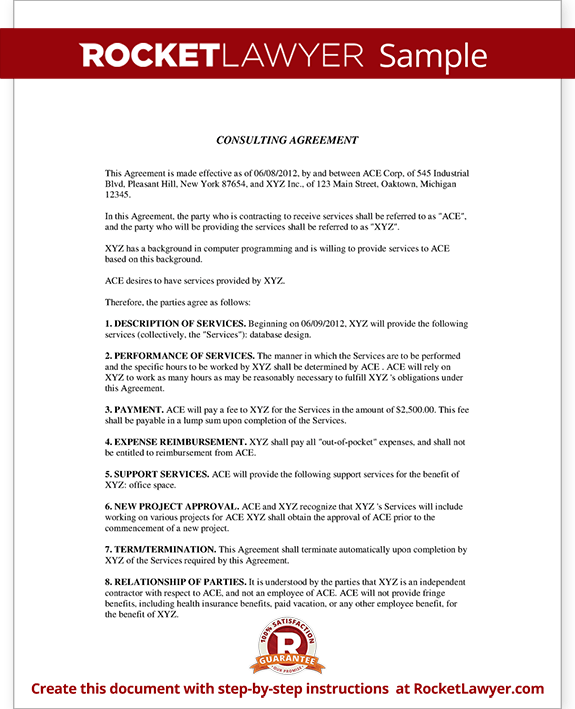 ---
Other names for a Consulting Agreement
Consulting Contract, Business Consulting Agreement, Consulting Services Agreement
Who should create a Consulting Agreement:
For more employment documents, such as an Employment Agreement or Employee Handbook, generally, the employer creates the document and the new hire signs. After all, when you're starting a new job, you usually don't get to set your own salary and benefits.
But for a Consulting Agreement, things aren't so cut and dry. Sometimes, the person who needs the consultant will create the agreement. Other times, the consultant themselves has a set of needs and requirements, such as salary, hours, or perks. Every consultant, like every employer, is different.
But no matter who's creating the agreement, a few things hold true. We'll discuss those below.
What is a consultant?
Usually, a consultant has a strong background or expertise in a certain area, be it carpentry, corporate finance, taxes, or programming. They're generally hired for a specific job---perhaps to help decorate an office space---or for a finite period of time---say, for a month to evaluate the strength of an organization and make suggestions on how to make it more successful.
A consultant is much more like an independent contractor than an employee. He or she will often bring their own tools and their own suggestion and, often times, make their own hours.
What to include in your Consulting Agreement:
Beyond the sort of information present in any contract---the signers names and addresses, for example, and the date the contract becomes effective---a Consulting Agreement should lay out exactly what the consultant is being hired to do and how they'll be paid for it.
Here are some things to keep in mind when you're writing your Consulting Agreement
Background and Services: Basically, what is the consultant being hired to do. You'll want to include what background the consultant has and what services they'll provide. For example, a startup might hire an SEO consultant to evaluate their website and help search engines discover it.
Payment: Consultants are paid in a variety of ways. Sometimes, they may be paid a fixed wage or on commision, but more often than not, a consultant is given a lump sum, either up front, on completion of the work, or some combination of the two.
Support and reimbursement: Depending on the job, the consultant might get an office from which to work, a secretary, or a company car for the duration of his or her time. You should make sure that's noted in the Consulting Agreement. Furthermore, make sure you spell out if the consultant will be reimbursed for expenses they incur during the course of the agreement.
Liability: Since a consultant isn't an employee, you'll want to be clear about responsibilities and insurance in case of an accident.
An important note about intellectual property:
Our Consulting Agreement has provisions that protect the company's confidential information. They're a lot like what you'd find in a Noncompete Agreement or a Non-Disclosure Agreement. Since consultants often see the inner workings of an organization, it's important to make sure both parties know who owns what information and who's allowed to talk about it. It's a great idea to include a the noncompete provision if a consultant is touching any sensitive or proprietary data. After all, an organization wouldn't want that info getting in the hands of their competitors.
Other documents for you and your business:
If you're using a Consulting Agreement, you might need one of the following documents:
If you have any questions about what's right for you and your business, we can connect you with a lawyer for quick answers or a document review.