MAKE YOUR FREE

Wyoming Living Will
Other Names:
Wyoming Advance Directive
Wyoming Advance Healthcare Directive
Wyoming Medical Directive
Wyoming Advance Medical Directive
Wyoming Advance Health Care Directive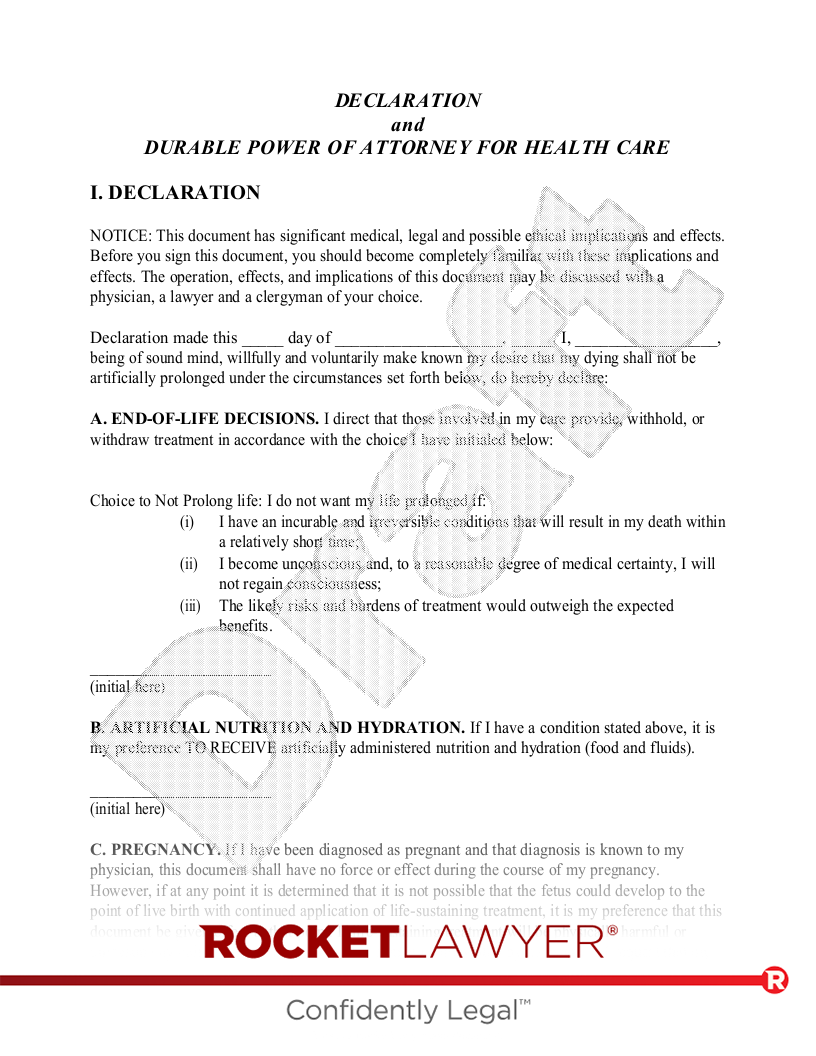 What is a Wyoming Living Will?
A Wyoming Living Will is a legal document that lays out your wishes with regard to medical care, such as your refusal of or request for a certain medical treatment, in addition to the (optional) appointment of a chosen agent or healthcare decision maker.

The individual making a Living Will is called the "principal," while the individuals or entities receiving permission to carry out the principal's wishes are called "agents." Designed for Wyoming residents, this Living Will is made for use in Campbell County, Laramie County, Natrona County, and in any other part of the state. Each Wyoming Living Will form from Rocket Lawyer can be fully personalized for your unique situation. With this official document on hand, your healthcare institutions will have a point of reference for your decisions, and your agent will be able to provide verification that they have been given the authority to make choices for you when you are not able.
When to use a Wyoming Living Will:
You want to specify your wishes so that it is more likely they will be carried out.
You are facing the possibility of surgery or a hospitalization.
You have declining health.
You have been diagnosed with a terminal condition.
Wyoming Living Will FAQs
How do I write a Living Will in Wyoming?

It's very easy to set forth your medical wishes with a free Wyoming Living Will template from Rocket Lawyer:

Make your Living Will - Provide a few basic details, and we will do the rest
Send or share it - Review the document with your healthcare agent(s) or seek legal help
Sign it and make it legal - Optional or not, witnesses and notarization are ideal

This route, in most cases, will be notably more affordable than hiring and working with the average law firm. If necessary, you may fill out a Living Will on behalf of your spouse or another family member, and then have that person sign it once you've drafted it. Please note that for this document to be accepted as valid, the principal must be mentally competent when they sign. If the principal has already been declared legally incompetent, a court-appointed conservatorship could be necessary. When managing this situation, it's a good idea to talk to a lawyer .

Why should I have a Living Will?

Every person over 18 should have a Living Will in place. Though it may be painful to acknowledge, there will likely come a time when you cannot make your own healthcare decisions. Typical circumstances in which it would be useful to make or update your Living Will include:

You are getting older or dealing with ongoing health issues
You have plans to live in a residential care facility
You plan to be in the hospital for surgery
You have been diagnosed with a terminal condition

Regardless of whether your Wyoming Living Will has been prepared as part of a forward-looking plan or created in response to a change in your health, notarization and/or witnesses are highly recommended for protecting your document if its validity is disputed by a third party. Please note that under Wyoming law, a Living Will is not valid when the principal is pregnant.

Do I need to hire an attorney for my Living Will in Wyoming?

Making a Living Will is usually simple to do, but you might still need legal advice. Depending on whom you contact, some lawyers will not even accept requests to review a document that they didn't draft. A better approach worth consideration is to go through the attorney services at Rocket Lawyer. By signing up for a Premium membership, you have the ability to ask for a document review from an experienced lawyer or get answers to other questions related to your Living Will. Rocket Lawyer is here to support you.

What might it normally cost for an attorney to help me make a Living Will in Wyoming?

The cost of hiring and working with a legal provider to make a Living Will might add up to anywhere from two hundred to one thousand dollars, depending on where you are. Unlike the other sites you may come across, Rocket Lawyer offers much more than a Living Will template. If you ever need support from a lawyer, your Premium membership offers up to a 40% discount when you hire an Rocket Lawyer network attorney.

What should I do after making my Wyoming Living Will?

Alongside your Wyoming Living Will form, there's a set of directions for what to do next. As a Rocket Lawyer member, you can edit it, download it as a Word document or PDF file, print it out, and sign it. Finally, your agent(s), care providers, and other impacted parties should get a copy of your fully executed document.

Does a Living Will need to be notarized or witnessed in Wyoming?

The rules and restrictions will be different by state; however, in Wyoming, your Living Will needs notarization or the signatures of two witnesses. Your chosen witnesses cannot be care providers, operators, or other employees of any healthcare or residential/community care facilities where you are receiving care. As a general rule, your witnesses should not be under the age of 18, and none should also be your agent.