MAKE YOUR FREE

Kentucky Living Will
Other Names:
Kentucky Advance Directive
Kentucky Advance Healthcare Directive
Kentucky Medical Directive
Kentucky Advance Medical Directive
Kentucky Advance Health Care Directive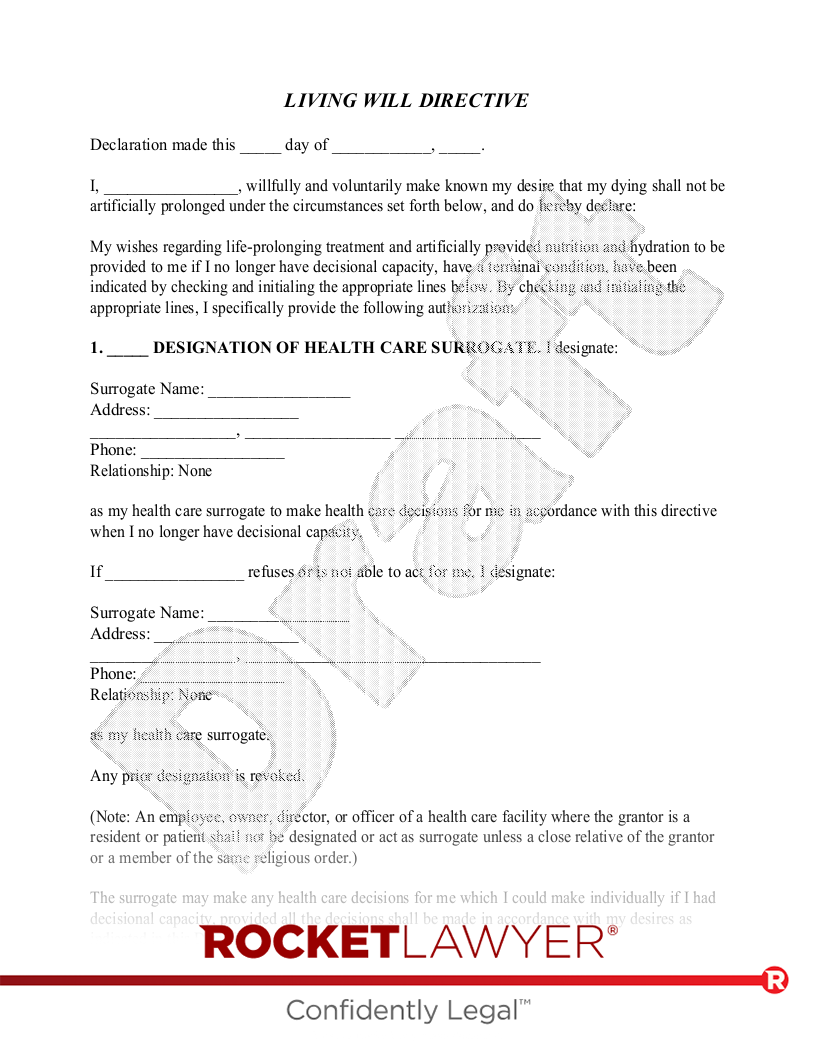 What is a Kentucky Living Will?
A Kentucky Living Will is a legal document that sets forth your wishes regarding health care, such as your request for or refusal of specific medical treatments and procedures, in addition to the (optional) selection of a trusted healthcare agent.

The individual making a Living Will is called the "principal," and the individual or organization obtaining permission to carry out the principal's wishes is called the "agent." Suitable for Kentucky residents, this free Living Will can be used in Kenton County, Jefferson County, Fayette County, and in all other parts of the state. Any Kentucky Living Will form from Rocket Lawyer can be personalized for your unique circumstances. As a result of having this essential document, your medical providers will have a point of reference for your decisions, and your agent will be able to provide proof that they have the authority to make choices for you when you are not able.
When to use a Kentucky Living Will:
You'd like to ensure that your family knows exactly what end-of-life medical treatments you'd prefer.
You're preparing to draft a complete estate plan and want to include details on treatments.
Sample Kentucky Living Will
The terms in your document will update based on the information you provide
This document has been customized over 25.7K times
Legally binding and enforceable
Complies with relevant laws
Ask a lawyer questions about your document
LIVING WILL DIRECTIVE
Declaration made this _____ day of ____________, _____.
I, , willfully and voluntarily make known my desire that my dying shall not be artificially prolonged under the circumstances set forth below, and do hereby declare:
My wishes regarding life-prolonging treatment and artificially provided nutrition and hydration to be provided to me if I no longer have decisional capacity, have a terminal condition, have been indicated by checking and initialing the appropriate lines below. By checking and initialing the appropriate lines, I specifically provide the following authorization:
If refuses or is not able to act for me, I designate:
Surrogate Name:
Address:
,
Phone:
Relationship:
as my health care surrogate.
. INSTRUCTIONS. If I do not designate a surrogate, the following are my directions to my attending physician. If I have designated a surrogate, my surrogate shall comply with my wishes as indicated below:
If at any time I should have a terminal condition and my attending and one other physician in their discretion, have determined such condition is incurable and irreversible and will result in death within a relatively short time, and where the application of life-prolonging treatment would serve only to artificially prolong the dying process,
. NUTRITION/HYDRATION. Kentucky law provides that a health care surrogate may authorize the withdrawal or withholding of artificially provided nutrition and hydration in the following circumstances:
(a) When inevitable death is expected, by reasonable medical judgment, within a few days;
(b) When authorized by a patient in an advance directive, and the patient becomes permanently unconscious;
(c) When the provision of artificial nutrition cannot be physically assimilated by the person;
(d) When the burden of the provision of artificial nutrition and hydration itself outweighs its benefits.
Artificially provided nutrition in paragraphs (a), (b), and (c) shall not be withheld or withdrawn if it is needed for comfort or the relief of pain.
Based upon my understanding of Kentucky law,
authorize the giving of all or any part of my body upon death for any purpose specified in KRS 311.1929. DO NOT authorize the giving of all or any part of my body upon death.However, if at any point it is determined that it is not possible that the fetus could develop to the point of live birth with the continued application of life-prolonging treatment, it is my preference that this document be given effect at that point. If life-prolonging treatment will be physically harmful or unreasonably painful to me in a manner that cannot be alleviated by medication, I request that my desire for personal physical comfort be given consideration in determining whether this document shall be effective if I am pregnant.
. SEVERABILITY. If any provision in this document is held to be invalid, such invalidity shall not affect the other provisions which can be given effect without the invalid provision, and to this end the directions in this document are severable.
In the absence of my ability to give directions regarding the use of life-prolonging treatment and artificially provided nutrition and hydration, it is my intention that this directive shall be honored by my attending physician, my family and any surrogate designated pursuant to this directive as the final expression of my legal right to refuse medical or surgical treatment and I accept the consequences of such refusal. I understand the full import of this directive and I am emotionally and mentally competent to make this directive.
Signed this _____ day of __________________, _____.
Grantor Signature:______________________________________
Name:
Address:
,
Name:
________________________________
Address:
________________________________
________________________________
________________________________
Name:
________________________________
Address:
________________________________
________________________________
________________________________
two witnesses who then sign the document in your presence and in each other's presence.a notary who then notarizes the document.
_____
(your Health Care Surrogate)
*
You should discuss the document and your wishes with any person you want to designate as a Health Care Surrogate before doing so to assure they agree to act on your behalf.
Kentucky Living Will FAQs
How do I write a Living Will in Kentucky?

It's very simple to document your medical wishes using a free Kentucky Living Will template from Rocket Lawyer:

Make the document - Provide a few basic details, and we will do the rest
Send and share - Review your wishes with your healthcare agent or get legal advice
Sign it and make it legal - Required or not, witnesses and notarization are a best practice

This route is, in most cases, notably less time-consuming than finding and hiring a traditional law firm. If needed, you may start this Living Will on behalf of your spouse, an elderly parent, or another family member, and then help them sign it once you've drafted it. Please note that for this document to be accepted as legally valid, the principal must be an adult who is mentally competent when they sign. If the principal is already incapacitated and unable to make their own decisions, a court-appointed conservatorship may be required. In this scenario, it is important for you to speak to an attorney .

Who should write a Living Will?

If you are over 18 years old, you ought to have a Living Will. Even though it is painful to acknowledge, a day could come when you are no longer able to make healthcare decisions on your own. Here are a few typical situations where you may consider it useful to make or update your Living Will:

You are aging or dealing with ongoing health issues
You are planning to move into a community care facility
You are planning for an upcoming surgery or hospitalization
You are currently managing a terminal condition

Whether your Kentucky Living Will has been produced as a result of a change in your health or as part of a long-term plan, notarization and/or witnesses can help to protect your agent if someone challenges their power and authority. Under Kentucky law, a Living Will is not considered valid during pregnancy.

Should I work with an attorney to review my Living Will in Kentucky?

Making a Living Will is generally easy to do, but you or your agent might have legal questions. Locating a legal professional to comment on your document might take longer than you expect if you do it by yourself. An easier approach would be through Rocket Lawyer attorney services. Rocket Lawyer Premium members can ask for advice from an experienced attorney or send other legal questions. As always, you can Live Confidently® knowing that Rocket Lawyer is by your side.

How much does it traditionally cost to make a Living Will in Kentucky?

The cost of finding and working with a legal provider to write a Living Will might range anywhere between two hundred and one thousand dollars. Unlike many other Living Will template providers you may discover, Rocket Lawyer offers Premium membership holders up to 40% in savings when hiring a lawyer, so an attorney from our Rocket Lawyer attorney network can review the situation and take action if you ever require support.

Am I required to do anything else after I have written my Kentucky Living Will?

Attached alongside each Kentucky Living Will form is a set of next steps to take to finalize the document. You also can engage with the PoA in any of the following ways: editing it, downloading it as a Word or PDF file, and/or signing it. Finally, you should ensure that your agent(s) and care providers get their copy of the final document.

Does a Living Will need to be notarized or witnessed in Kentucky?

The laws governing Living Wills vary in each state; however, in Kentucky, your Living Will needs to be acknowledged by a notary public or signed by two witnesses. Witnesses to a Living Will must not be your attending physician or anyone responsible for your healthcare costs, nor can they be affiliated with your healthcare facility unless providing notary services. Relatives or other beneficiaries are also restricted. As a general rule, your witnesses will need to be over the age of 18, and none should simultaneously be your healthcare agent.