MAKE YOUR FREE

Financial Affidavit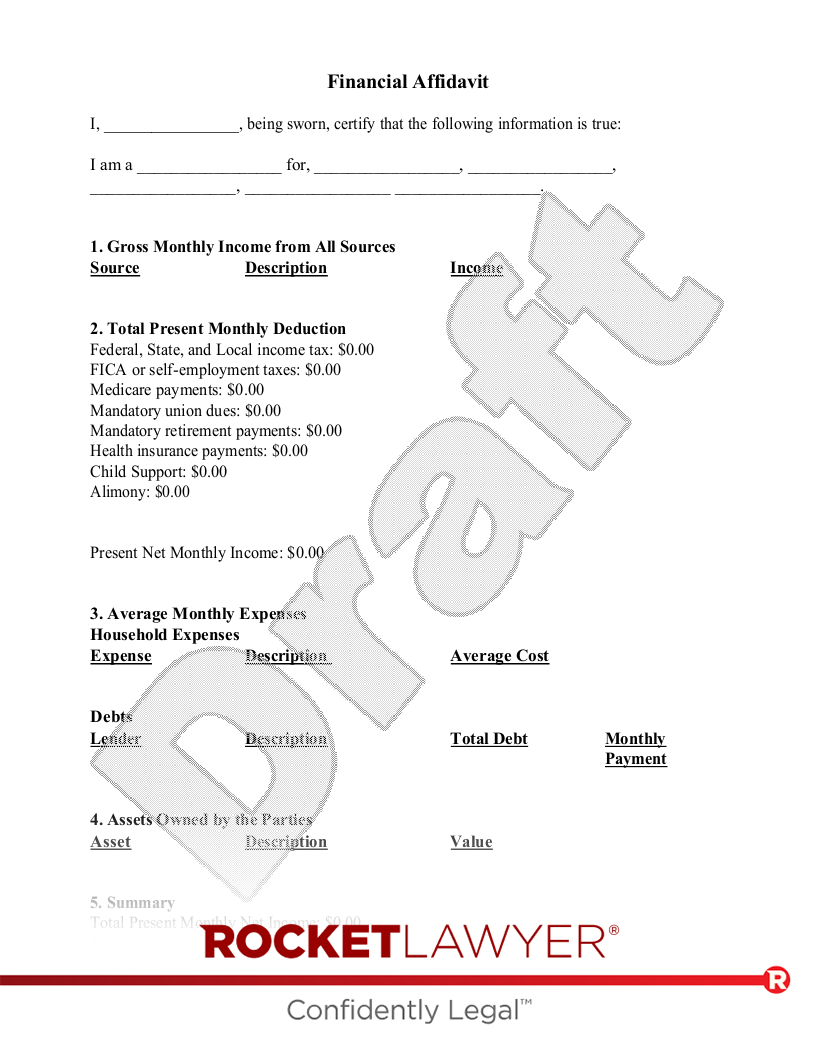 What is a Financial Affidavit?
As the name implies, a Financial Affidavit is a sworn statement about your finances. A Financial Affidavit is often required in divorce cases to determine how much child and spousal support will be granted. When you submit a Financial Affidavit, you are making a sworn statement as to the truthfulness of the financial information that you've provided in the document, so there's little room for exaggeration or modesty. A Financial Affidavit contains information about your gross monthly income, present deductions, monthly expenses, debts/loan payments, and any assets that you own, so, to the degree that you can, gather all of your financial records before getting started.
When to use a Financial Affidavit:
A court or business has request confirmation of your financial situation.
You are addressing financial issues dealing with a divorce
Sample Financial Affidavit
The terms in your document will update based on the information you provide
This document has been customized over 28.5K times
Legally binding and enforceable
Ask a lawyer questions about your document
Financial Affidavit
I, , being sworn, certify that the following information is true:
I am unemployed.
1. Gross Monthly Income from All Sources
Source
Description
Income
2. Total Present Monthly Deduction
Federal, State, and Local income tax:
FICA or self-employment taxes:
Medicare payments:
Mandatory union dues:
Mandatory retirement payments:
Health insurance payments:
Child Support:
Alimony:
Present Net Monthly Income:
3. Average Monthly Expenses
Household Expenses
Expense
Description
Average Cost
Debts
Lender
Description
Total Debt
Monthly Payment
4. Assets Owned by the Parties
5. Summary
Total Present Monthly Net Income:
Total Monthly Expenses:
Total Assets:
Oath or Affirmation:
I certify under penalty of perjury that I know the contents of this Affidavit signed by me and that the statements are true and correct.
______________________________
______________________________
Financial Affidavit FAQs
Where can I get a Financial Affidavit?

It is very simple to get what you need with a free Financial Affidavit template from Rocket Lawyer:

Make your Affidavit - Answer a few general questions and we will do the rest
Send or share - Go over the document with an attorney, if needed
Sign it - Sign your Affidavit and make it legal

Each Financial Affidavit Form from Rocket Lawyer can be customized for your specific scenario. When you're ready to begin, tap or click "Make document" above. Your Affidavit will be constructed step by step as you enter more information throughout the process.

Do I need an attorney to review my Financial Affidavit?

Writing a Financial Affidavit is generally simple; however, you may still need advice. Finding an attorney to review your Financial Affidavit can be costly. An easier way to double-check your document would be through attorney services at Rocket Lawyer. As a Premium member, you can get your documents reviewed or ask specific questions. You can rest assured that Rocket Lawyer is here to help.

How much would it normally cost me to make a Financial Affidavit?

The fees associated with finding and working with a law firm to draft a Financial Affidavit can total anywhere from two hundred to one thousand dollars, depending on where you are and how complex the issue is. Rocket Lawyer isn't your average Affidavit template provider. With us, anyone under a Rocket Lawyer membership can take advantage of up to a 40% discount when hiring an attorney from our network.

Will there be any additional actions that I should take after I have drafted a Financial Affidavit?

Once you have made this Affidavit, you will be able to view it on any device, anytime. With a Premium membership, you may make edits, save it as a Word document or PDF file, and/or sign it. Your Financial Affidavit Form also comes with its own set of directions that you'll need to finalize your document.

Does a Financial Affidavit Form need to be notarized or witnessed?

Yes, a Financial Affidavit Form needs to be notarized. Witnesses are not legally required.

Do you have to file a Financial Affidavit?

You may need to submit a Financial Affidavit if you are going through a contested divorce or child support case. Some uncontested divorce cases may also require a Financial Affidavit. Financial Affidavits are sometimes required for certain business situations, as well.

Is a Financial Affidavit required for a divorce?

Most divorce cases will require a Financial Affidavit because a significant part of going through a divorce is dividing up the shared property, assets, and money, and determining spousal and child support based on each person's income and financial means. A Financial Affidavit makes it possible to determine each person's financial situation, and because it is a sworn statement, the information that is provided should be truthful and accurate.