Unless you can pay for a house in cash, chances are you'll need a loan. When you get that loan, however, you will be required to sign a Trust Deed (or a Mortgage Agreement depending on your state) as security for the loan. If the loan is not repaid on time, the lender can foreclose on and sell the property in order to pay off the loan.
Use the Trust Deed document if:
You're loaning money to another person or business and want to hold an interest in certain property they own as security until they repay their debt.

You're borrowing money and want to offer your property as security to the lender.
A Trust Deed (also known as a Deed of Trust) is very similar to a Mortgage except for a couple main differences. First, a Trust Deed involves a third party called the "trustee," who holds the legal title of the property until the debt is repaid. Second, a Trust Deed allows for a non-judicial foreclosure of the property. This means that the lender can foreclose on the property without having to involve the court system.

Whether or not you use a Trust Deed or a Mortgage depends on the where your property is located. For help in determining which deed you need, review the help article to the right. Please note: This Trust Deed is for a primary residence only.
---
<![CDATA[ ]]>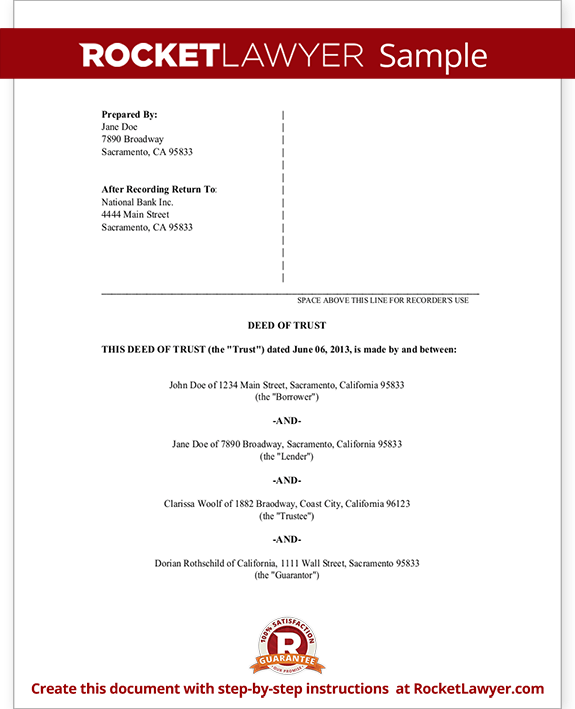 View Sample
Sample Trust Deed
More than just a template, our step-by-step interview process makes it easy to create a Sample Deed of Trust.

Save, sign, print, and download your document when you are done.
This document is sometimes called a Trust Deed.

Sample Trust Deed
Our step-by-step interview process makes creating a printable Trust Deed easy.
Make Document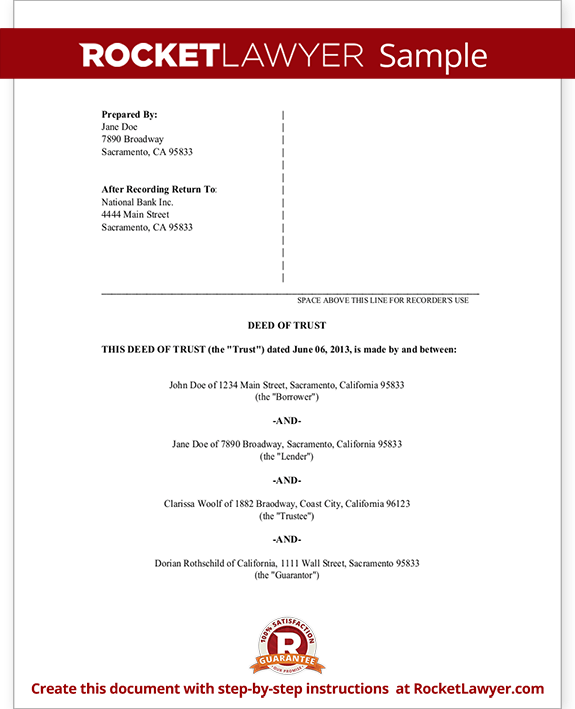 Why choose Rocket Lawyer?
Legally reviewed
Researched by lawyers
and legal staff.
Specialists to help
We're here to answer your
questions.
Free Trial
Your document is free with your subscription.
Our quality guarantee
We guarantee our service is
safe and secure.